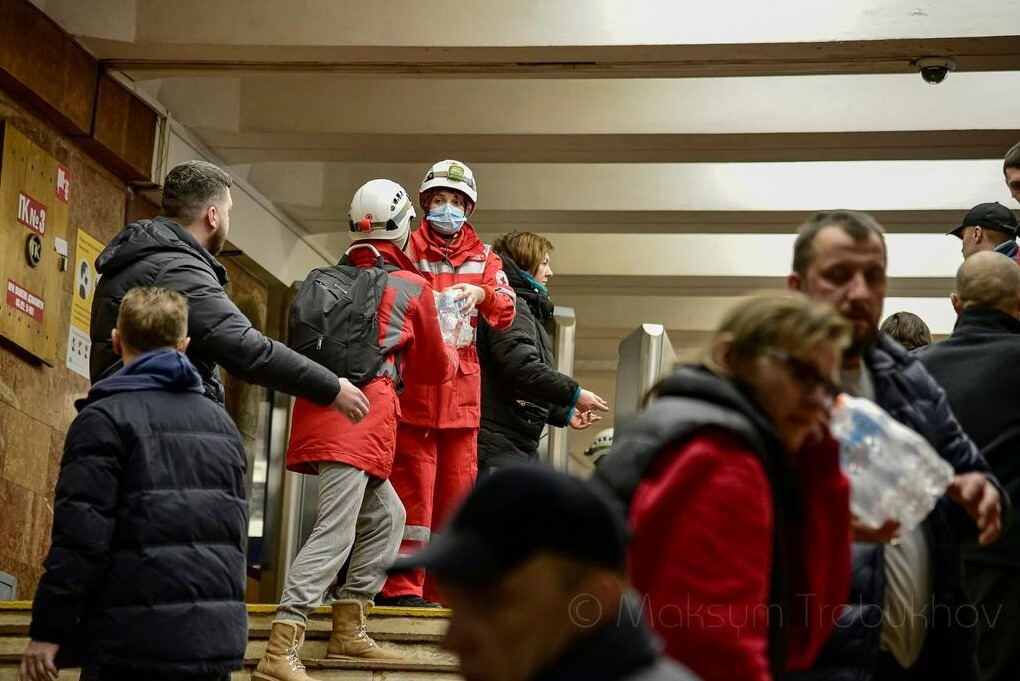 Extending humanitarian aid to Ukraine and six neighbouring countries
Singapore, 10 March 2022 - In response to the fast-growing refugee crisis in Ukraine, the Singapore Red Cross (SRC) will contribute a second tranche of aid to assist Ukrainians in-country and across six neighbouring countries - Poland, Hungary, Lithuania, Slovakia, Moldova and Romania.
Valued at $2.4 million, the second tranche of aid will be deployed by the International Federation of Red Cross and Red Crescent Societies (IFRC), Red Cross National Societies receiving refugees from Ukraine, and the International Committee of the Red Cross (ICRC) who are spearheading relief efforts to the affected communities. Approximately 2 million refugees have crossed the borders into countries neighbouring Ukraine. The Red Cross' focus will be on providing aid to vulnerable people, including unaccompanied minors, single women with children, the elderly, and people with disabilities. Besides providing immediate relief aid, the focus is also on addressing basic needs, emergency shelter, protection, health, water, sanitation, hygiene, and psychosocial support. (See details)
This disbursement follows SRC's first tranche of aid worth US$100,000, which arrived in Ukraine on 4 March, and was distributed by the Ukrainian Red Cross Society (URCS) and the IFRC as part of their ongoing response. Local branches of URCS, URCS Emergency Response Teams are organising collection points for the distribution of food, clothing, blankets to social institutions and Internally Displaced People (IDP). Besides these, they are supporting evacuation and transition points by evacuating the casualties and civilians, providing support to fire brigades, offering relief aid, rendering psychological first aid and providing information support to mothers, children, the elderly, and persons with disabilities.
An Outpouring of Support from the Community
In Singapore, donations to the SRC fundraising appeal (25 February to 31 May 2022) have reached close to S$3 million. This includes recent donations by Bitdeer Group of S$300,000, and Temasek Foundation of US$100,000, to support the humanitarian operations.
Corporate organisations including Barclays, Credit Suisse and Deutsche Bank have launched employee giving initiatives. DBS digibank and Foodpanda are facilitating donations from their communities via their apps. The Ukrainian Club in Singapore is running a fundraiser. From pre-schoolers to tertiary students; from well-meaning individuals to businesses; the people of Singapore have responded generously to the appeal.
SRC Secretary General and CEO, Mr Benjamin William said, "We are thankful for the solidarity and support from the donor community, and are heartened by the efforts of ground-up fundraisers in the community. The humanitarian needs are massive and the operations are complex, with the ongoing conflict and border crisis hurting innocent civilians. We are committed to ensuring efficiency and transparency in the use of the funds raised. As we disburse the funds to our partners on the ground, we will continue to work closely with the IFRC, ICRC and the National Societies to ensure the most appropriate and timely response. We call for continued support to this critical humanitarian operation, for the fastest-growing refugee crisis in our lifetime."
The Singapore Red Cross has activated its "Restoring Family Links" (RFL) service to assist Singapore residents to locate their immediate family members who may have been affected by the disasters with whom they have difficulty in contacting. For assistance, please contact SRC.
Ukraine Humanitarian Crisis Response
1) Make an online donation - Giving.sg, DonorBox, Donation Portal, iRaiser, Benevity
2) Fundraise for SRC
Register as a third party fundraiser and email us the completed form.
Or
Set up an online fundraising campaign on Giving.sg.
3) PayNow
Go to "PayNow" > Click "PayNow to UEN" > Key in "S86CC0370EFR2" > Key in the amount you would like to donate > Input "Ukraine Crisis" under Bill Reference.

Or

Go to "Scan & Pay" > Scan QR Code below > Key in the amount you would like to donate > Input "Ukraine Crisis" under Bill Reference.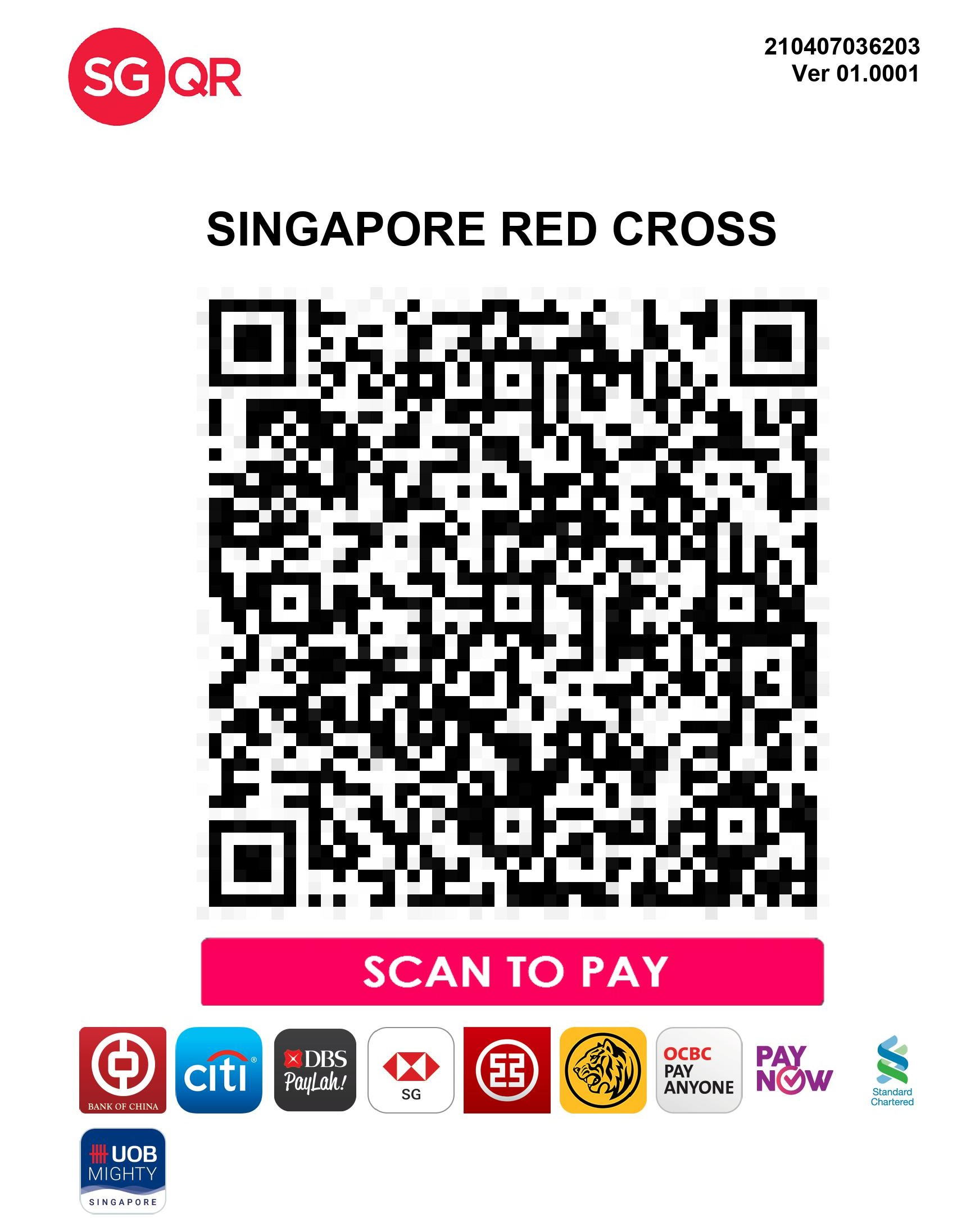 4) Fund Transfer
Select "Transfer Money" > Go to "One-Time Transfer" > Click "To other bank" > Key in "SINGAPORE RED CROSS" > Select "HSBC (Corporate)" > Enter account no. "142038546002" > Key in the amount you would like to donate > Input "Ukraine Crisis" under Comments.
5) Cheque donation
Please make cheque payable to 'Singapore Red Cross Society', to be posted to Red Cross House, 15 Penang Lane, Singapore 238486. Please leave your name, postal address and indicate "Ukraine Crisis" at the back of your cheque.
6) Revolut
If you're a Revolut Singapore customer, you can make a one-off donation or round up your spare change and have it automatically donated, via the Donations feature in-app.
Notes:
Donations to overseas efforts are not tax-deductible.
In the event that donations exceed the expenses incurred by Singapore Red Cross in this specific disaster response, any surplus or unspent money, after three years from the date of inception of the fund, can be used to prepare for and serve communities affected by other disasters or may be used to complement or to sustain projects undertaken by SRC in helping the vulnerable in areas affected by disasters.
Appeal period: 25 February to 30 November 2022

Annex A
Singapore Red Cross' 2nd Tranche of Humanitarian Aid to Support Ukraine & The Refugee Crisis
Country / National Society
Situation Report / Red Cross Response
Allocation
International Federation of Red Cross and Red Crescent Societies (IFRC)
The IFRC has been active on the ground supporting the Ukrainian Red Cross Society (URCS) and neighbouring Red Cross National Societies and will be assisting an initial two million people in need of support. Among these groups, a special focus will be on vulnerable people, including unaccompanied minors, single women with children, elderly, and people with disabilities. Support will include material assistance, cash for basic needs, supporting emergency shelter, protection, health, WASH, Psychosocial Support (PSS) and scaling up of programmes.
S$1.2 million
International Committee of the Red Cross (ICRC)
Since the escalation of the conflict, the ICRC together with URCS have distributed food, water, and hygiene items to 4,000 displaced people living in shelters in Mariupol on 2 March. They have also distributed medical supplies—war-wounded kits and first aid kits—to hospitals in Mariupol. They have also delivered war-wounded kits to treat people with trauma, burn, and gunshot wounds at two hospitals in Kiev, including one of the city's main trauma hospitals. ICRC is rapidly scaling up its humanitarian support in Ukraine, with a focus on medical needs and the distribution of food and relief supplies. They will be deploying additional resources such as manpower and supplies in order to scale up their activities in Ukraine.
S$500,000
Polish Red Cross
Polish Red Cross teams are distributing food and basic aid items to those near the border. PRC has 22 rescue teams (about 450 medics) working in shifts at the border with Ukraine providing medical support and PSS to those coming to Poland. The Polish Red Cross is equipping accommodation areas with camp beds, blankets, and hygiene kits. An estimated 1 million people have crossed over into Poland. The Polish Red Cross has also sent food and eight medical tents to Ukraine.
S$200,000
Hungarian Red Cross
The Hungarian Red Cross Society is supporting refugees with accommodation, food, and hygiene products. 180,000 people have crossed the border into Hungary. The Hungarian Red Cross has also sent relief aid consisting of foods, drinks, medical supplies, hygiene products into Ukraine.
S$100,000
Slovak Red Cross
Slovak Red Cross is providing services such as psychosocial support, registration centres, first aid and health assessments, COVID testing centres, and the distribution of food and non-food items at their various branches. They have also put up tents for people arriving from Ukraine. 128,000 people have fled to Slovakia from Ukraine.
S$100,000
Lithuanian Red Cross
The Lithuanian Red Cross has set up a hotline and registration centres for the estimated 1,600 people who have fled Ukraine into Lithuania. They are providing cash assistance for refugees and are preparing for the distribution of humanitarian aid such as hygiene kits for 9,000 people. Lithuanian Red Cross has also sent medicine, mattresses, sleeping bags and food into Western Ukraine.
S$100,000
Red Cross Society of the Republic of Moldova
The National Red Cross Society of Moldova has mobilised most of their forces to provide food, masks and disinfectants to the Ukrainians who are seeking refuge in Moldova. They have also opened a shelter that can house up to 800 people. Nearly 83,000 people have fled Ukraine into Moldova.
S$100,000
Romanian Red Cross
Romanian Red Cross volunteers are currently distributing food items, water, non-food items, hygiene products, SIM cards and more to the people in need at border crossing points. Nearly 80,000 people have crossed the border into Romania. 18 trucks of relief (food, water, non-food items) from the Romanian Red Cross and Italian Red Cross left for Ukraine.
S$100,000
TOTAL DISBURSEMENT: S$2.4 MILLION
S$2.4 million

Please refer to our FAQs for more information.
Photo via Maksym Trebukhov for Ukrainian Red Cross.