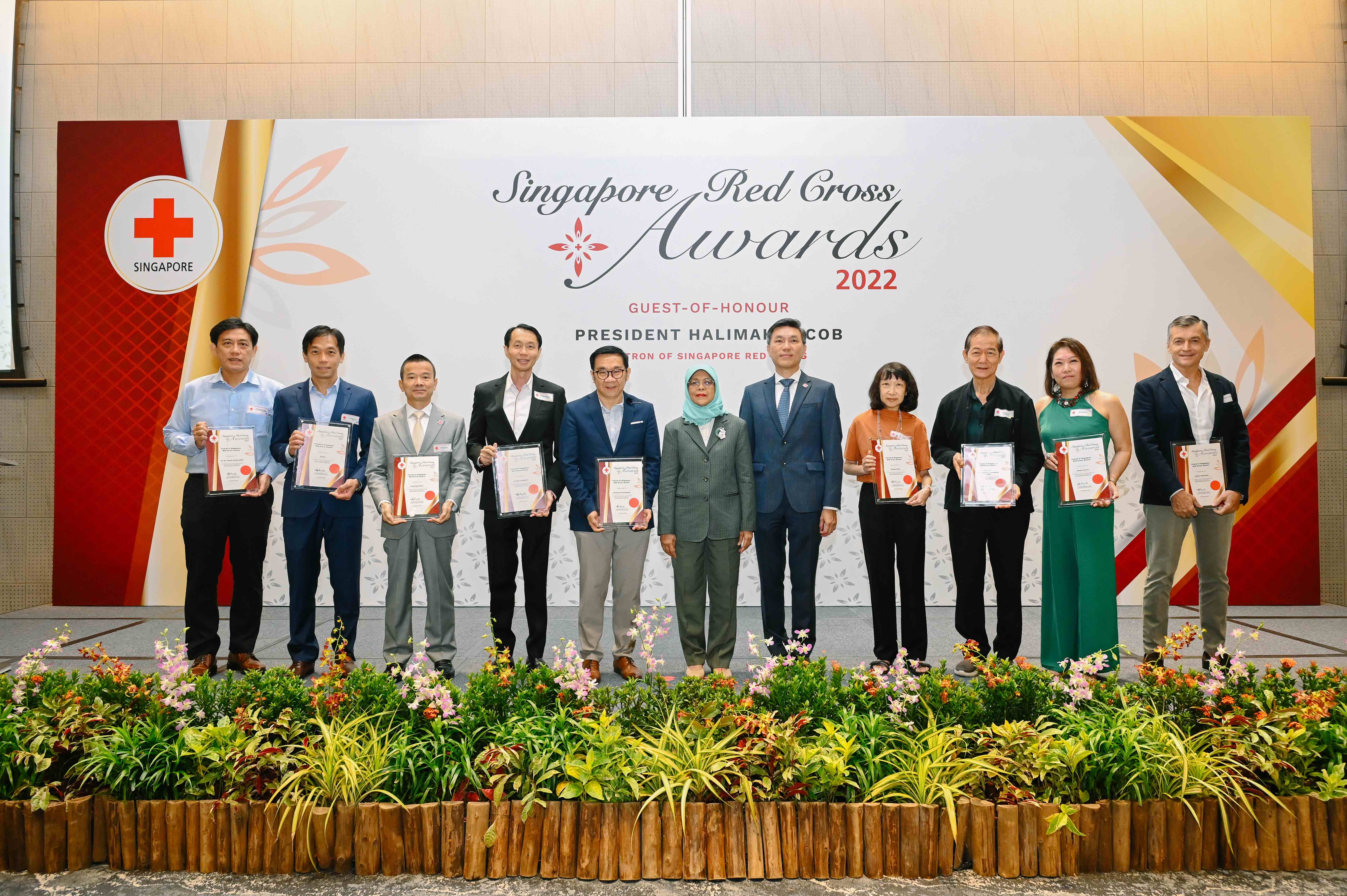 Singapore, 12 October 2022 – At the annual Singapore Red Cross Awards Ceremony today, the Singapore Red Cross (SRC) honours almost 100 persons and organisations for their steadfast contributions to humanitarian causes. Guest-of-Honour and SRC Patron, President Halimah Yacob presented the Awards and toured an exhibition on Singapore Red Cross' resilience efforts, where she interacted with the Award recipients.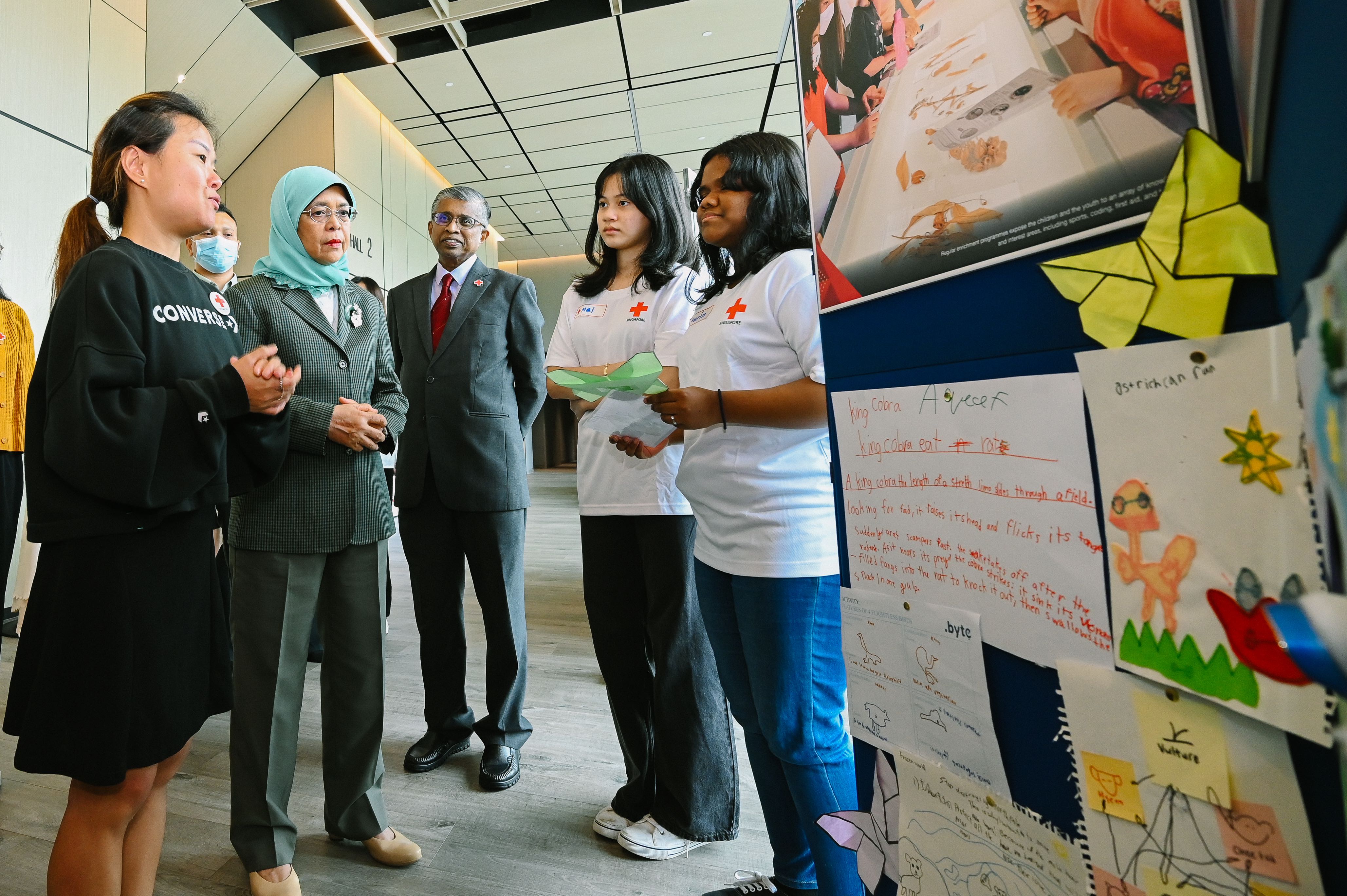 "The Singapore Red Cross (SRC) has been steadfast in its humanitarian mission to uplift the most vulnerable, and has played a significant role in building a strong community of supporters, ranging from individuals to corporates and philanthropic organisations for its various humanitarian services and causes. I am glad to witness the indomitable spirit of SRC volunteers who delivered essential services and fulfilled critical roles, especially during the pandemic. I am confident that SRC will continue its good work in rendering services to the vulnerable and assisting communities affected by disasters as it had done over the past seven decades," said President Halimah Yacob, Patron of the Singapore Red Cross.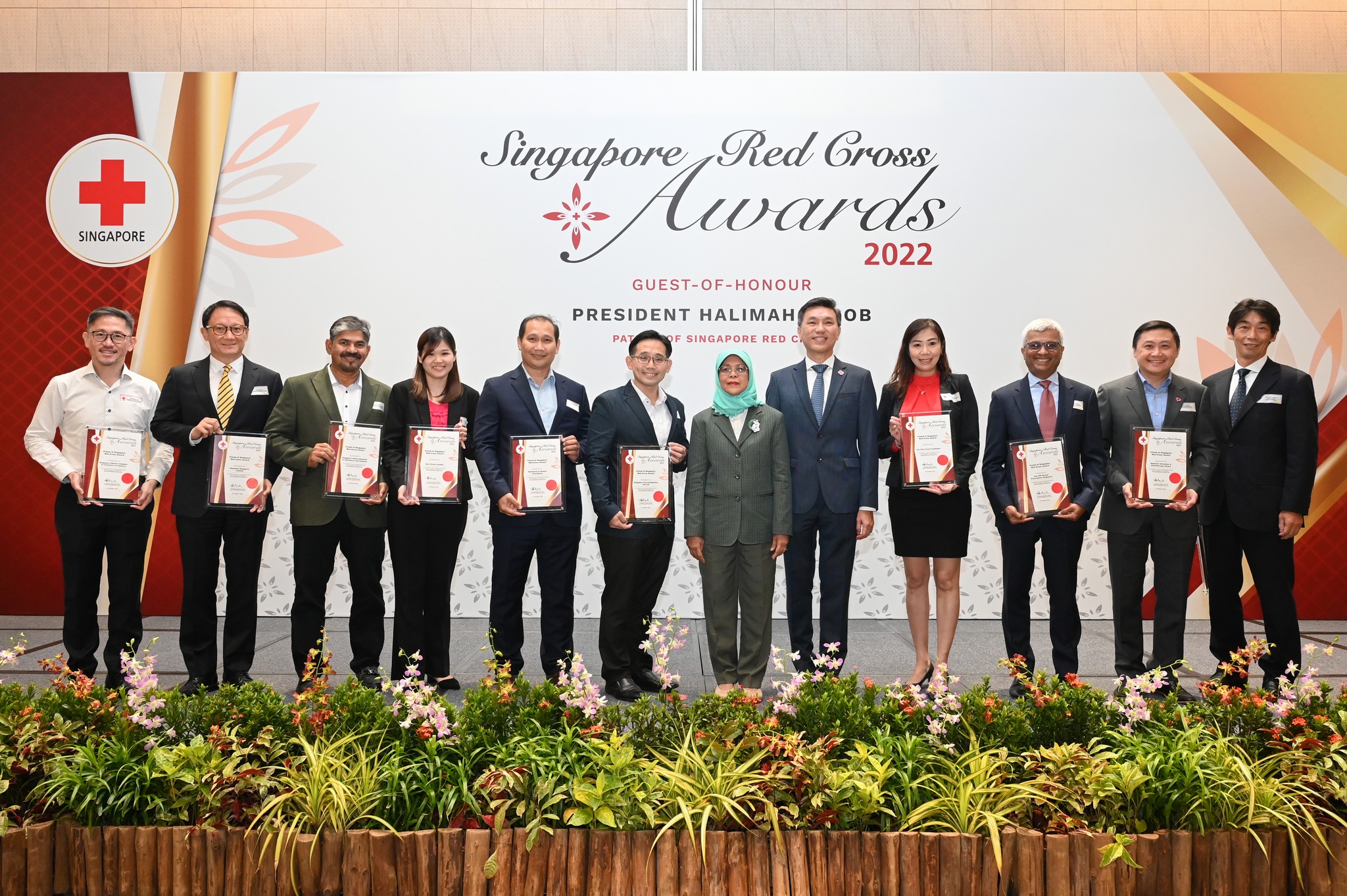 Recipients of the Friend of Singapore Red Cross Award (Group 2)
At the 9th SRC Awards Ceremony held at the HomeTeamNS Khatib, 53 recipients were awarded across several categories (See List of Recipients). Amongst the recipients is Neo Group (Friend of Singapore Red Cross Award), which organised the most number of blood drives in a year - nine drives in 2021, supporting the National Blood Programme amid the pandemic.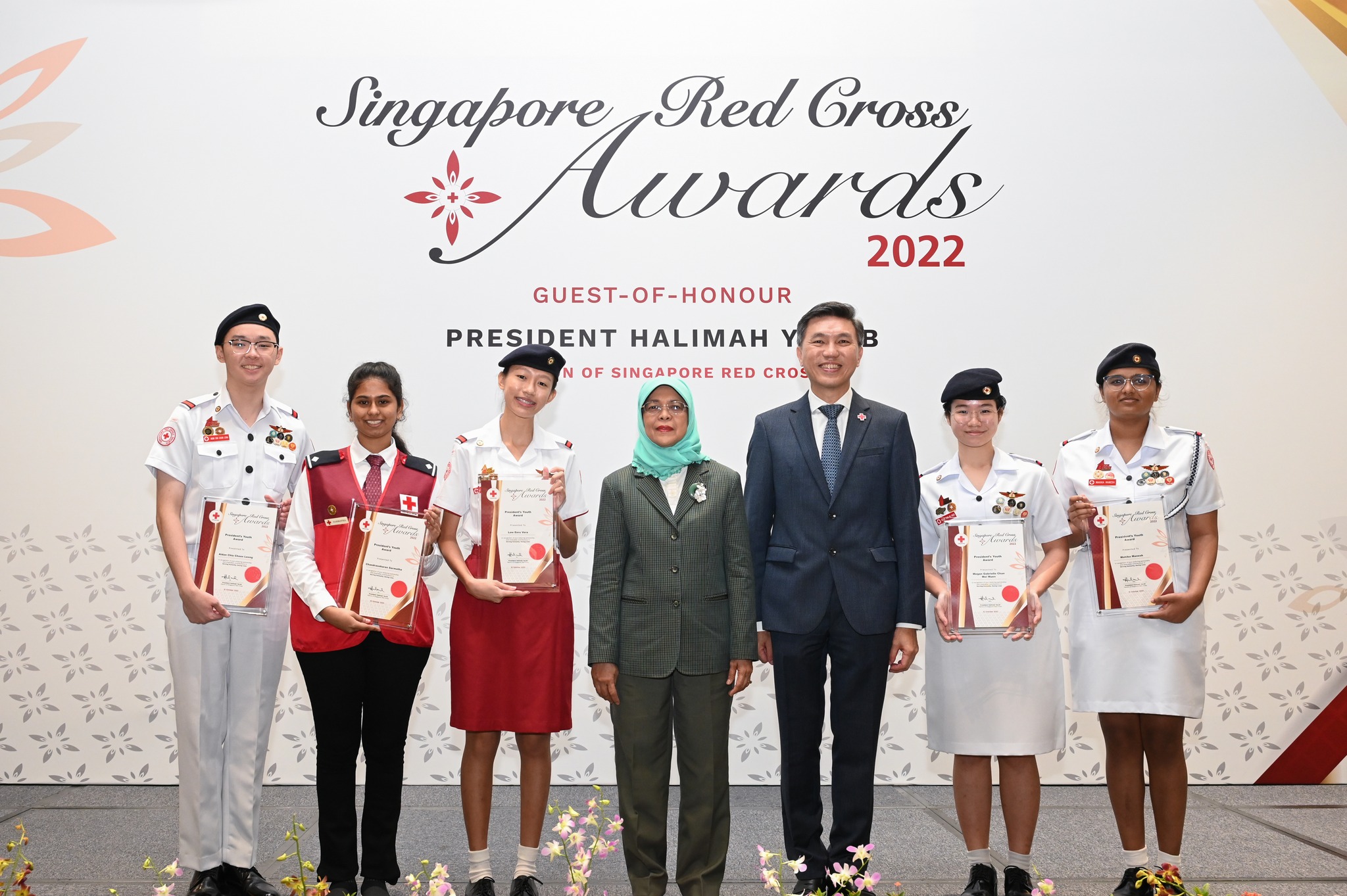 Recipients of President's Youth Award
One of 11 youth leaders to receive the President's Youth Award is Ms Mahika Manesh, 16, who helped out in the distribution of TraceTogether tokens during the pandemic. She continues to volunteer with her Red Cross Youth unit in school, and aspires to be a first aid instructor for the Singapore Red Cross Academy.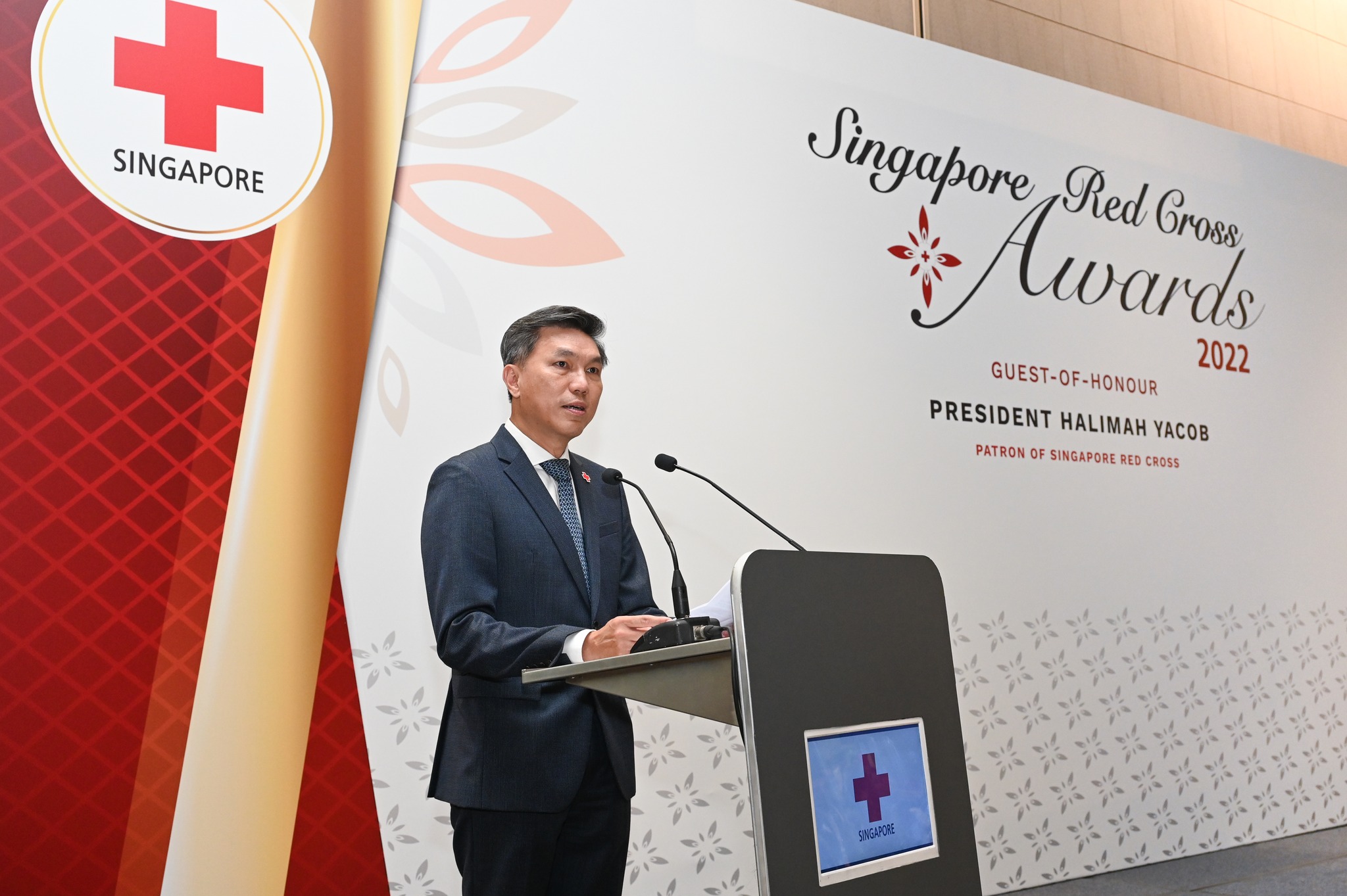 Mr Tan Kai Hoe, Chairman of the Singapore Red Cross, shared in his speech, "We live in an increasingly volatile world. The humanitarian challenges before us are unlikely to abate. In fact, some of these challenges, like the adverse impact of climate change, the threatening food, water and energy crisis, and the global economic impact of the conflict in Ukraine, are existential for some communities. As we face new and emerging humanitarian challenges, the mission of the Red Cross will become more critical. It is crucial that we maintain a spirit of solidarity and build our collective resilience."
Recipients of High Commendation Award
Amongst the 35 winners of the Singapore Red Cross High Commendation / Commendation Award are Mr Lim Chia Wei Roy and Ms Lydia Lee, who dedicate efforts to build community resilience. Further to teaching psychological first aid (PFA) and conducting trainers training, Mr Lim helped the SRC Academy transition its training online during the pandemic, to reach more in the community. Mr Lim was also part of SRC's latest mission to Lithuania, where they conducted mental health / PFA training workshops to Lithuania Red Cross staff and volunteers who are involved in Ukraine crisis response. Ms Lee is a volunteer leader who goes beyond her regular first aid duties to plan volunteer deployment at simulation exercises for emergency response and conduct volunteer training.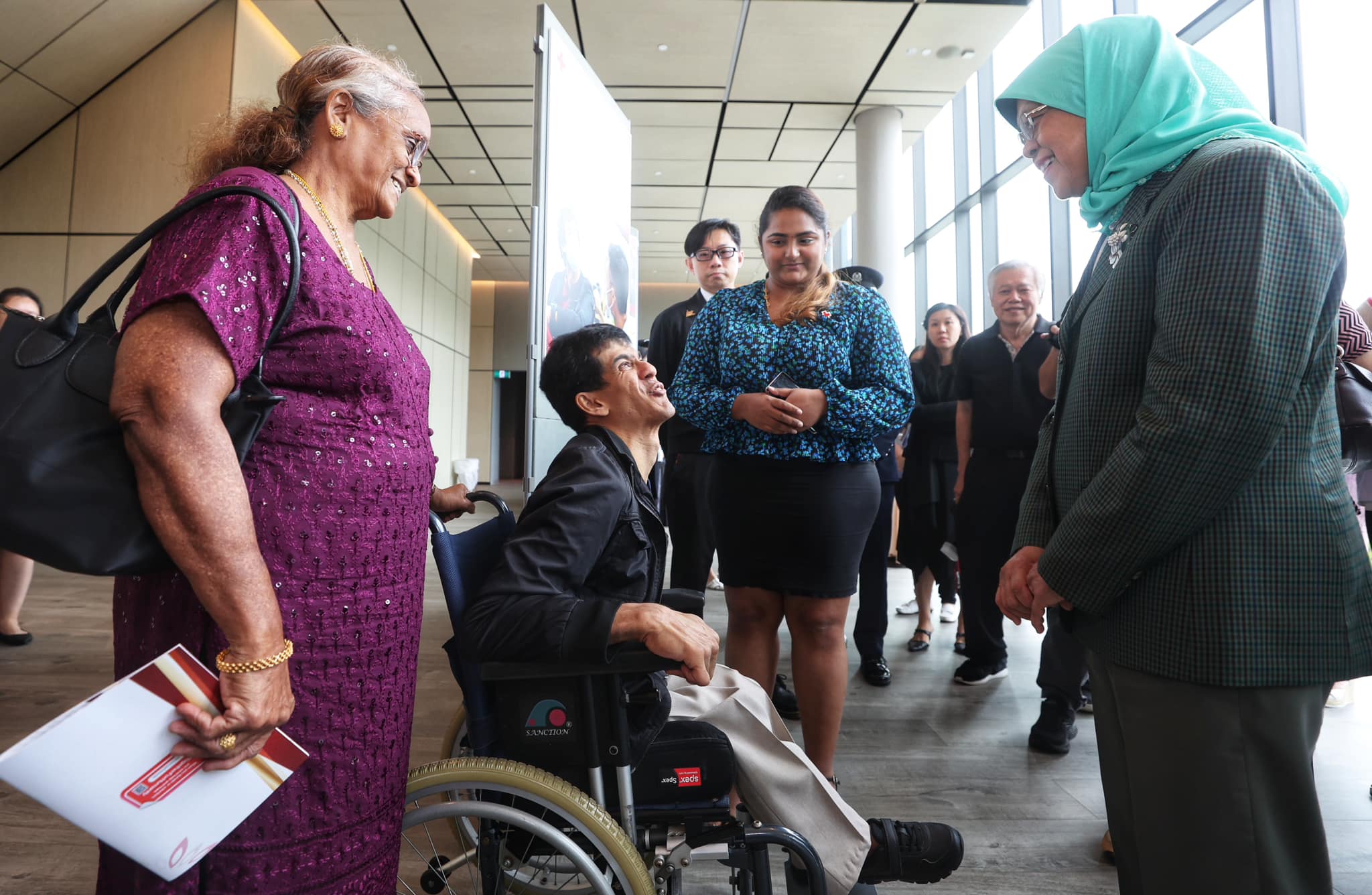 At the exhibition conveying SRC's efforts to strengthen the resilience of the elderly; persons with disabilities; caregivers; families; children/youth; and communities, was Mr Vignesswaran s/o Anbalagan (Vicky) who attends SRC's Day Activity Centre for the Disabled. His mother and caregiver Mdm Punitha shared how the DAC has transformed her son's life, and given her peace of mind. Two youth from SRC Young Hearts programme also shared how the enrichment and mentoring by SRC volunteers and partners have helped them become confident and focused in their studies. SRC Academy shared its efforts to empower caregivers through skills training, and its suite of mental health and psychosocial training to build resilience in today's youth and in workplaces.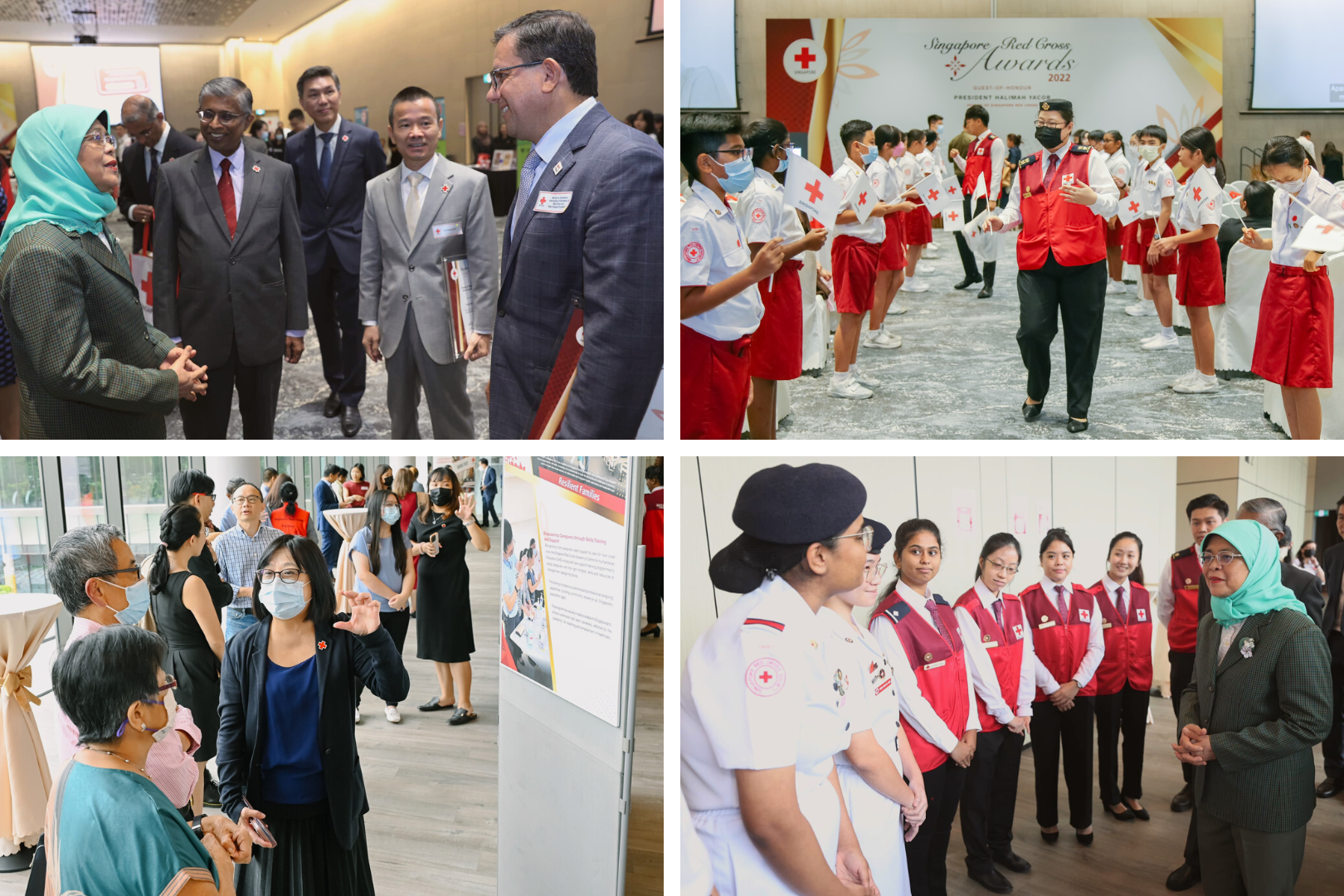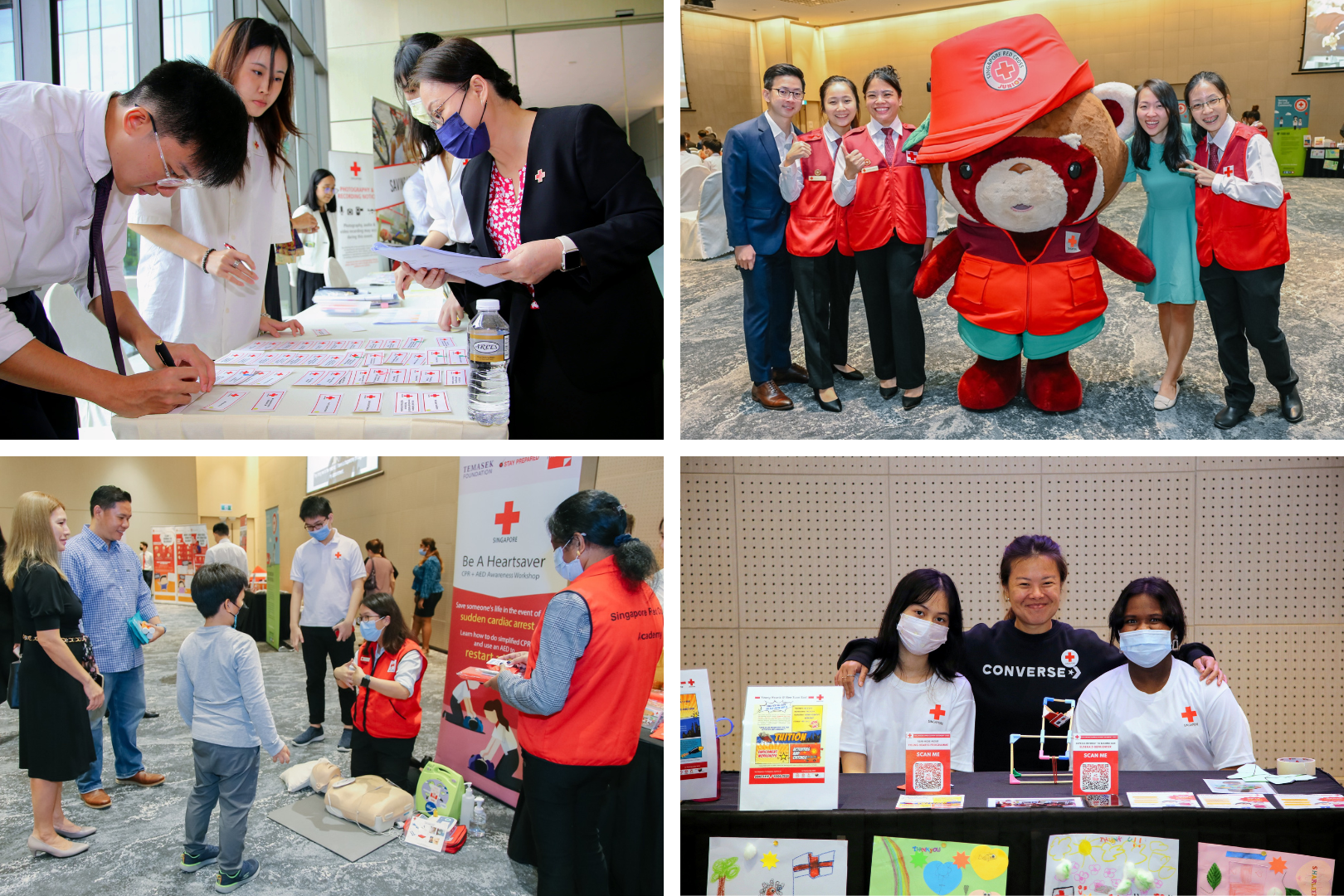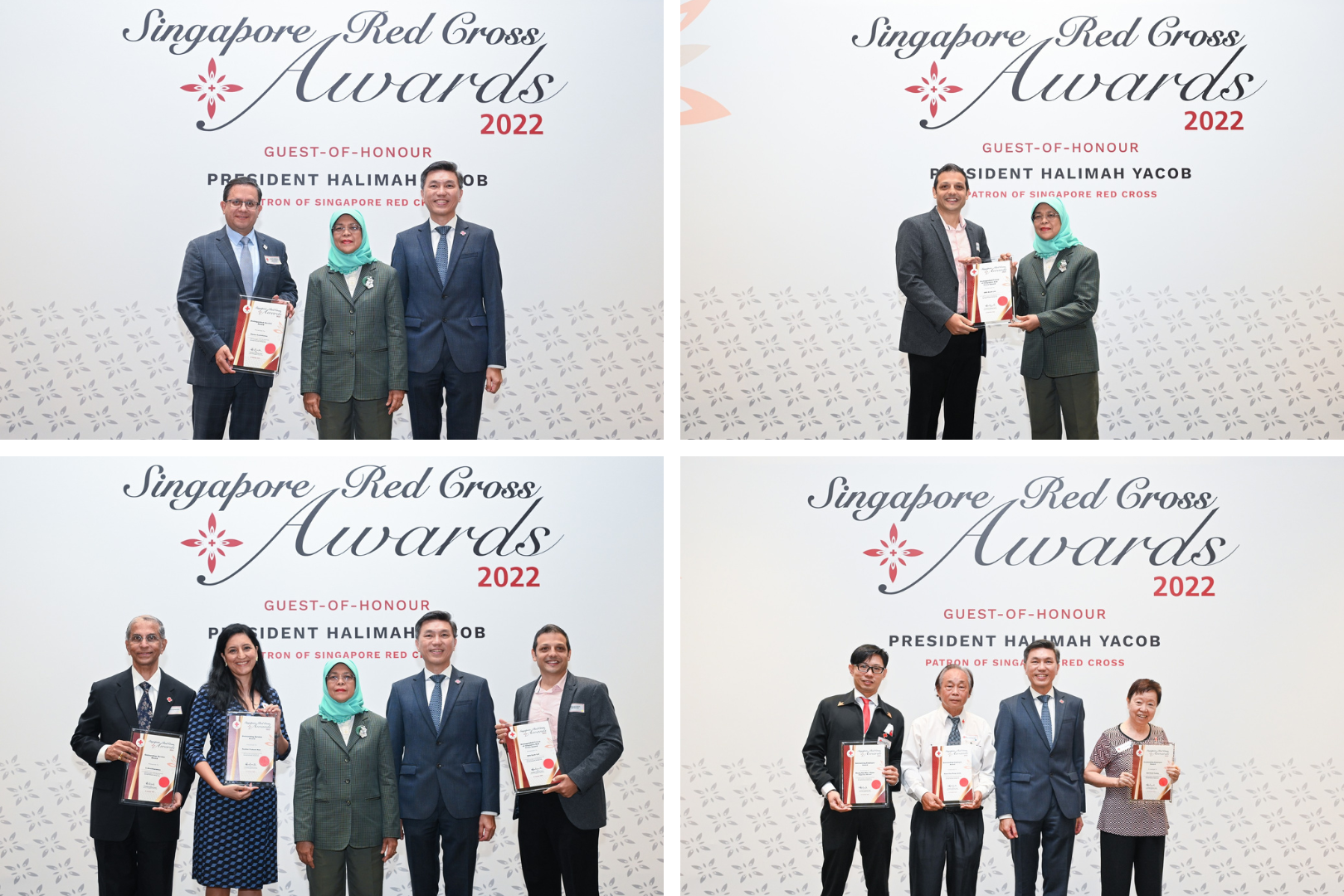 From top left (clockwise direction): Mr Xavier Castellanos, Distinguished Service Award 2021; DBS, Distinguished Friend of Singapore Red Cross Award; Recipients of Outstanding Service Award; Recipients of High Commendation Award.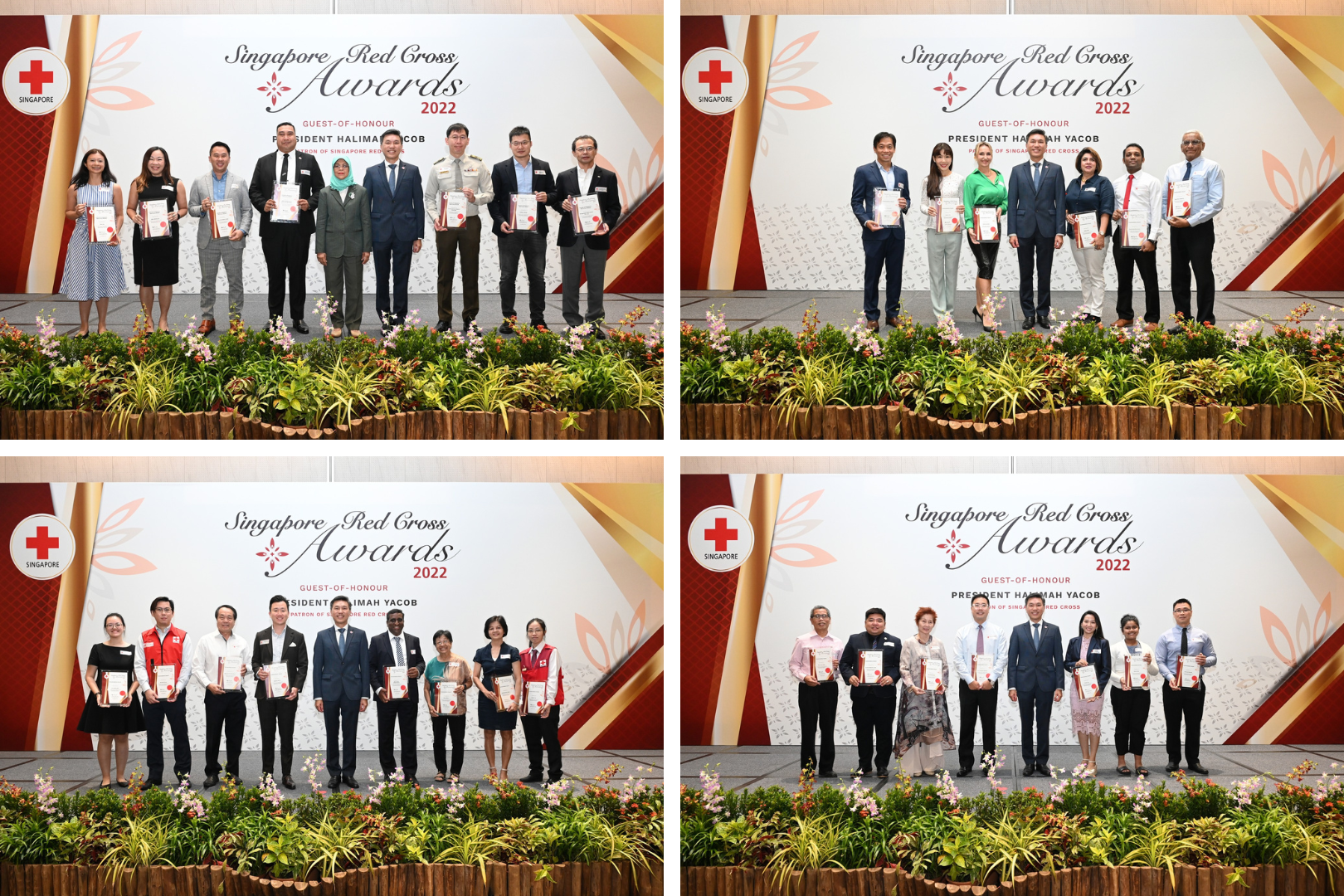 From top left (clockwise direction): Recipients of the Friend of Singapore Red Cross Award (Group 1); Recipients of the Commendation Award (Group 1); Recipients of the Commendation Award (Group 2); Recipients of the Commendation Award (Group 3).