Nourishing Hearts, Uplifting Families
Singapore Red Cross - FairPrice Meals with Love Programme goes beyond providing an interim solution; it is a compassionate response to alleviate the financial burdens faced by families in need. Our programme is targeted at providing a stop-gap measure while families work closely with dedicated social workers to develop a comprehensive, long-term care plan. With the heart of our mission rooted in empathy and support, we understand the importance of assisting families in achieving their goals and objectives.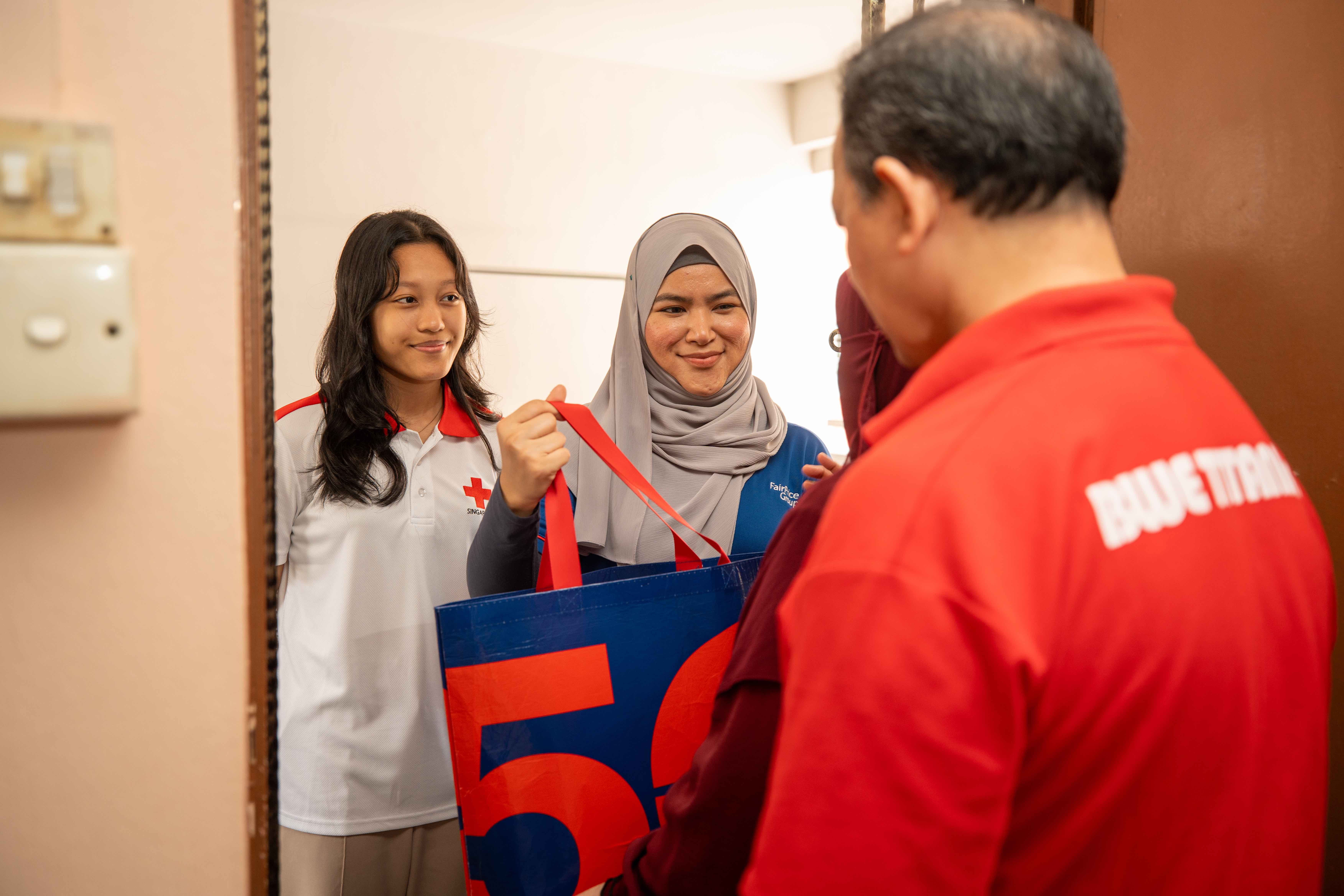 As part of our application process, we carefully review the financial action plans put forth by applicants. This ensures that our assistance aligns seamlessly with their aspirations, and facilitates their journey towards financial stability.
Identified families receive grocery vouchers for six months. They can use the grocery vouchers on nutritious food and groceries, as well as essential items such as diapers and milk formula powder. We strongly believe that no family should have to face adversity alone, which is why we maintain constant communication with social workers to ensure they receive the appropriate support. Meals With Love serves as the means to an end, providing nourishment and care for families in their time of need. In particular, the programme prioritises:
Families that have recently fallen into crisis
Skipped-generation families (Grandparent-headed households)
Single-parent families
Lower-income households
Applications for Meals with Love are open in April and October annually. Social workers and families requiring assistance or further information can send their applications and queries to casework@redcross.sg.
Even as Singaporeans become more affluent, there are still people struggling to get by, with minimal or no family and/or community support. The Singapore Red Cross has identified about 200 families every year who can benefit from a sustainable programme that aims to give every member of the family a leg-up in life. With your help, we can do more.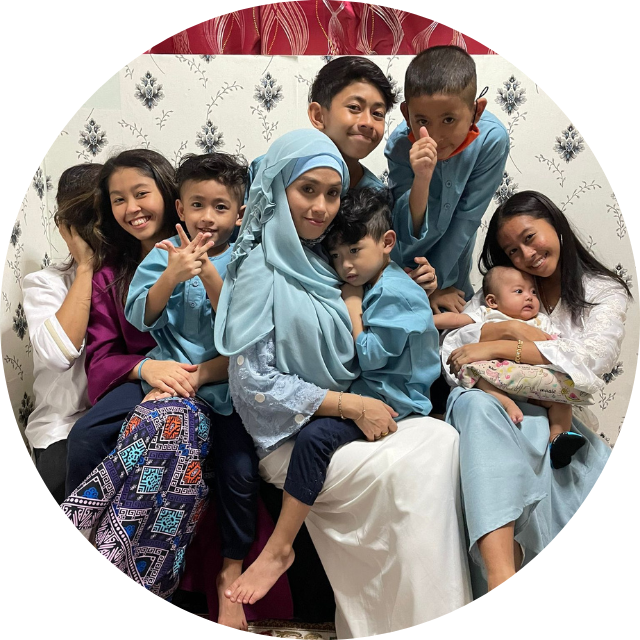 Since tying the knot in 2003, Zubaedah Binte Mohamed Yusoff and her husband have been blessed with six children, now aged between 7 and 20. Her youngest child was diagnosed with autism and Attention Deficit Hyperactivity Disorder (ADHD). Zubaedah's husband was incarcerated for drug-related offences for 11 years. Besides providing for her six children, Zubaedah has to provide for her three grandchildren aged 8 months, 15 months, and 26 months. Zubaedah does her best to provide for her family as a home-based hairdresser, to ensure that they are provided with food, shelter and education. Since being enrolled into Singapore Red Cross' Family LifeAid programme, her family receives monthly supermarket vouchers.
"My children get so excited whenever they receive the vouchers, to buy milk, fresh foods and supplies. We are very grateful, as your help came at a time when we needed support. Thank you, we appreciate the supermarket vouchers very much!" commented Zubaedah.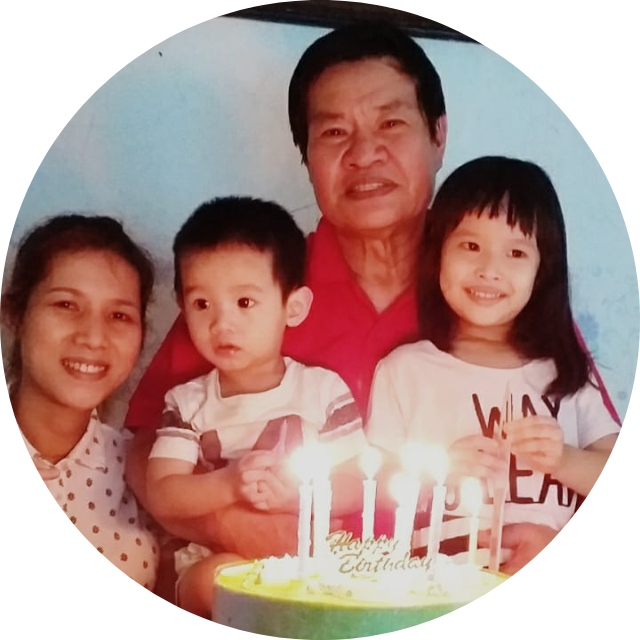 After being in and out of drug rehabilitation centres for drug abuse, Yeong Tuck Seng turned over a new leaf, engaged in community work and worked at food centres. But when his wife was diagnosed with thyroid cancer, Tuck Seng became the sole breadwinner of the family. With his wife's medical expenses and two young children to feed, Tuck Seng and his family struggles financially. Thye Hwa Kwan Charities (THK) referred Tuck Seng to the Meals with Love programme, which provides him with monthly supermarket vouchers to enable his family to tide over their financial woes.
"We always need diapers and milk powder for the little one, and fresh milk for the older child. These expenses add up, and that's why these vouchers have been so helpful to me and my family. I want to thank the Red Cross for helping my family and others in need in Singapore. The Singapore Red Cross volunteers have been very friendly. They also gave us good advice," said Tuck Seng.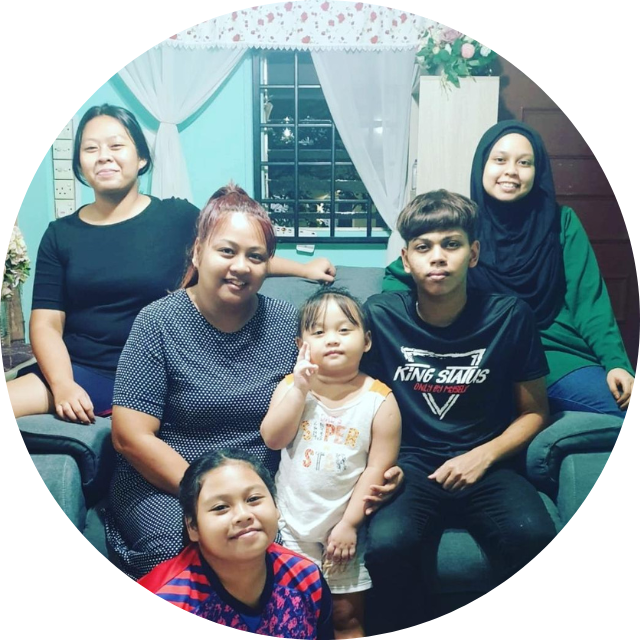 Erlina Mohd Jasni has five children, one from her first marriage and four from her second marriage. Her second husband returned home in a drunken stupor, with insufficient money for drugs. Following a heated argument, he locked Erlina and her five children out of the house. They camped out at a void deck for three days before seeking help at a Family Service Centre (FSC). The burden of caring for her five children, aged between six and 24, fell solely on Erlina's shoulders; following her separation and subsequent divorce from her second husband, who was incarcerated for drug offences. As Erlina was not eligible for financial aid, a social worker from the Family Service Centre referred her to Meals with Love. Through the programme, Erlina and her family get monthly supermarket vouchers, which have helped to lighten their financial burden.
"Thank you, Singapore Red Cross. We are very thankful for the supermarket vouchers. It enabled us to purchase nutritious food such as chicken, beef, vegetables and rice. With our groceries and necessities taken care of, we were able to save money to buy the laptop and books for my son," said Erlina.