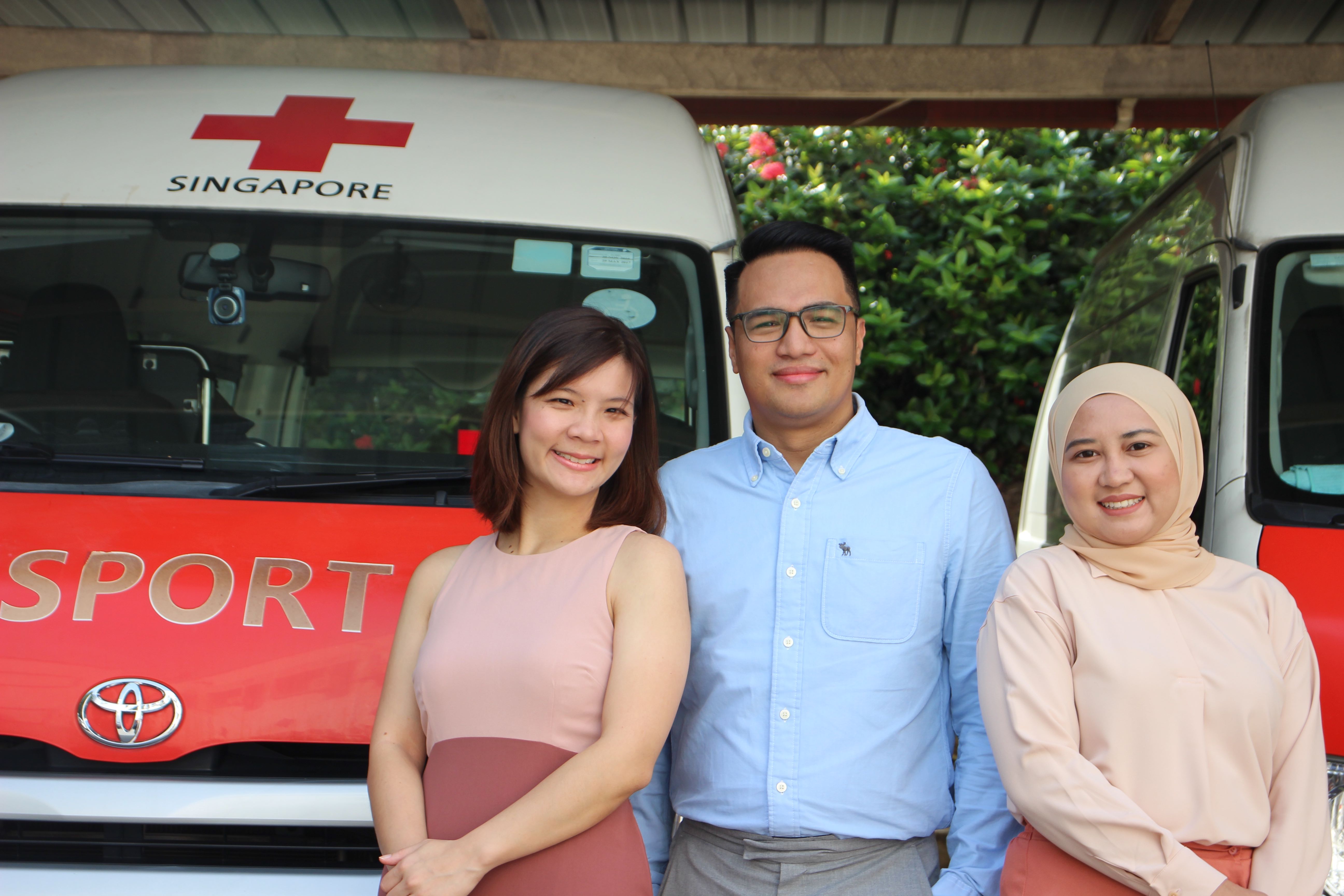 We are looking for exceptional individuals who share our mission of Serving Humanity and Saving Lives to join us!
Resource Development
JOB PURPOSE
As a key member of the Singapore Red Cross' Resource Development (RD) department, you will be part of the social enterprise team to plan and drive the development, launch and operations of the two outlets at the Social Enterprise Charity Shop. Your role will evolve to running the day-to-day operations and business; marketing and partnerships development; and volunteer deployment.
PRINCIPAL ACCOUNTABILITIES
OPERATIONS
1. Operations & Marketing
In-charge of the shop inventory management and operations.
Contribute to the growth and development of the shops by contributing and implementing business ideas, and securing and increasing corporate donors.
Implement seasonal sales, pop ups and bazaars to attract existing and draw new customers and increase footfalls.
Initiate the marketing of the shops, including publicizing stocks, location, and recognising corporate, group and individual fundraisers.
Maintain and update the shop protocols and SOPs.
Ensure compliance to financial and administrative requirements of the shop operation and sales.
2. Launch of Flagship store at HQ
Coordination and execution of marketing initiatives, sourcing of merchandise, engagement of and collaboration with partners.
Oversee and coordinate the setup of the retail space / visual merchandising.
3. Volunteer Management & Mobilisation
Plan and coordinate the manpower/volunteer schedule and engagement
Work closely with volunteers in managing the shop and ensure accountability
Organize training to equip and mobilise the volunteers to take up key roles and responsibilities
Coordinate with Admin & Operation and Volunteer Management for logistical and volunteer support
4. Donor-in-kind Management
Source for donations in-kind with new and existing donors
Build and maintain close ties with donor partners, and ensure all collections are completed promptly and in a timely manner
Collection and issuance of donated items, including the documentation, recording and safe-keeping
JOB SPECIFICATIONS
Qualifications & Experience
Diploma in Business, Social Enterprises, Marketing, Event Management or equivalent.
Experience in retail and social enterprise preferred
Fresh graduate may apply for this position
Additional Skills and Knowledge
● Good communications and interpersonal skills, able to relate and work well with people of diverse backgrounds
● Independent, team player, resourceful, meticulous, and thrives in fast-paced environment
● IT Savvy - Digital Marketing (social media) and Google Workspace
---
Youth Development
JOB PURPOSE
Provide operational and administrative support to the programme management of Red Cross Youth (RCY) while ensuring charity governance.
PRINCIPAL ACCOUNTABILITIES
Programme Management
Creates and manages volunteer records of RCY Chapters in SRC Volunteer Portal with adherence to Data Protection and Privacy Policy
Handle inventory control and manage event logistics
Ensures compliance to organisation & financial and administrative procedures through the use of RCY Approval Management and Tenderboard Procurement systems
Administrative
Ensuring all receipts are collated and submitted to Executive for approval
Operations
To be deployed for event duties (after working hours)
Report Submission
Ensures timely submission of required reports to supervisor or management with adherence to SRC finance procedures
Others
Undertake any other duties and assignments as assigned by the Head of Department
Additional Skills and Knowledge
Proficient in MS Office and Google Suite
Able to handle multiple projects with different timelines
Able to prioritize and organize work activity in order to complete assignments
Familiar with video editing and design software is an added advantage
Familiar with current trends and usage of social media platforms is an added advantage
Strong written and verbal communication skills
Desired Behaviour
Able to work independently, but is also a good team player
Self-motivated, resourceful and innovative
Prepared to work in a fast-paced and physically demanding environment, after office hours and weekends
Demonstrates initiative, analytical and problem-solving skills
Good interpersonal skills, with the ability to relate well to people at all levels
---
Community Services
JOB PURPOSE
The HoME+ Project Coordinator (Operations) is responsible for providing efficient administrative functions and operational support to the Home Monitoring and Eldercare (HoME+) service / programme under the Community Services Department of the Singapore Red Cross. This role primarily focuses on managing device installation, uninstallation home assessment , and cash collection for the programme.
HOME MONITORING AND ELDERCARE (HoME+)
About the programme: Home Monitoring and Eldercare (HoME+) is a monitoring system using sensors placed around the home. When unusual patterns are detected (inactive, fall, etc.) or when the user activates the panic button, the Red Cross' call centre is notified immediately. Depending on the situation, community responders or the SCDF (for emergencies) will be dispatched to provide assistance.
PRINCIPAL ACCOUNTABILITIES
Operations:
Liaise with internal and external stakeholders to ensure effective coordination and collaboration.
Manage the installation, uninstallation, and maintenance of HoME+ devices in clients' homes.
Conduct home visits to both current and potential clients, assessing their needs and providing support.
Collect fees from HoME+ clients promptly and accurately.
Administrative Support:
Ensure that HoME+ payments are accurately recorded and regularly updated
Process monthly payments and fees, ensuring accuracy and adherence to financial procedures.
Update clients' biodata accurately and in a timely manner.
Respond to general program inquiries via email and phone, providing prompt and helpful assistance.
Assist with putting up purchase requisitions and orders when necessary.
Perform other administrative duties as assigned by the supervisor.
Others:
Undertake or Participate in department and society events or activities
Support in volunteer recruitment and engagement activities.
Attend to HoME+ activation.
Any other ad-hoc projects.
Additional Skills and Knowledge:
Good command of both spoken and written English
Other spoken native language ie dialect will be an advantage
Computer literate
Good interpersonal and organisational skills
Meticulous with an eye for details and multi-task effectively
High initiative
Desired Behaviour:
Independent with the ability to relate well to people of all levels
Task-oriented and outcome driven
Demonstrate initiative and ability to work as a team above and beyond the job scope
Adaptable to the changing needs on the ground.
Willingness to work on weekends.
Qualifications and Experience:
Possess a Diploma from a recognised institution
Experience in a similar or related role and/or working with volunteers preferred
---
Community Resilience
For Children and Young Persons (CYPs)
JOB PURPOSE
The Young Hearts Programme offers resources and opportunities to give underprivileged children and young persons a leg-up in life, acquiring important life skills along the way. The Programme Coordinator provides general operational support.
JOB SPECIFICATION
Administration
Maintain timely and accurate documentation of the programme, including but not limited to assessment forms, volunteer records and reports
Understand the basic functions of the volunteer database management system
Ensure programme has a pool of regular trained volunteers
Operations
Interact with CYPs regularly, build positive relationships and contribute to their holistic development over a prolonged period
Plan and participate in Educational and Enrichment programmes, and Excursions
Support outreach efforts to build community awareness about the programme
Technical Competencies
Desired Behaviour
Required to work some weeknights and weekends (time-off provided)
Extroverted with a positive attitude
Self-motivated and proactive
Communicate confidently and professionally
---
Marketing Communications
JOB PURPOSE
Responsible for marketing communications for the Singapore Red Cross, including the full suite of strategic and cause-related marketing, digital marketing, influencer marketing, content marketing coordination of advertising and promotions, collateral production, and volunteer mobilisation.
JOB RESPONSIBILITIES
Collaborate with Operations / Programmes teams to ensure alignment in marketing campaigns and achieve business goals
Provide marketing communications support to internal stakeholders; manage multiple projects simultaneously, ensuring smooth coordination and timely delivery of marketing initiatives
Handle project briefs with Programmes teams and work with Marcoms colleagues, volunteers and external vendors to implement above and below-the-line campaigns, ensuring all requirements are scoped and delivered on time
Leverage Marketing Analytics tools to monitor and optimise campaign performance to ensure maximum effectiveness and return on investment (ROI)
Conduct market research and analysis to identify relevant target audiences, media channels, and trends
Develop team of skills-based volunteers to support marketing efforts
Plan and execute public outreach activities including community roadshows
Secure brand partnerships and manage sponsor relations
Job Specifications
EDUCATION
Degree in Marketing/Mass Communications/Business Administration or a related discipline.
EXPERIENCE
At least 1 year of experience in Digital Marketing / Advertising
Passionate about the social service / humanitarian sector, with a strong stakeholder focus
Demonstrate excellent organisational skills, possesses enthusiasm and initiative, with the ability to bring fresh ideas into marketing campaigns
Expertise in Paid Digital Media Platforms (Search, Display, Social) and proven ability to manage campaigns from start to finish, driving awareness, engagement and conversions
Experience with graphic design tools is a plus
---
Singapore Red Cross Academy
JOB PURPOSE:
Manages the full spectrum of system databases to ensure our Training Management System and Learning Management System is operational under CFALS/CPSS/CHE
Propose and implement a Customer Relationship Management system
Achieving excellent team work across SRC departments and within SRCA in Operations Management
Responsible for mobilizing Office Administration volunteers as a Volunteer Manager with the use of the Volunteer Management System.
PRINCIPAL ACCOUNTABILITIES
1. Operations
Focal person to liaise with system database vendors to ensure TMS/LMS is functional daily
Account Manager for large corporate entities working alongside with STC External Corporate to ensure positive customer experiences
Focal person to liaise across CFALS/CPSS/CHE with SRC Administration Department for equipment and logistics delivery and collection for all SRCA external and internal corporate clients
Focal person for GeBiz Account for Business Development purposes
Consolidate and tabulate the monthly revenue and expenditure
Oversees the timely submission of invoices for corporate clients to Accounts Payable
2. Any Other Duties
Perform basic office duties
Assist in replying general enquiries
To fulfill and maintain compliance to the PDPA requirements
To fulfill and maintain compliance to the SRFAC requirements
To fulfill and maintain compliance to the ISO 29993:2017 requirements
JOB SPECIFICATION
General Qualities
Must be computer literate and be competent in Microsoft Office / Google applications
Excellent communication and interpersonal skills to build a strong rapport with vendors and the ability to relate well at all levels
Organised and sensitive to small details
Analytical, motivated and positive personality
Excellent interpersonal and communication skills
Able to work independently without much supervision
Possess strong work ethics and keep the information confidential
Prepared to work in a fast-paced and physically demanding environment, including weekends occasionally
---
Community Services
JOB PURPOSE
Provide transporter services and as part of Transport Aid programme under the Community Services Department
PRINCIPAL ACCOUNTABILITIES
Operations Matters
Provide response and safe conveyance of Transport Aid clients.
Ensure the wellbeing of Transport Aid clients during conveyance. This includes provision of appropriate first aid treatment when required as according to the Transport Aid's standard operating procedures.
Maintain proper records of the patients and service provided.
Keep stock of inventory and other equipment for the service and to ensure that the equipment is in good condition.
Ensure that the vehicles are clean and prepped for service daily.
Maintain the vehicles' external body and engine at optimal condition.
Record the mileage of the vehicles upon return to the HQ.
Render support to any other services in the SRCS that require a driver when the needs arise.
Others
Attend meetings with regard to Transport Aid Service and also assist in any events and activities organized by SRCS.
To support the provision of first aid treatment to casualties during Community First Aid assignment.
To provide vehicle support during Civil Emergency Activation.
Undertake any other duties as assigned
JOB SPECIFICATIONS
Qualification
Minimum GCE 'N' level
Valid Class 3/3A Driving License
Valid Standard First Aid and AED certificate preferred
Experience
Minimum 2 years of driving experience
Prior working experience in the social service sector would be an advantage
Skills & Knowledge
Good driving skills
Good knowledge of road directions and locations
Good traffic manners
Good interpersonal skills
Independent as well as good team player
Ability to speak a few languages or dialects would be an added advantage
Medical background would be an added advantage
Comfortable with working alone
---
Red Cross Home for the Disabled (RCHD)
JOB PURPOSE
Provides nursing and care activities under the direction of the Registered Nurse (RN) in accordance with RCHD's policies and standards of nursing care and practices. Providing guidance and supervision to junior nurses, nursing aides and healthcare aides.
Responsibilities:
Nursing Care and Management
Provide and ensure that quality nursing care and service is rendered to the residents / clients at all times.
Assist the RN(s) in ensuring and providing safe nursing practice and a high standard of care.
Ensure the Nursing Aides and Healthcare Aides follow the safety precautions / practices in the prevention of falls, hazards and/or pressure sores.
Assist the RN in attending to emergencies as and when the need arises
Able to perform nursing procedures independently such as:

NG Tube Insertion
Simple Wound Dressings
Hygiene Practices such as isolation nursing, proper handwashing techniques and management of waste products

Maintaining proper documentation of vital signs and reporting to the RNon duty / in-charge when there is a change in the residents / clients condition.
Assist the RN in the serving of residents' medications; monitor and supervise the Nursing Aides when feeding the medication to residents ­ ensuring zero (0) medication errors.
Together with the RN on duty / in­-charge, to participate and assist in the Volunteer Doctor's rounds.
Collaborates and cooperates with other healthcare professionals to ensure proper and smooth delivery of care and service.
Accompanies the residents/clients for clinic/hospital appointments and / or transfers, when the need arises.
Respects and protects the rights and responsibilities of the residents / clients.
To be on call in the event of an emergency in the Home.
Professional Development
Mentor and supervise Nursing Aides and Healthcare Aides in their scope of work, clinical skills and especially in the maintenance of safe work practices and infection control standards.
Participates in on­going nursing education to enhance clinical knowledge and competency.
Work in collaboration with the Nurse Educator/Clinical Instructor for on-the- job training of Nursing Aides and Healthcare Aides.
Administration
Assist the RN in the preparation of the duty rosters.
Assist the RN in the preparation and maintenance of documentation.
Customer Management
Acts as a liaison to clients and their families, maintaining good rapport and service
Maintaining good relations whilst liaising with external agencies such as but not limited to, hospitals, clinics, etc.
Maintain good relations with internal customers of the Home.
Maintain, at all times, good public relations with volunteers and visitors
Requirements:
National Institute of Technical Education (ITE): Certificate in Nursing or its equivalent

Valid practicing license as an Enrolled Nurse with Singapore Nursing Board

At least 2 years of relevant working experience in a hospital or healthcare environment.

Some experience in working with persons with disabilities or the elderly would be preferred.
---
Staff Nurse
Red Cross Home for the Disabled
JOB PURPOSE
Provide assessment, care planning, managing clinical emergencies, safe medication administration, infection control, integrative care and supervising nursing aides and healthcare aides in accordance to the established policies and procedures.
PRINCIPAL ACCOUNTABILITIES
Patient Care
Provide nursing care and ensure quality service is rendered to the residents at all times;
Develop, evaluate and modify care plans for residents;
Assess the physical, emotional and psychological well being of residents through observation and analysis of physical health indicators to evaluate care plan and identify modifications which may be required;
Conduct frequent rounds with staff to check on residents' health and medical conditions;
Supervise and guide the staff assigned to the home to ensurethatpropercaregiving, nursing and administrative procedures are maintained;
Supervise the medical assistance rendered to patients are in lieu with training and Standard Operating Procedures (SOP);
Administer first aid and emergency health measures such as CPR;
Perform dressing of wounds and lesions;
Practice sterile techniques and other infection control procedures to minimize the transmission of infection;
Monitor and participate in the personal care of residents/ clients, as required; for example, hygiene, feeding, positioning, transferring, ambulation, toileting;
Use electric/ hydraulic/ manual equipment and lifting devices when required;
Ensure that food prepared meet the dietary requirement of the residents;
To be on call in the event of emergency in the Red Cross Home for the Disabled.
Social Welfare Assistance
Work with the Social Worker/SWA in assessment of cases referred by welfare organizations, hospitals, nursing homes and dialysis centres for admission and respite care, and the periodic review of cases for continual stay;
Work with the Social Worker/SWA and other health professionals in developing and sustaining the needed programmes for the residents;
Counsel, instruct and confer with resident/client family in planning care: provides emotional support; responds to enquiries and resolves complaints.
Medical Services
Accompany the doctor on rounds to provide residents' condition and progress and assists with examinations such as positioning, dressing residents;
Transcribe verbal or written doctor's orders for medication or other treatment;
Prepare precise dosages of medication in accordance with doctor's instruction and administer to residents;
Follow-­up on the medical programme advised by the clinic or hospital and doctors;
Check and audit medical records to ensure that they are documented and kept properly;
Maintain inventory for required medicine and ensure medicationsareproperlystored and not expired.
Stakeholder Management
Act as liaison to existing clients and maintain good rapport and services;
Communicate, collaborate and coordinate with partners (MSF, NCSS, SG Enable) to maintain good rapport and continuity of service;
Maintain at all times good public relations with volunteers and visitors;
Oversees the general staff welfare.
Administration
Prepare staff duty roster and ensure there are enough staff to manage the resident at all times;
Prepare and maintain documentation such as care plans, health care records, medication administration, nursing records and reports;
Submission of reports to Head, Nursing and relevant Supervisors.
Safe Work Practice
Ensure the cleanliness of the Home and maintain safe work practices;
Responsible for the proper maintenance of all the equipment used in the Red Cross Home for the Disabled i.e. trolleys, medication fridge, etc.;
Conduct quality assurance on the equipment at least twice a year;
Familiar with all aspects of nursing home emergency and evacuation procedures and policies;
Assist in fire drill exercise twice a year in accordance with the Fire Safety Bureau Regulations with the assistance of all staff concerned.
Other Duties
Assist in events held at the Red Cross Home for the Disabled;
Promote the Red Cross Home for the Disabled to ensure optimal usage of resources;
Encourage strong volunteer involvement among individuals, groups and companies;
Any other duties assigned by Reporting Officer.
Qualifications
Possess a recognised university degree / Certificate or Diploma in Nursing;
State Registered Nurse.
Experience
5 to 10 years of relevant working experience in a hospital or health care environment;
Experience in working with the disabled or the elderly preferred.
Additional skills and knowledge
Ability to perform holistic assessments/reassessments for residents regardless of complexity to establish a comprehensive plan for care;
Ability to prioritize and organize work activity and provide work direction to staff members in order to complete assignments;
Good verbal and written communication skills;
Knowledge to monitor staff performance and the environment ensuring a safe workplace for staff; provides re­instruction where needed;
Basic computer skills.
Desired Behaviour
Able to act as a coordinator of care for complex residents, sharing nursing expertise and demonstrating leadership while working in collaboration with other care providers;
Able to work independently, but is also a good team player;
Self-­motivated, resourceful and innovative;
Demonstrates initiative, analytical and problem solving skills;
Good interpersonal skills, with the ability to relate well to people at all levels;
Enjoy working with volunteers.
---
as part of SRC's Medical Chaperone & Transportation (MCT) Service
Engagement of chaperones to accompany seniors from their doorstep to scheduled medical appointments and back home safely.
About MCT:
Provides company for frail seniors who have been missing their essential medical appointments because of the hefty fees, and lack of assistance to and fro the treatments during weekdays.
Job Description:
Accompany seniors from their home to scheduled medical appointments, and back home safely. Transportation fee for chaperone and senior will be covered from senior's home to the medical appointment and back.
Requirements:
18 years old and above.
Must be available on Weekdays: Appointments may start as early as 9AM, as such, chaperone is required to be at the senior's home as early as 815AM. Each appointment will usually take 4 hours.
Able to start immediately: Chaperone is required to make a trip down to SRC's office for interview and signing of a contract for service.
A commitment of at least six months is preferred but not compulsory.
Non-Singaporeans/PRs are welcome!
Expected Payout:
$400 - $700/month, depending on the number of appointments a chaperone takes on.
Note:
No CPF; chaperone is required to personally collect cheque from SRC's office for service rendered.
Incentives:
Payout increment based on the number of trips.
Subsidised fees for family members' usage of SRC non-emergency services.
Character reference note by SRC for good performance: Chaperones who show positive performance for 3 months may be given a character reference note by SRC for their subsequent job applications.
Job referral opportunities within SRC or with our external partners.
Subsidised or complimentary trainings provided by SRC:
For more information or to arrange for an interview, please call the Project Coordinator, Edison Ong at 6664 0543, or email crd.mct@redcross.sg
---
Red Cross Home for the Disabled
JOB PURPOSE
The Therapy Aide will be under the direction of a registered therapist, participate in and oversee the performance of a variety of supportive activities, use various equipment and techniques to perform physical therapeutic methods, practices and procedures.
PRINCIPAL ACCOUNTABILITIES
Operation
Observe residents/clients during treatment to compile and evaluate data on residents'/clients' responses and progress, and report to physical therapist.
Clean and organize work area and disinfect equipment after treatment.
Instruct, motivate, safeguard and assist residents'/clients' practicing exercises and functional activities, under direction of nursing staff.
Secure residents'/clients' into or onto therapy equipment.
Transport residents'/clients' to and from treatment areas, using wheelchairs or providing standing support.
Confer with physical therapy staff and others to discuss and evaluate residents'/clients' information for planning, modifying, and coordinating treatment.
Record treatment given and equipment used.
Perform clerical duties, such as taking inventory, ordering supplies, answering telephone, taking messages, and filling out forms.
Maintain equipment and furniture to keep it in good working condition, including performing the assembly and disassembly of equipment and accessories.
Administer active and passive manual therapeutic exercises, therapeutic massage, and heat, light, sound, water, and electrical modality treatments, such as ultrasound.
Change linens, such as bed sheets and pillow cases in the treatment area.
Arrange treatment supplies to keep them in order.
Assist residents'/clients' to dress, undress, and put on and remove supportive devices, such as braces, splints, and slings.
Measure residents'/clients' range-of-joint motion, body parts, and vital signs to determine effects of treatments or for residents'/clients' evaluations.
Train residents'/clients' to use orthopaedic braces, prostheses and supportive devices.
Fit residents'/clients' for orthopaedic braces, prostheses, and supportive devices, adjusting fit as needed.
Participate in residents'/clients' care tasks, such as assisting with passing food trays and feeding residents, and bed rest.
Participate in staff development programmes.
Assist in recreational and social programmes.
Undertake any other duties as assigned
Customer Management
Respond to queries on the telephone from volunteers and members of public on services provided by the division and redirect if necessary to relevant divisions.
Meet and greet clients and visitors.
Project/Programme Management
Support staff in assigned programme/event.
Assist in programme/event and operational duties
Any Other Duties
Assist to provide orientation for new foreign staff
Perform first aid duty in the event of an emergency or when required
JOB SPECIFICATION
Certificate in Physiotherapy or Degree in Physiotherapy (for foreign staff)
Knowledge of equipment
Knowledge of proper lifting technique
Able to understand English and communicate effectively
Ability to observe, evaluate and record conditions, reactions and changes in the physical condition of the residents' / clients
Independent as well as good team player
---
Red Cross Home for the Disabled
Responsibilities:
Maintain the general cleanliness at the Home
Assist Nursing Aides, Staff Nurses, and other staff
Undertake any other duties assigned
Requirements:
GCE 'O' or 'N' Levels or its equivalent
Healthcare Aide Certificate (from country of origin) or its equivalent
Basic nursing skills, such as feeding, turning, changing, bathing etc.
Relevant working experience in nursing homes or hospitals
Housekeeping experience
Able to understand and communicate in English
Independent and a good team player
---
Red Cross Home for the Disabled
Responsibilities:
Assist the Staff Nurse in providing nursing care such as dressing, serving medication, etc
Supervise the Healthcare Aides and volunteers
Undertake any other duties as assigned
Requirements:
Certificate in Healthcare (Local)
Certificate in Midwifery or Degree in Nursing (Foreign)
Relevant working experience in nursing homes or hospitals
Good at taking instructions
Able to understand and communicate in English
Independent
Able to work in groups
---
*Applicants may send your CV (together with a cover letter) in MS Word or PDF format to us.
We regret that only shortlisted candidates will be notified.