Red Cross Youth programmes
Red Cross Youth organises a variety of programmes and activities every year to nurture compassionate leaders for humanity. Youths develop unique abilities and qualities to inspire and influence positive change in others by their own actions.
Linkamania
Started in 2003, Linkamania is an annual camp for Red Cross Youth Links (primary school units). The camp is one of the Singapore Red Cross initiatives that include Values-In-Action platforms to mould youths into concerned citizens in line with MOE's focus on Character and Citizenship Education (CCE) and emphasis on 21st Century Education Competencies.
National First Aid Competition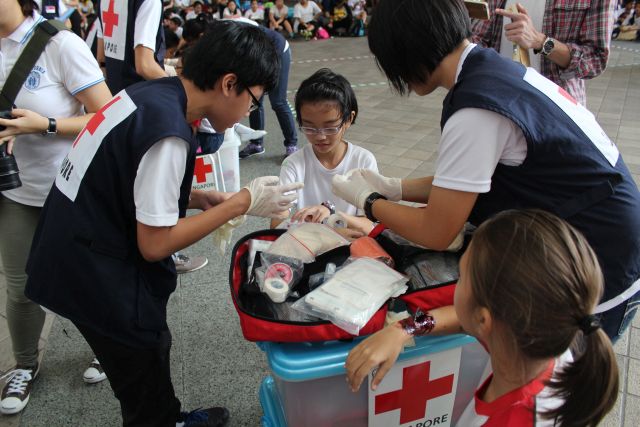 An annual event to raise the awareness of the importance and relevance of first aid among youths, the National First Aid Competition is an exciting time where Red Cross Links, Cadets and Chapters get to show off their first aid skills. They also take the opportunity to raise awareness about the importance of first aid. Disaster management demonstrations are also held at this event.
Project R.I.C.E.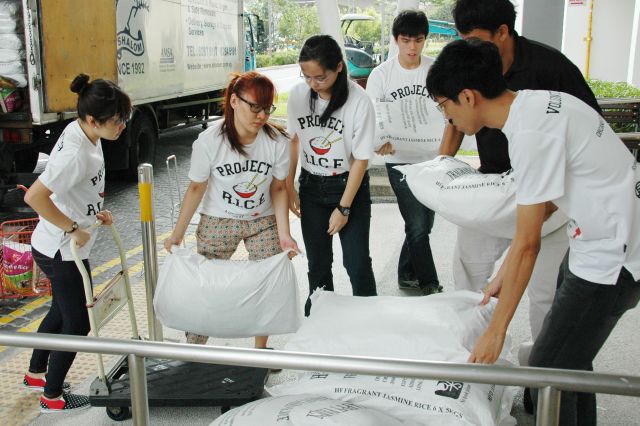 Launched in 2008 by Red Cross Youth Chapters, Project R.I.C.E. has made a name for itself as an annual nation-wide community project initiative to help disadvantaged families in Singapore. Every year, Red Cross Youth Chapters and volunteers distribute food items including rice, donated by the Singapore public to beneficiaries. These food items are sponsored by the Singapore public by way of monetary donation via a supermarket partner.
Overseas Humanitarian Programme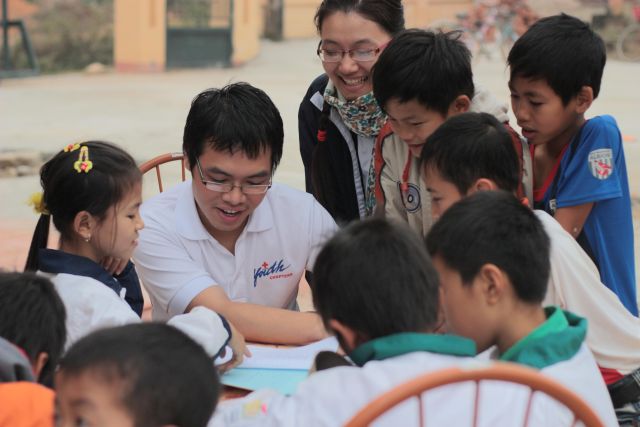 Red Cross Youths embark on overseas community projects to improve basic amenities as well as impart soft skills vulnerable communities. Depending on the needs of the community, youths will conduct activities like hygiene education, basic first aid training, lifesaving training and evacuation and even construct hygiene facilities.
Youth Ambassadors' Blood Programme
Established in March 2010, the Youth Ambassador's Blood Programme (YABP) empowers youth to champion the life-saving cause of blood donation by providing them with opportunities to advocate blood donation to their friends, family, and community, and the skills to plan, organise and implement blood donation drives and roadshows.
The YABP comprises of three compulsory modules, with a fourth optional module. In Modules 1 to 3, youth learn about
a. National Blood Programme and Blood Donor Recruitment programme
b. Science and process of blood donation
c. Recruitment of blood donors, organisation and management of blood donation roadshows
The optional 4th module teaches youths to organise blood donation drives and manage blood donors at these events.
Volunteer Instructors Programme
The Red Cross Youth Volunteer Instructors' Programme is designed to equip Trainees with the necessary skills, knowledge and attitude to
a. Mentor and teach Cadets
b. Work efficiently with fellow Volunteer Instructors in HQ events
c. Assist their Teachers in running the unit.
The programme also instills professionalism, responsibility and respect in Trainees, to enable them to effectively contribute to the Singapore Red Cross and Red Cross Youth communities.
Sign up for the Volunteer Instructors programme by emailing us.
Join us! Check if your school has a Red Cross Youth CCA.