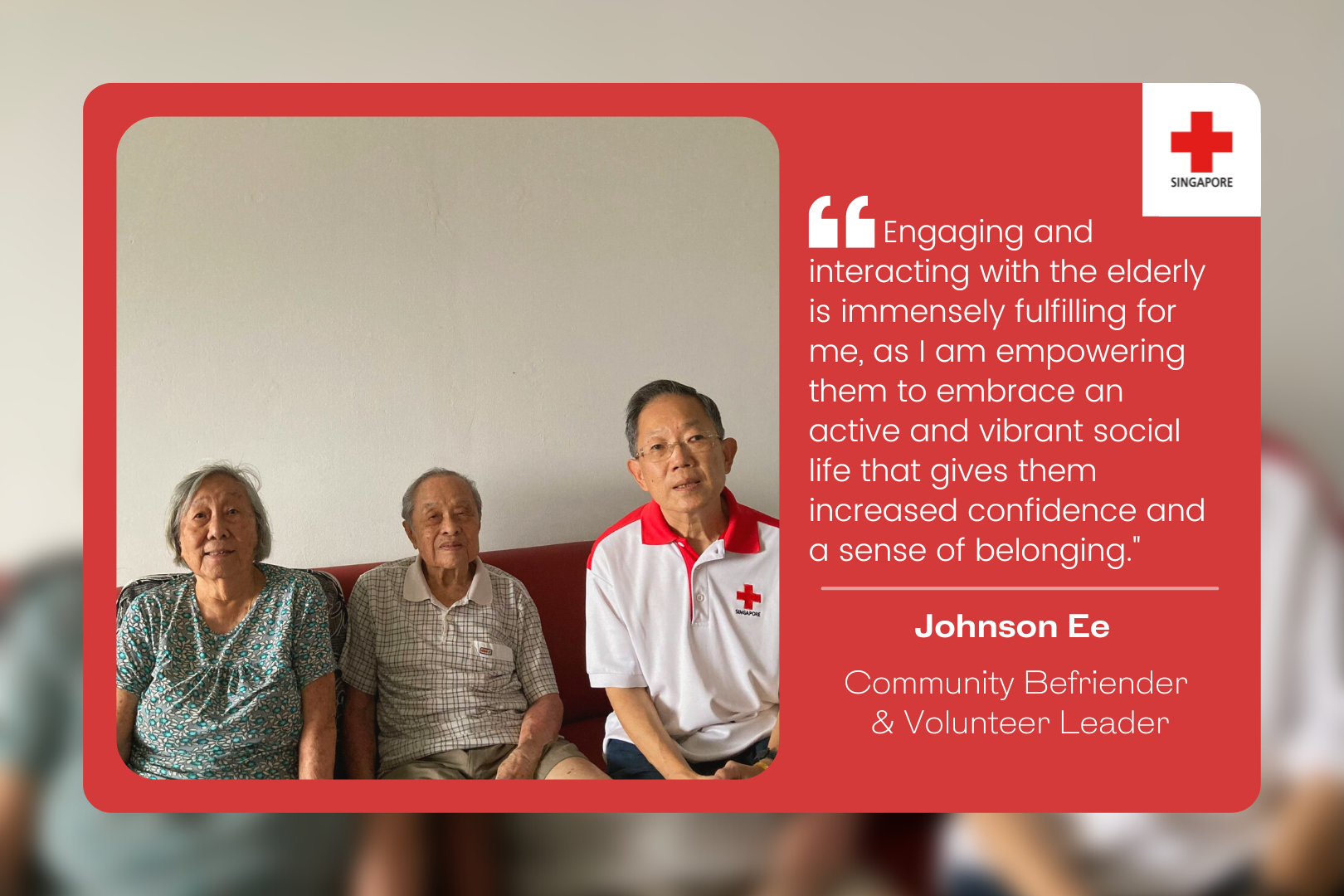 Johnson Ee, 68, a retiree, stumbled upon a volunteer engagement session with seniors at Our Tampines Hub in 2015. Inspired by the passion and commitment of the volunteers, Johnson decided to join the Singapore Red Cross' Community Befriending programme, formerly known as ElderAid. Today, as the leader of the NorthEast Community Befriending Workgroup, Johnson demonstrates his dedication to the well-being of seniors by engaging them in the comfort of their own homes, and organising outings for them to socialise with other seniors. He is also a dedicated Volunteer Leader, who hopes to inspire others to join him in volunteering and serving the community.
Inspired to Contribute
"I didn't volunteer when I was younger as I was preoccupied with work commitments to provide for my family," said Johnson Ee. All that changed in 2014 when Johnson retired from his job, and chanced upon a Singapore Red Cross (SRC) volunteer engagement session with seniors at Our Tampines Hub in 2015. It ignited his passion to give back to society by uplifting those in need.
"The dedication and care that the volunteers displayed toward the seniors was truly inspiring. The joy that illuminated the faces of the seniors was a powerful testament of the impact of the volunteers' efforts," Johnson shared.
Johnson's keen interest in the event caught the attention of an SRC employee, who identified his potential as a passionate volunteer and invited him to join the SRC Community Befriending programme (formerly ElderAid). Johnson embraced the opportunity and signed up for the initiative without hesitation.
Supporting the Elderly
To better support the seniors, Johnson, along with his fellow Community Befrienders, underwent comprehensive training in a range of essential skills including Standard First Aid, Psychological First Aid, Advanced Psychological First Aid, and Eldercare.
Equipped with this knowledge and expertise, Johnson serves as a capable and compassionate volunteer, teaming up with another dedicated volunteer to visit seniors in their homes on a fortnightly basis.
Johnson understands the importance of active listening and addressing the unique needs of seniors who live alone.
"Besides the gift of friendship, we offer an attentive and empathic listening ear and ensure that seniors feel heard, valued and supported," he said.
Recognising the importance of holistic well-being, Johnson also engages the seniors in recreational activities and outings, to promote their physical, mental, and emotional well-being.
His deep understanding and interaction with the seniors enables him to identify their unmet needs. To ensure the seniors get the necessary care and support they deserve, he would connect them to the appropriate social service assistance schemes available in the neighbourhood, or to SRC's humanitarian services such as TransportAid and Home Monitoring and Eldercare.
Drawing from his eight years of volunteering experience with seniors, Johnson imparts the pearls of wisdom he has acquired along the way.
"While we strive to help seniors with their problems and challenges, we must not be too hasty in providing them with quick-fixes for all their problems. It is important for seniors to exercise their autonomy and decision-making abilities whenever possible. We can help by engaging them in an empathic and thoughtful discussion on their problems, and allow them to actively participate in finding their own solutions. This fosters a sense of self-empowerment and self-reliance, which helps seniors to feel independent and in control of their own lives." Johnson said.
Rewarding Experiences
Johnson cherishes the moments when he witnesses the appreciation and delight expressed by seniors during their visits and outings. Their gratitude and joy serve as a reminder of the impact that the Community Befriending Programme has on their lives.
"The happiness of the seniors fuels my motivation to continue volunteering with the Community Befriending programme. Engaging and interacting with the elderly is immensely fulfilling for me, as I am empowering them to embrace an active and vibrant social life that gives them increased confidence and a sense of belonging," he stated.
Johnson's unwavering commitment to serving the senior community has not gone unnoticed. His dedication to serve the elderly has propelled him to rise through the volunteer ranks, and assume a leadership position. In recognition of his leadership qualities and contributions to the success of the Community Befriending Programme, Johnson was appointed the leader of the North East Community Befriending Workgroup in 2018.
Leading by Example
To cultivate his leadership potential, SRC enrolled Johnson in the Volunteer Leadership Programme (VLP), which is aimed at enhancing his knowledge and understanding of the theoretical and practical aspects of effective leadership.
"Through the Volunteer Leadership Programme, I acquired valuable insights on the power of active listening as a means to provide solace and alleviate loneliness among seniors. I also learnt about the principles of servant and transformational leadership, and how these concepts can foster trust, camaraderie, as well as a sense of security and happiness in the lives of seniors." Johnson shared.
In his role as a Volunteer Leader, Johnson embraces his responsibility of motivating his team members to stay committed to uplifting the lives of the seniors.
"At times, volunteers may find it challenging to sustain their involvement due to time constraints or other personal commitments. As a Volunteer Leader, I actively encourage and motivate my fellow team members to persevere in their volunteering efforts, and strive to instil a sense of purpose and fulfilment in them while ensuring I lead by example by serving the elderly with an enthusiastic and cheerful heart." Johnson said.
Championing Volunteerism
Urging more people to join SRC's Community Befriending Programme for seniors, Johnson said, "A caring heart and a desire to make a positive difference in the lives of others is all it takes to join us as Community Befrienders. We are committed to providing comprehensive training to equip you with the necessary knowledge and skills to effectively engage and care for the elderly."
The role of Community Befrienders, like Johnson, is crucial in addressing the challenges faced by the ageing population in Singapore. The needs of our seniors will become more complex and diverse as our population ages. Volunteerism plays a vital role in meeting these evolving needs. By encouraging more people to become Community Befrienders, we can expand the pool of resources available to support the elderly. Not only will this ensure our seniors receive the care and support they deserve, it will also strengthen our resilience as a nation.
By Lee Kher Shing, Volunteer
Edited by Arshad Shiju, Volunteer