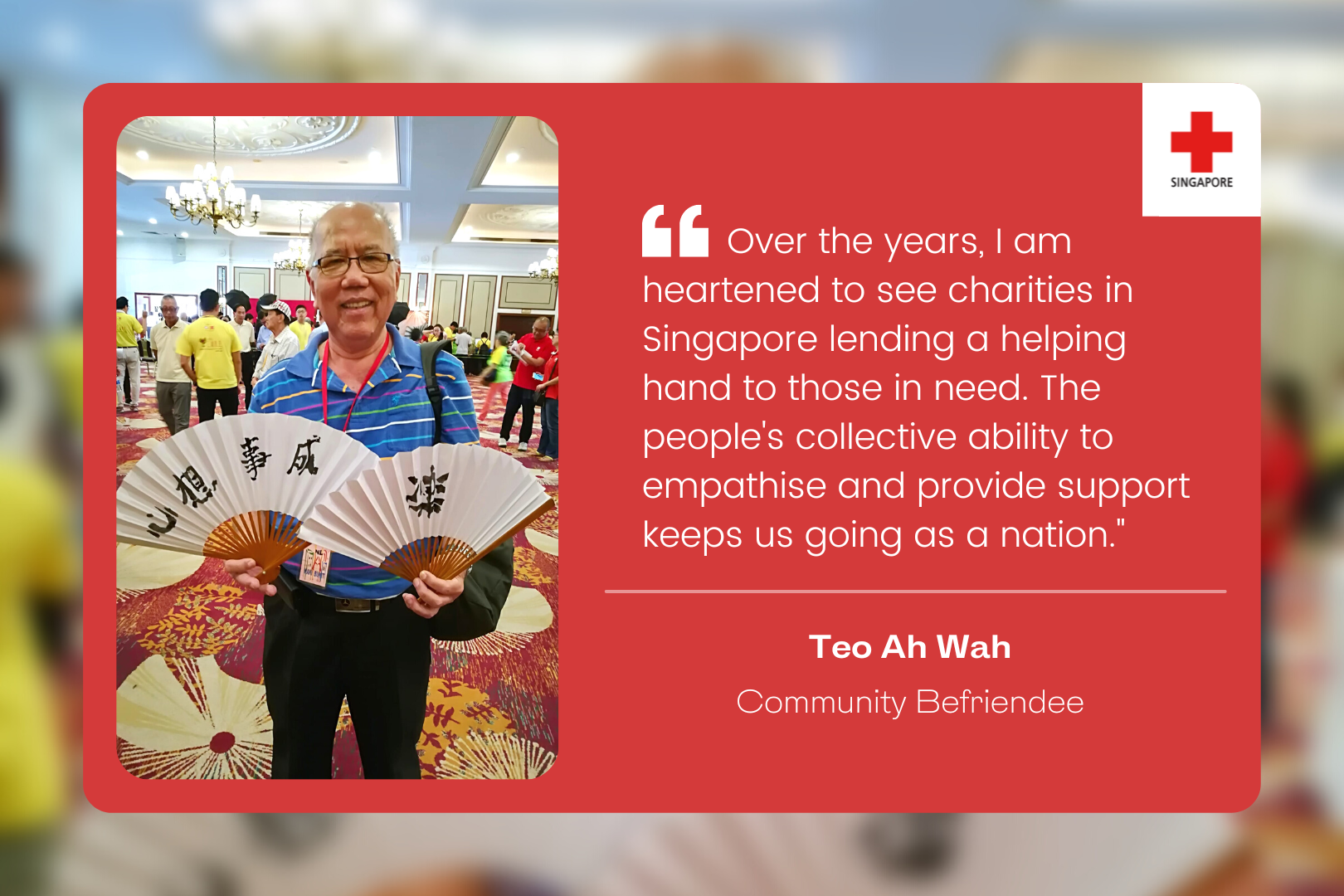 A dedicated volunteer, Mr Teo leveraged his caregiving knowledge and skills to provide companionship and joy to seniors living alone. Through music classes, Mr Teo found purpose in helping seniors find more meaningful and joyful ways of spending time, which helped him cope as a caregiver for his wife. Community Befrienders from the Singapore Red Cross have since offered their support to him in his ageing years since September 2019. It is a beautiful display of reciprocity, serving as a poignant reminder of the full circle of life, where the care and compassion they extend to others find their way back to them in times of need.
Mr Teo Ah Wah, 74, a dedicated volunteer, holds volunteering close to his heart.
"Volunteering not only uplifts the lives of the beneficiaries, it also provides volunteers with tremendous satisfaction," he says.
A factory manager, Mr Teo tied the knot in 1970, at the young age of 21. Mr Teo and his wife welcomed a son and daughter and led a fulfilling life together.
Unfortunately, after 22 years of marriage, his wife had a stroke in the 1990s. Taking on the role of her caregiver, he witnessed her health deteriorate over time. His wife sustained a few falls at home, which injured her spine.
During his frequent trips to Changi Hospital, Mr Teo gleaned invaluable caregiving knowledge and skills through the courses provided pro bono by Ang Mo Kio Hospital to the family members of affected patients. He also exchanged caregiving knowledge and skills with friends who took on the role of caregivers.
The turning point came when the manufacturing company Mr Teo worked for relocated to China due to the high costs of operation in Singapore. Mr Teo declined to follow his employer to Shanghai, prioritising his caregiving responsibilities to his wife Mr Teo found solace and purpose by focusing his energies on volunteering and part-time work, initially as a security guard, and subsequently as a part-time employee of a hospital.
Volunteering as a Caregiver
As a volunteer befriender (with another organisation), Mr Teo visits, connects and cares for seniors living alone, contributing his knowledge and skills in caregiving to bring friendship and joy to the seniors.
"Through volunteering, I learnt about the challenges that the seniors grapple with. While the needs of the beneficiaries may be extensive, the resources may be limited. Besides teaching volunteers to plan and utilise resources efficiently, volunteering offers invaluable opportunities for learning which may be applicable to one's life. Over the years, I am heartened to see charities in Singapore lending a helping hand to those in need. The people's collective ability to empathise and provide support keeps us going as a nation," says Mr Teo.
Besides visiting the seniors at their homes, Mr Teo has also brought the seniors out on outings to the Botanical Gardens, Gardens by the Bay, and the beach.
"It is important to encourage the seniors to leave their homes and participate in activities. As some of the seniors face mobility challenges as wheelchair users, these outings are rare opportunities to explore and enjoy the attractions. Witnessing their gratitude and happiness during these excursions, I realised that such outings not only offer engagement but also instil a sense of purpose, rejuvenating their zest for life while sharpening their mental faculties and alertness," Mr Teo says.
Apart from home visits and excursions, Mr Teo dedicates his time to teaching them dancing and the ukulele. His passion for engaging with seniors extends beyond companionship. He recognises the value of empowering seniors with new skills and experiences. Such activities are an outlet for their creativity, foster a sense of accomplishment and contribute to their well-being while enriching their lives.
Witnessing the seniors joyfully synchronise their wheelchair movements to the rhythm of the music brought immense joy to Mr Teo. It was truly heartening for him to observe that some seniors purchased their own ukuleles after attending his class to practise on their own. Their enthusiasm and commitment towards this newfound passion would help them spend time in a meaningful manner. Knowing that his efforts had sparked a lasting interest and made a positive impact on their lives filled him with a profound sense of fulfilment and satisfaction.
Coming a Full Circle
After years of selflessly serving others, Mr Teo, 74, is now experiencing a heartwarming turn of events. Besides the companionship of his friends and regular visits from Mr Teo's children and grandchildren, Community Befrienders from the Singapore Red Cross have stepped forward to offer their support and assistance since September 2019.
"There is a role reversal. Now, I find myself on the receiving end, anticipating the visits of dedicated volunteers. During these interactions, we engage in meaningful discussions on pressing current affairs issues. We delved into the importance of taking preventive measures against mosquito-borne dengue fever, and to remain vigilant to protect ourselves from scams. These conversations empowered us with the knowledge and practical advice to stay alert and well-informed to safeguard our well-being," he said.
This beautiful display of reciprocity serves as a poignant reminder of the full circle of life, where the care and compassion we extend to others often find their way back to us in times of need.
Overall, Mr Teo's story exemplifies the resilience of the human spirit and the power of community support. It demonstrates that even amidst personal challenges, the bonds we form and the kindness we show to others can become a source of strength, fortitude and comfort when we require it ourselves.
By Sourik Sinha, Volunteer
Copyedited by Ruth Lee, Volunteer