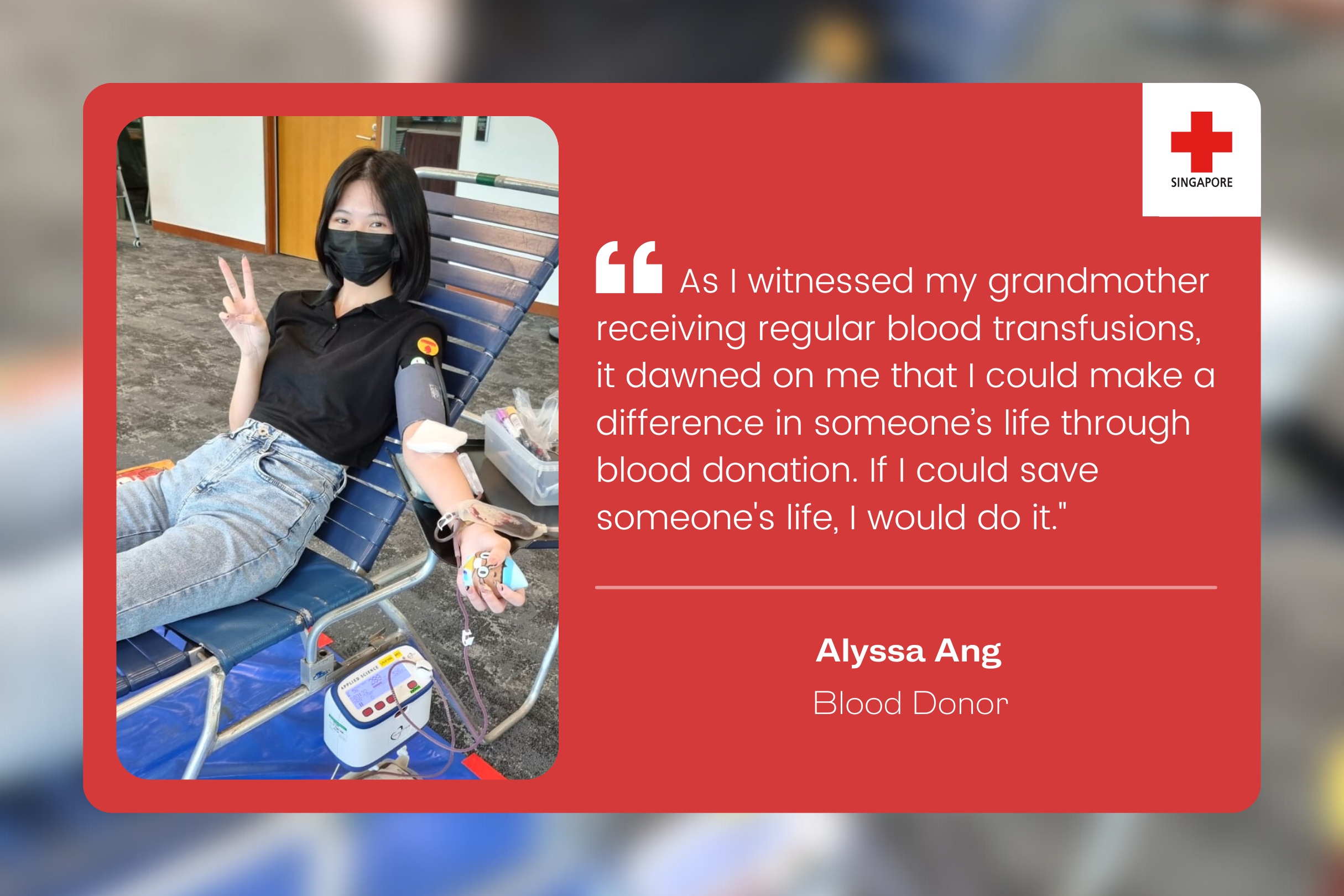 Alyssa Ang, 19, shares how she overcomes her fear of needles to donate blood after seeing her grandmother receiving regular blood transfusions and learning more about blood donation as an intern with the Singapore Red Cross' Blood Donor Programme. Now, she advocates blood donation to inspire others to embrace regular blood donation in their lives.
I have always been fearful of needles and blood. I never thought I would be able to donate blood. But I did.
Blood donation runs in my family. As my brothers are regular blood donors, the thought of taking the intrepid step to overcome my fear and donate blood has always been lingering at the back of my mind. Witnessing my brothers displaying their "badge of honour" with a sense of pride has always spurred me to contribute to this worthy cause by embracing blood donation in my lifestyle. However, this conviction was always overridden by my fear of needles.
Yet, that changed in September 2022, when my grandmother was admitted into the hospital. As I witnessed her receiving regular blood transfusions, it dawned on me that I could make a difference in someone's life through blood donation. I mustered the courage to face my fears head on and step out of my comfort zone to try. If I could save someone's life, I would do it.
I am currently on internship with the Singapore Red Cross' Blood Donor Programme (BDP) from September 2022 to February 2023. My internship with BDP not only dispelled the blood donation myths that I had initially harboured, but it had also altered my perception of blood donation. Reading about other inspiring blood donation stories and learning more about blood donation inspired me to make a difference.
A Seamless and Painless Experience
Two weeks into my internship at SRC, I made my maiden blood donation at one of the mobile blood drives.
At the onset, I felt apprehensive as I was uncertain if I could pass the haemoglobin test on my first attempt. This was from my previous observation of my friends who did not meet the required haemoglobin levels and could not donate blood.
Upon witnessing my hesitation and fear, the nurses at the blood mobile drive reassured and comforted me. They were so caring, they put my mind at ease. Besides the initial discomfort from the administration of the local anaesthesia, the rest of the blood donation process was seamless, swift, and painless. I am proud of myself for having mustered the courage to overcome my fear of needles, to donate blood.
Setting a Goal
After my first blood donation experience, I look forward to my next blood donation in December 2022. To ensure that I would be able to donate blood again, I have been eating iron tablets every two days and stocking up on iron-rich food such as cashew nuts. In addition, I have been advocating the meaningful act of saving lives through blood donation among my circle of friends. Two of my friends have donated blood so far. I have made it my goal to donate blood five times. I look forward to the day I collect my fifth milestone medallion!
By Alyssa Ang, Blood Donor
Copyedited by Kyung Min, Volunteer
| | |
| --- | --- |
| | Inspired to join our humanitarian movement? Check out our volunteer opportunities. Keen to donate blood or organise a blood drive? Click here. |