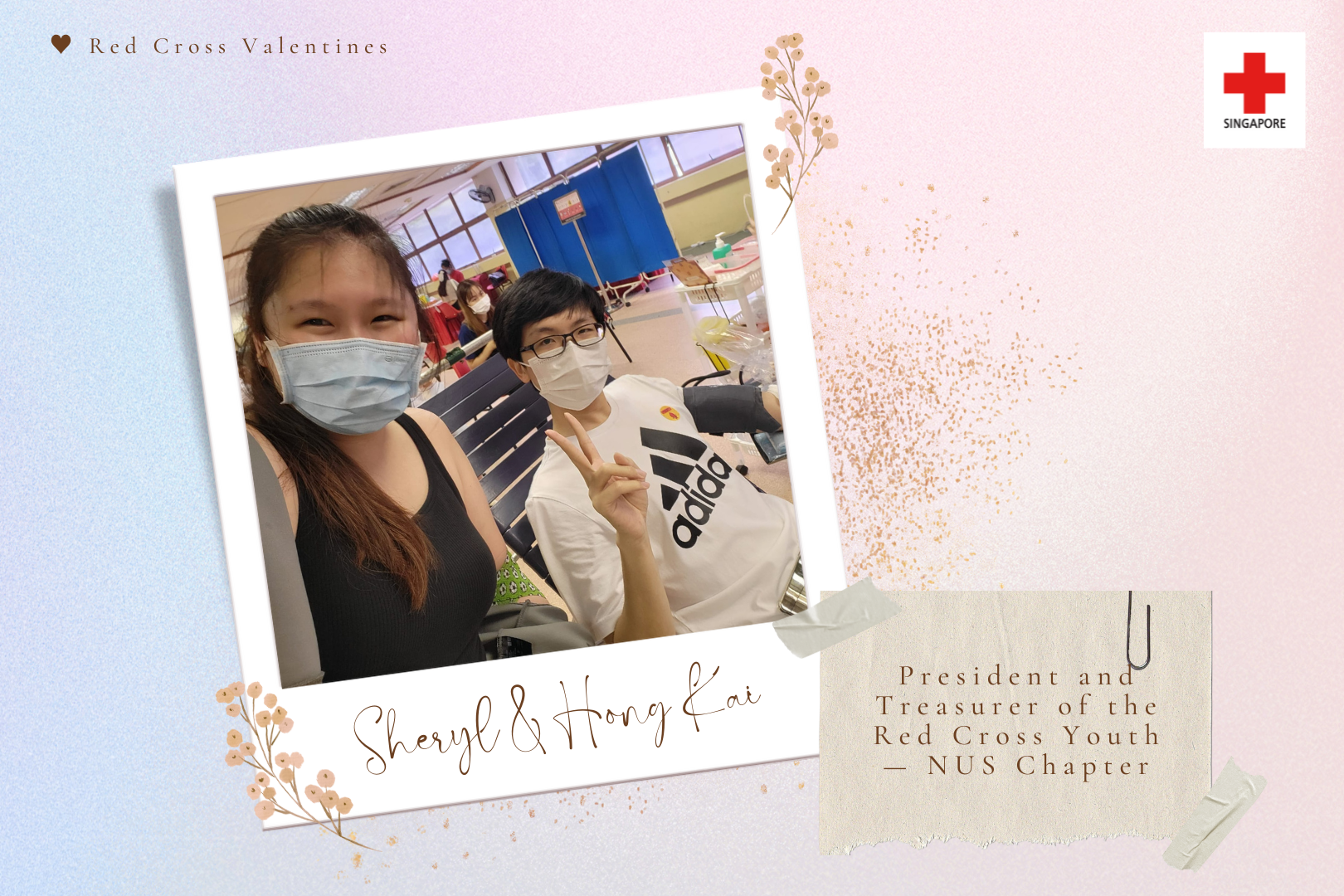 In this Valentine's Day Special, Sheryl and Hong Kai, President and Treasurer of RCY - NUS Chapter respectively, share their motivations and experiences volunteering and donating blood together.
1. How did you meet each other?
We met in Junior College.
2. How long have you been together?
We have been together for four years
3. Describe your partner in three words.
Describing Sheryl: Kind, Cheerful, Capable
Describing Hong Kai: Funny, Understanding, Composed
4. What motivated you to join Red Cross Youth?
Sheryl: I wanted to help others
Hong Kai: I wanted to give back to society
5. What are your roles and responsibilities in Red Cross Youth?
Sheryl: As the President of Red Cross Youth (RCY) - National University of Singapore (NUS Chapter), I oversee internal projects, provide feedback, liaise with stakeholders for external opportunities, and ideate new opportunities for the unit. Besides motivating the Chapter EXCO and members to drive the growth and development of the unit, I also represent the Chapter at Singapore Red Cross (SRC) events while ensuring that the Chapter functions in accordance with the guidelines stipulated by the SRC.
Hong Kai: As a Treasurer of RCY - NUS Chapter, I manage internal finances, requisite and disburse funds for the Chapter's activities. I also assist with the preparation of the statement of accounts for audit purposes and supervise budgets to ensure that financial guidelines are properly adhered to while liaising with the Red Cross Youth headquarters on the required finances over the years.
6. What were the most rewarding experiences? What made it memorable?
Sheryl: The annual Project Seven Days of Happiness, held from 15 to 21 March 2021, when our team packed and distributed care packages with appreciation notes to 205 cleaners, 62 canteen vendors, and 39 bus drivers around the campus in NUS. I served as a Project Director then. The care packages included mini portable fans for canteen vendors, seat cushions for bus drivers, and knee support patches for cleaners. I felt joy in giving back to these unsung heroes of NUS. This inspired me to take on the role of the President of NUS RCY to effect greater positive change in the unit's efforts.
Hong Kai: Jingle and Twinkle event was very rewarding. We raised funds by selling snow globes to NUS employees and students on 8 December and to the public on 9 and 10 December 2022. We presented the DIY snow globes as Christmas gifts to the children of the Young Hearts programme at a Christmas Block party on 17 December 2022. These children, who stay in rental flats at Yishun, come from underprivileged backgrounds. It was heartwarming to see their joyful faces when they received their Christmas gifts.
7. Were there any challenges you faced while volunteering together? How did you overcome the challenges?
The recent Jingle and Twinkle Christmas event was challenging because many of our committee members were busy and we were short of manpower. We watched videos on YouTube to learn how to make the snow globes, and stayed up till 3am hand-crafting more than 80 snow globes to meet the required number of globes for the event.
8. How do you feel about volunteering together?
Sheryl: I find it enjoyable because I can trust my partner to execute certain tasks and events.
Hong Kai: I feel a sense of security because I know my partner is an exceptional leader who will lead and ensure the events' success.
9. We see that you are also donating blood. What inspired you to donate blood?
Sheryl: The fact that I have something that can help people, and it does not require much effort or financial commitment, inspires me to donate blood as often as I can.
Hong Kai: I am actually a first time blood donor. As I was inspired by my partner's dedication towards helping others, I decided to give it a try as well.
10. Could you share your experience donating blood together?
Sheryl: It was quite interesting witnessing my partner's response to blood donation since it was his first attempt. However, I am very proud of him for stepping up to donate blood.
Hong Kai: It was definitely a new and nerve-wracking experience for me. I tried donating in previous years but was rejected due to low blood pressure. This time around, I am grateful to have my partner by my side donating blood with me.
11. What do you think are the reasons people do not donate blood if they are healthy?
Sheryl: Some people are afraid of needles, some might think they are not eligible to donate blood (Low hemoglobin levels/ underweight). Some who take Traditional Chinese Medicine can only donate blood after three days.
Hong Kai: People may be fearful of the blood donation process.
12. Have you roped people in to donate blood together with you? If so, who?
Sheryl: Yes. I have roped my partner into donating blood.
Hong Kai: Not yet. I am considering asking my friends to donate blood as well.
13. What would you like to say to inspire more people, including the youth, to donate blood?
Sheryl: Don't fear the unknown. If you never try, you never know.
Hong Kai: Pain is temporary, help given is forever.
14. What do you think can be done to encourage more people, including youth, to donate blood?
Sheryl: Sharing personal accounts of first-time donors may inspire people to donate blood.
Hong Kai: We can raise awareness by sharing donation drives through social media platforms.
| | |
| --- | --- |
| | Inspired to join our humanitarian movement? Check out our volunteer opportunities. Keen to donate blood or organise a blood drive? Click here. |