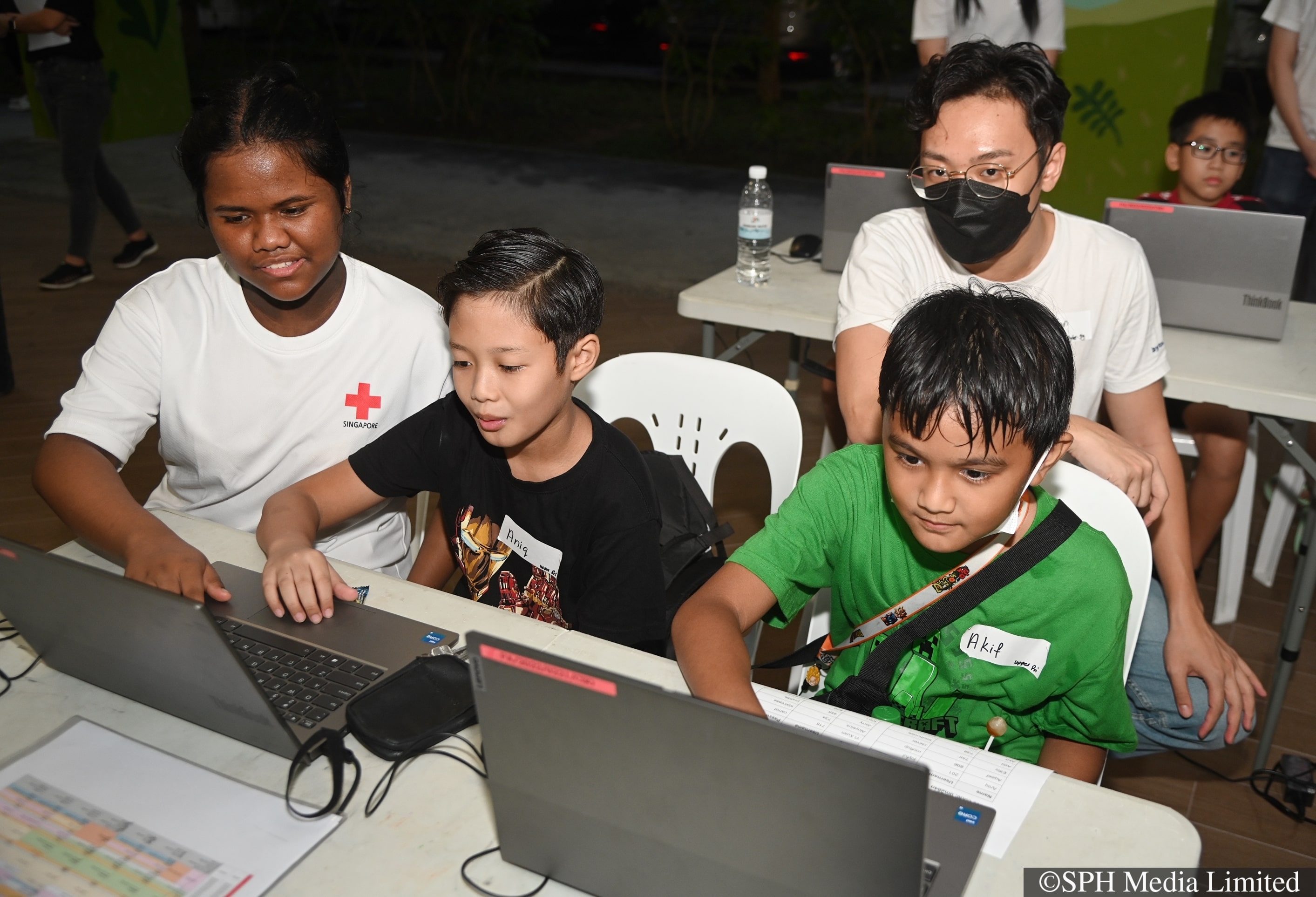 Over 48 weeks, volunteers guide kids through six modules on science and tech.
When Nurin Akisha Kamarnor entered secondary school, she was immediately drawn to the information technology co-curricular activity because of her fascination with projectors and wires.
But her male classmates mocked her, telling her that only boys can work with technology.
The Northland Secondary School student told The Straits Times: "When I heard those words, I felt very disappointed and bad about myself. I thought, 'Why is it that only boys can work with technology and not me?'"
It was when she was approached by a co-founder of community ground-up initiative Byte.sg to participate in a technology learning programme that she gained the confidence to overcome these stereotypes and pursue her interest.
The 15-year-old, who dreams of becoming a photographer, can now create simple Web games, fix projectors and do some basic coding.
"Being in the programme got me out of my comfort zone and made me think that I can work with technology. I feel like I am in charge and I am proud of myself," said Nurin, who is a member of her school's audio-visual aids club, which provides technical support for classes, school events and assemblies.
Nurin was among the 110 beneficiaries who in December completed the Void Deck Technology Lab (VDTL) programme, which provides digital access and literacy to children aged seven to 12 living in rental flats.
The programme, started in 2021 by Byte.sg, received funding from the Digital for Life movement, which was launched the same year by President Halimah Yacob to help Singaporeans enrich their lives through digital technology.
Byte.sg has since partnered organisations such as Singapore Red Cross, Awwa and Leng Kee Youth Network to run the VDTL programme in six locations, including Yishun, Whampoa and Leng Kee.
Over 48 weeks, student and corporate volunteers guide disadvantaged children through six modules on science and technology on new and pre-loved laptops and tablets. The modules range from climate change to machine learning and digital art.
On Thursday, Madam Halimah dropped in on one session at the void deck of Housing Board blocks in Yishun Street 22 and chatted with volunteers and beneficiaries. She also observed interactive games, and augmented reality and digital art activities.
The President said in a Facebook post of her visit: "The children impressed me with their confidence and the skills they learnt from the VDTL sessions...
"Digital inclusion is an important part of building a society where everyone has equal access to opportunities. The work of Byte.sg and other ground-up initiatives contribute to this endeavour. Working together, we can ensure that every child has access to technology that can help to enhance their learning and improve their lives."
Before joining the programme, Yio Chu Kang Secondary School student Mohamad Riyaz Rifky Mohd Razey, 13, had never used an iPad.
The digital skills he picked up at the VDTL programme proved to be useful as schools began turning to e-learning platforms during the Covid-19 pandemic.
Riyaz said he learnt to be independent in his e-learning as his mother was busy working as a pharmacy technician, while his 18-year-old brother was balancing his Institute of Technical Education studies and part-time work.
He said: "During the pandemic, my school gave out online worksheets, and classes were on Google classroom. I knew some digital skills, so I could manage. If I didn't know how to use anything, I could ask the volunteers for help too."
Riyaz, who aspires to be a professional e-sports player, is now a programme volunteer whose duties include helping younger children navigate games and managing class discipline.
Byte.sg co-founder Shaikh Ismail, who has three children aged three to 11, said he hopes the programme can provide disadvantaged children with equal opportunities to learn and use technology for good.
Introducing children to technology at an early age can also help nurture their creativity and curiosity, said Mr Ismail, who is also the director of clinical speciality practice at Integrated Health Information Systems.
He added: "Kids nowadays use their phones mainly for entertainment. But there is so much more to technology beyond that. That is why we thought we should see how we can better leverage technology to inculcate the right digital habits and open up their minds to what is out there.
"We want to at least plant a seed of interest in technology in kids."
Source: The Straits Times © SPH Media Limited. Permission required for reproduction