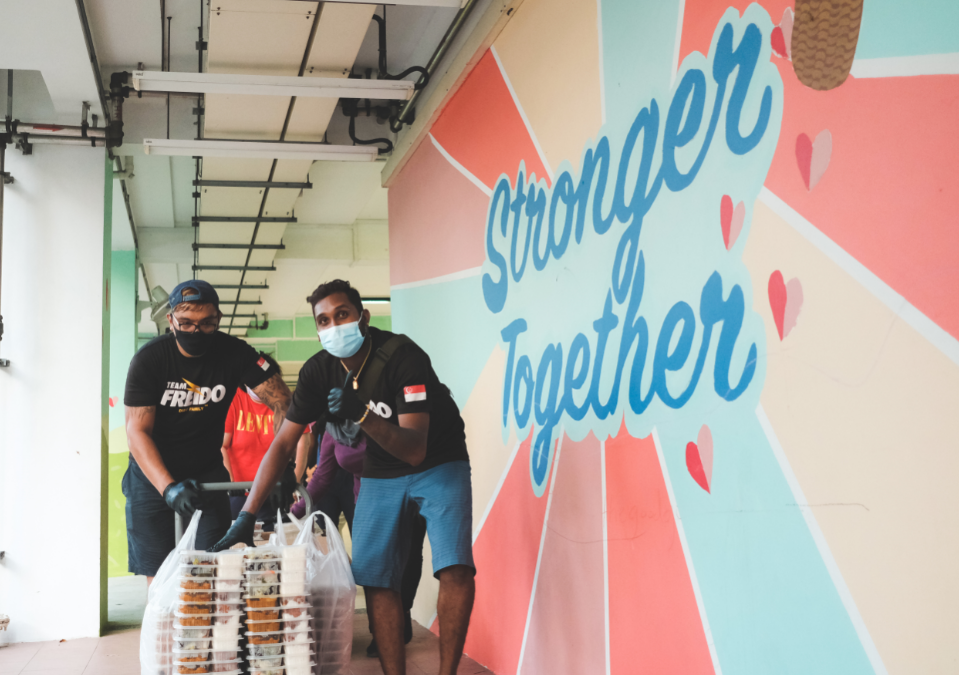 In celebration of Deepavali, SRC collaborated with The Social Kitchen (TSK) to distribute 1,000 bento meals (customised to suit the occasion) to over 470 households of two rental blocks in Nee Soon. This was part of TSK's "1000 for 100" initiative, where individuals and companies are encouraged to contribute $1000 for 100 meals in support of any charity of their choice.

Alongside MP for Nee Soon GRC Mr Louis Ng and co-founder of TSK Mr Alvin Yapp, our group of staff and volunteers distributed the bentos personally to each and every household. Most of the volunteers are residents of the rental block and beneficiaries of our Young Hearts Programme. Talk about giving back to one's own community!

"It's great to see Red Cross and TSK working together to spread some festive cheer to these residents, many of whom have been heavily affected by COVID-19. And I'm glad to see them engaging the residents as well. There's a very strong community spirit in Nee Soon, something that I'm very proud to witness." - Mr Louis Ng

"Our '1000 for 100' initiative started only a few weeks ago but I'm thrilled to see that it has taken a life of its own. The initiative enables donors to contribute in a very direct manner and also helps TSK staff – persons from disadvantaged communities and their caregivers, who are responsible for preparing the bento meals. I'm excited to see how we can continue to support the community in other events with SRC and beyond." - Mr Alvin Yapp

Thanks to your support for our earlier fundraiser, we managed to raise funds for more than 1,000 bentos! We will be distributing more warm meals to the rest to our Family LifeAid beneficiaries islandwide, estimated at more than 350 pax!