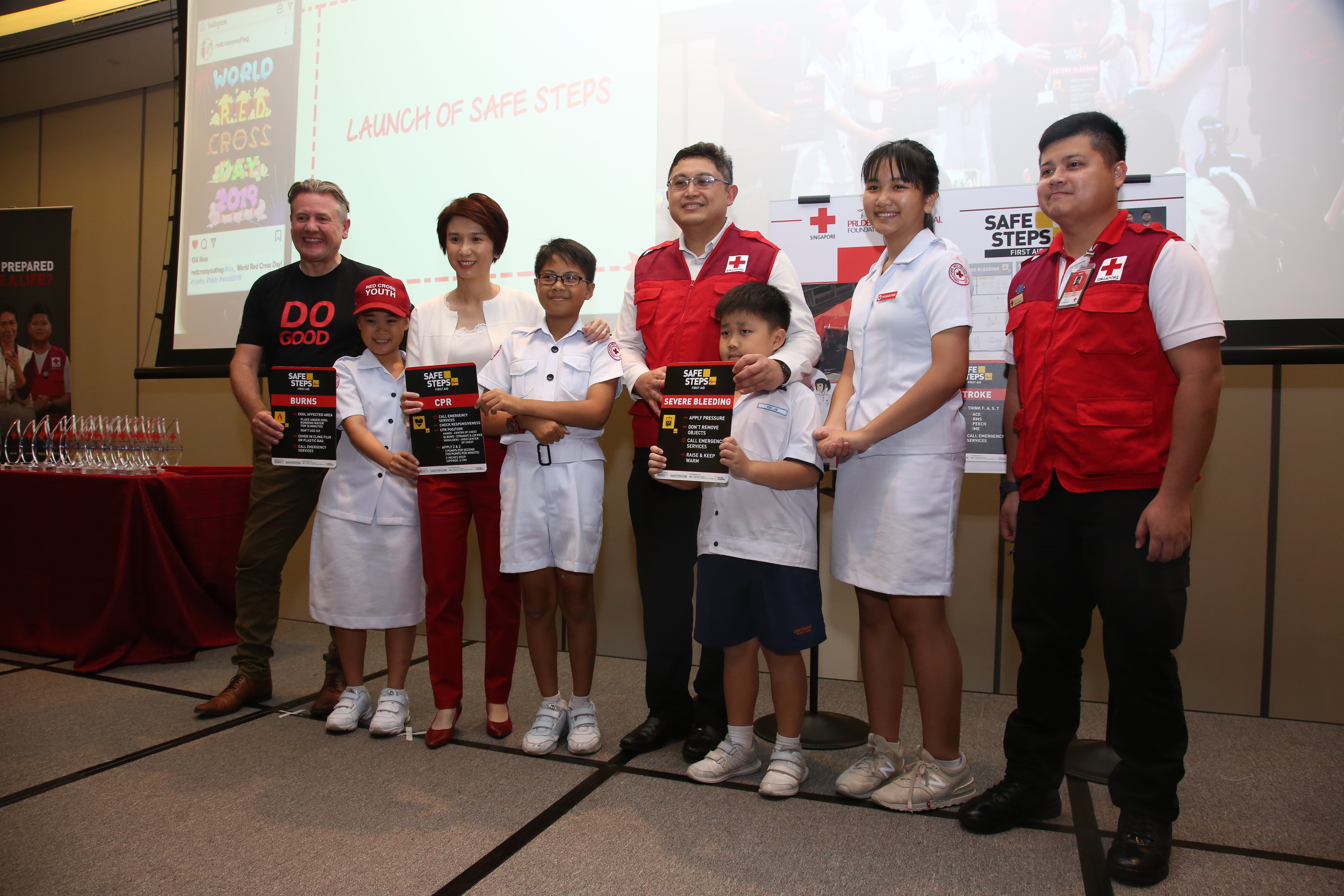 This speech was shared to all schools with Red Cross Youth Units.
WORLD RED CROSS DAY 2019
8 MAY 2019
MESSAGE FROM MR TEE TUA BA
CHAIRMAN, SINGAPORE RED CROSS
Principals, Teachers
Red Cross Youth Officers, Red Cross Youth Members, Students
Today we commemorate the founding of the Red Cross Red Crescent Movement, and honour those who have contributed towards our lifesaving mission in support of the vulnerable.
Each year, millions of Red Cross personnel around the world reach more than 270 million vulnerable people, through a diverse and innovative range of services. Of the millions of Red Cross volunteers, half of them are young people like all of you. As youth, you are the humanitarian leaders of tomorrow. On this occasion of World Red Cross Day, we want to challenge you to think about the action that you can take today, in order to drive the future of society, country and community.
Over the last 70 years, the Singapore Red Cross has been providing a host of humanitarian services to uplift the most vulnerable. In recent years, we have placed special emphasis on reaching out to the isolated elderly and those who fall in between the cracks of our social safety network. It is noteworthy that our youth members have regularly organised special fundraisers in support of this cause, and many of our humanitarian programmes are spearheaded or supported by young and passionate people. In Family LifeAid, the youth deliver food items to needy families, and even act as mentors to the younger children. In Community First Aid, the youth provide first aid coverage at national events or to park goers. In the national Blood Donor Recruitment Programme, the youth organise blood donation drives in their schools and the community.
Beyond our shores, our Youth Leaders lead Singapore Red Cross' non-emergency humanitarian missions. They are involved in the planning and implementation of varied programmes, which forge warm ties with communities abroad.
I hope these examples inspire you to be advocates for humanity and agents of change in our community. To be a young humanitarian requires nothing more than a willing heart and giving spirit. It is our vision to witness all RCY members progress in their humanitarian journey, from Links to Cadets, and then to Chapter and Club members, to become life-long contributors to the humanitarian sector. The impact of your good deed is bigger than you will ever know.
In conclusion, I would like to thank all School Leaders, Teachers and Youth Officers for your support and dedication. To all Red Cross Youth members, thank you for making a positive difference in our community. Your contributions are key to uplifting the vulnerable and strengthening community resilience. For that, we are very proud of you. To the rest of you, remember that everyone can play their part in making the community a better place, and that no act of kindness is too little or insignificant. I am certain that, together, we will build a more caring and resilient Singapore.
Thank you and happy World Red Cross Day.