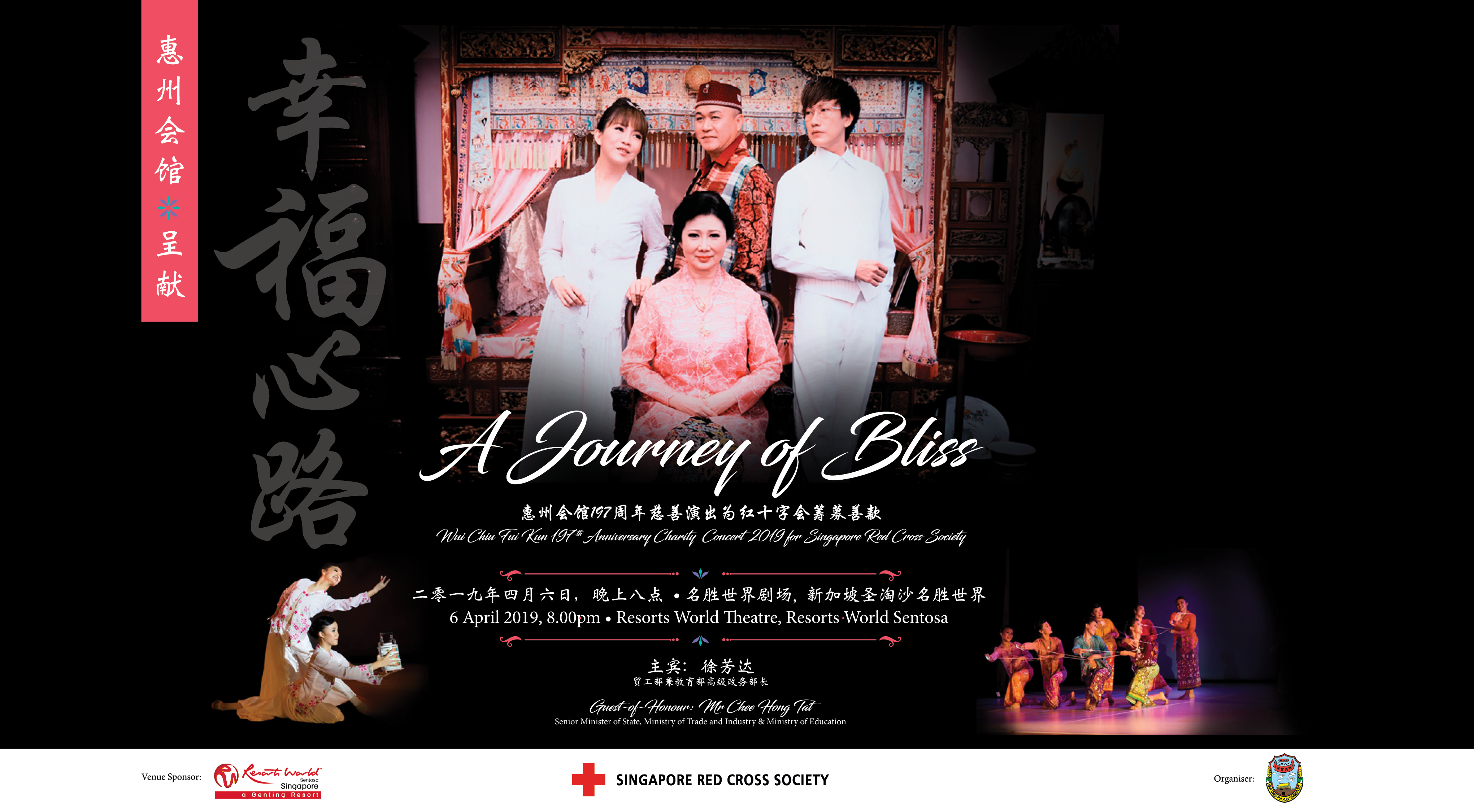 A Wui Chiu Fui Kun 197th Anniversary Charity Concert 2019 for Singapore Red Cross Society
Date: 6 April 2019(Saturday)
Time: 8.00 Pm
Venue: Resorts World Theatre, Resorts World Sentosa
Inspired by our local Straits culture, A Journey of Bliss brings to life the lavish Peranakan wedding; along with the intricate costumes and finery, set and music. Through the 'Nanyang Style' of dance language, this multifaceted performance will feature diverse aspects of the Peranakan vibrant culture and cuisine through the narration of Hui Niang's life journey.
In support of the Singapore Red Cross - under the direction of the Dance Ensemble Singapore (DES) Founder and Artistic Director, Mdm Yan Choong Lian, in collaboration with the dramaturg, Edmond Wong, and renowned Kebaya costume designer, Raymond Wong; with choreography by DES Dance Director, Sharon Lo; DES Creative Director, Cai Shiji and DES Resident Choreographer, Goh Yan Dan, and performed by Terene Seow, Jiu Jian, Ang Tallin, Jack Ye Zheng Wen - A Journey of Bliss will be presented as a dance drama, where audience can indulge in an exquisite balance of oriental and contemporary display of movements with a 'Singaporean' flavour.
Your support will help us to raise funds to sustain and grow our local humanitarian services for the vulnerable in Singapore. Our services include:
TransportAid – Providing regular transport and escort services for the disabled and elderly to access life-sustaining medical treatments such as kidney dialysis and rehabilitative therapy. Most of our clients are wheelchair-bound and have no other means to get to and from the medical facilities.
FoodAid – Providing the needy and disadvantaged in our community with essential provision such as rice and other and nutritious meals for the disadvantaged in our community.
Red Cross Home for the Disabled ​– Singapore's only residential home for the severely disabled improves the lives of its charges, as well as their families - through long-term residential, short-term respite and day activity services. Majority of our clients have multiple disabilities and come from low-income families.
ElderAid and HoME+ – Mobilises community volunteers in caring and building the resilience of the elderly, in our increasingly ageing population. Home Monitoring and Eldercare (HoME+) provides home monitoring and response for seniors living on their own for community ageing-in-place.
Your donations to the Singapore Red Cross and its community services will make a significant impact on the lives, families and communities of our beneficiaries.
How to get yourself a ticket:
With every donation above $100, you would be able to qualify for complimentary ticket/s, subject to availability. All monetary donations will receive 2.5 times tax deduction.
Please contact Ms Amy Distant at amy.distant (at) redcross.sg (tel: 6664 0507) or Mr Vinnce Wu at vinnce.wu (at) redcross.sg (tel: 6664 0683) for more information.