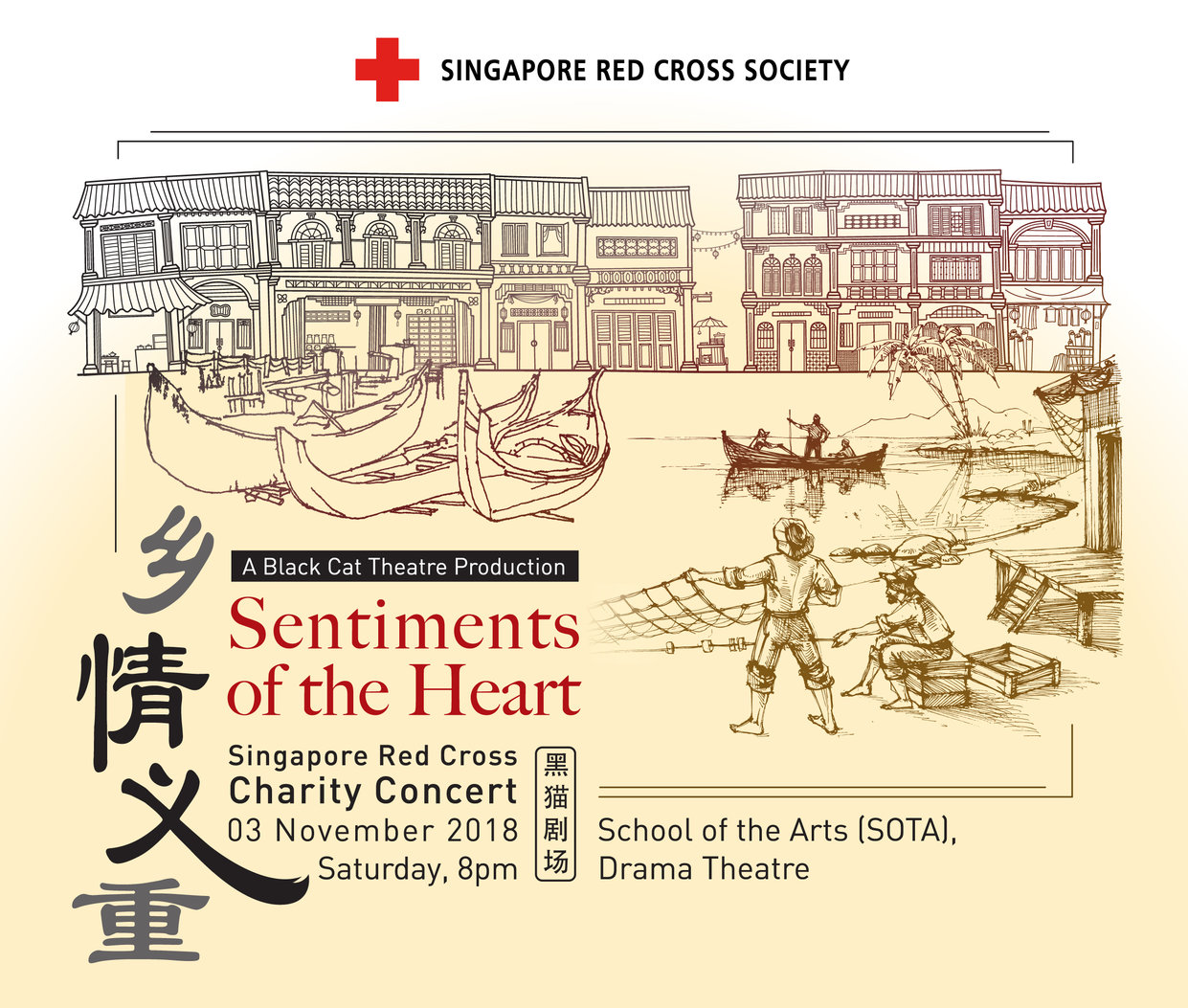 "Black Cat Theatre - Sentiments of the Heart " tells the story of two different generations living in the early days of Singapore, as they come together to build new friendships and forge the kampung spirit along the way, despite differences in their cultures and languages. The second act of the play brings the story to the 1950s and 60s, following a family of 3 sisters and their mother as they navigate through the trials and tribulations of family, love and relationships.
In support of the Singapore Red Cross and under the direction of the Dance Ensemble Singapore (DES) Founder and Artistic Director, Mdm Yan Choong Lian, and Concert organising chairperson cum producer, Ms Terene Seow; with choreography by DES Dance Director, Sharon Low, DES Creative Director, Cai Shiji and DES Resident Choreographer, Goh Yan Dan; and performed by Terene Seow, Ang Tallin, Jack Ye Zheng Wen, Kuan Seck Mui and more, "Sentiments of the Heart" will be presented in the form of song and dance drama where audiences can expect a light-hearted musical performance with a 'Singaporean' flavour.
Event details
Guest-of-honor: Mr Chee Hong Tat
Senior Minister of State, Ministry of Trade and Industry, Ministry of Education
Date: 3 November 2018, Saturday
Time: 8pm to 10pm
Venue: School of The Arts (SOTA), Drama Theatre
1 Zubir Said Drive, Singapore 227968
Tickets are available here!
All proceeds* will be channeled towards Singapore Red Cross' local humanitarian services for the most vulnerable – ElderAid, FoodAid, TransportAid, Red Cross Home for the Disabled & Day Activity Centre. Your donations to the Singapore Red Cross and its community services will make a significant impact on the lives, families and communities of our beneficiaries.
For enquiries, please contact pd.dept@redcross.sg.
*All monetary donations will be entitled to 2.5 times tax deduction