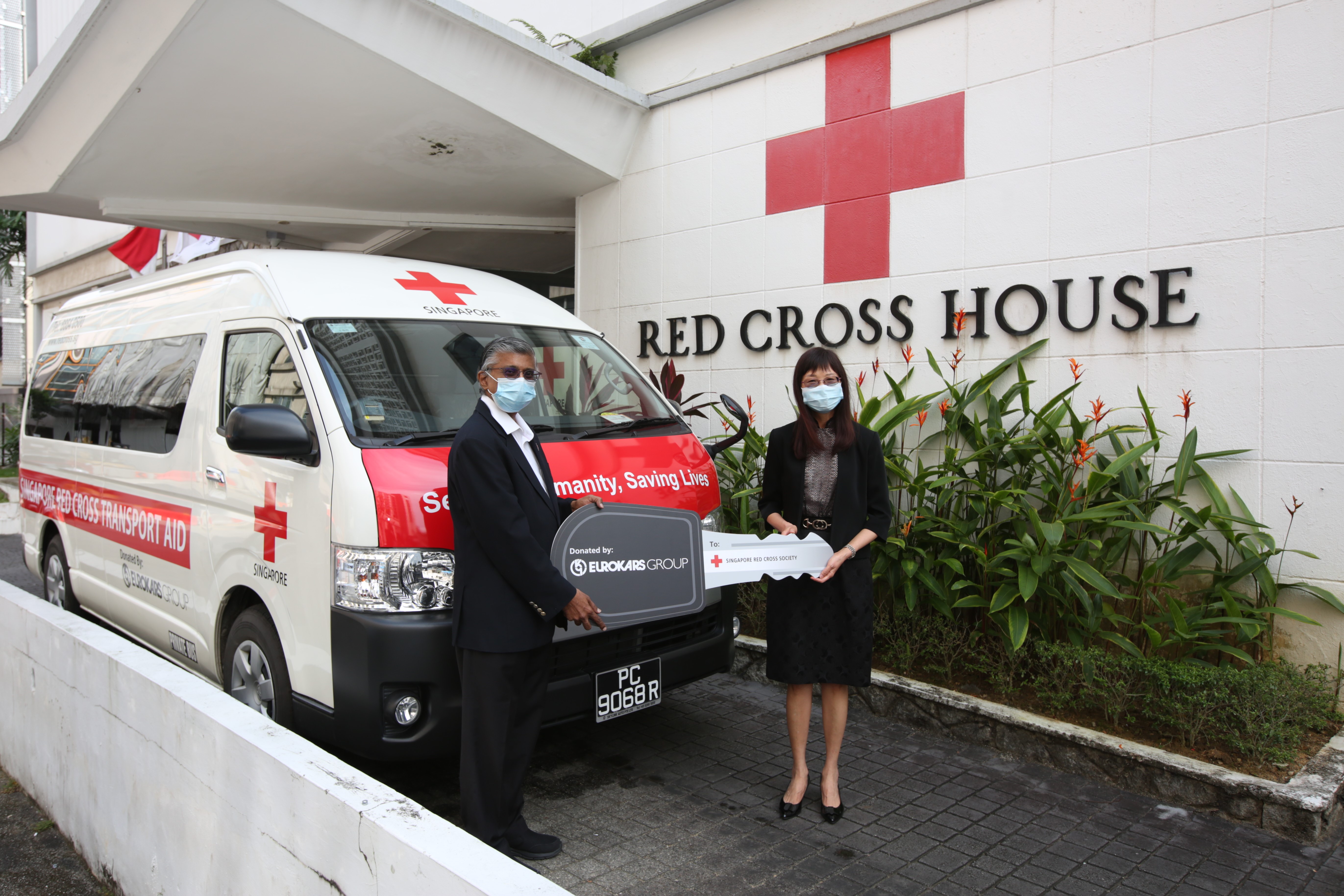 SINGAPORE, [20 January 2021] – In tandem with the New Year celebration and festivities, Eurokars Group has donated a transporter that has been modified for wheelchair access to the Singapore Red Cross (SRC) which will benefit their TransportAid programme. TransportAid is a vital service which provides transport for the low-income elderly and disabled to enable them to travel to their healthcare service providers and day activity centres, and have access to essential and critical medical treatments, rehabilitation and therapy.
Eurokars Group's partnership with the Singapore Red Cross (SRC) dates back to 2002 when it sponsored a vehicle for them. In 2019, the SRC reached out again for support, and both parties found a good match between the group's CSR objectives and SRC's requirements.
"By supporting the SRC with our donation of a transporter, we are able to help those in need to access vital and life-sustaining care and treatment. Over the past seven decades, the SRC has established itself as a distinctive homegrown humanitarian organisation that provides relief and assistance to survivors of disasters, rallies blood donors to save lives, trains the community in first aid and supports vulnerable citizens with emergency social services, among others. Eurokars Group is delighted to be able to contribute towards the SRC in achieving its mandate and laudable mission of relieving human suffering, protecting human lives and dignity and responding to emergencies," said Miss Ong Lay Ling, the Group Managing Director of Eurokars Group.
"As we embark on the new year with a positive outlook and sense of hope and optimism for the future which lies ahead, let us also spare a thought for the less fortunate by enhancing their lives in measurable ways and helping to spread some cheer," she added.
The transporter was officially handed over to SRC by Miss Ong during a handover ceremony which was held on 20 January 2021 at the Red Cross House at 15 Penang Lane. The Secretary General and CEO of SRC, Mr Benjamin William, accepted the vehicle and, in turn, presented Miss Ong with a token of appreciation.
Miss Ong said: "At Eurokars Group, we believe that the sustainability and success of our business is closely intertwined with the well-being of the society in which we operate. As a leading purveyor of a portfolio of luxury and premium car brands with an expanding presence and footprint in the region, it is natural that we lend a helping hand where we can make the most impact. Eurokars Group believes in the power of automobiles in improving the quality of life of people."
"We are thankful for our ongoing partnership with Eurokars Group. The support from Eurokars will enable us to provide greater support for the vulnerable in our community, especially as our population ages in the coming years. The donation of this transporter will make a direct impact on the health and wellbeing of low-income elderly and disabled clients by allowing us to ensure that they are able to keep their medical and therapy appointments. In September last year, Eurokars Group was presented the prestigious Friend of Singapore Red Cross Award in recognition of its enduring support to our humanitarian causes, by our Patron, President Halimah Yacob," said Mr Benjamin William, Secretary General & CEO, Singapore Red Cross.
This contribution to SRC is the latest in a sequence of similar donations. In November last year, Eurokars Group became the first automotive company and private sector corporate entity in Singapore to make a donation of an ambulance to Tan Tock Seng Hospital and National Centre for Infectious Diseases (TTSH-NCID), amidst the COVID-19 pandemic. The Eurokars Group donation joined an existing fleet of ambulances that are in service around the clock to provide medical aid and boost the inter and intra transfer of patients within and outside of the hospital campus. Besides being fully equipped with emergency and life support facilities and trolley bed access, it has an additional auto retractable wheelchair ramp to accommodate wheelchair access.
In 2017, the Group donated a vehicle which it modified for wheelchair access to SPD, formerly known as Society for the Physically Disabled. The vehicle enables SPD to carry out transportation services that are crucial to its mission of integrating people with disabilities into mainstream society and maximising their potential. Not only has it helped to ameliorate the mobility issues of the clients of SPD, and help SPD to save costs arising from the hiring of external vehicles, it facilitates a host of day-to-day operational activities including therapy and rehabilitation sessions; island-wide collection of donation boxes, and the delivery of products produced by SPD's physically challenged craftsmen, to name a few examples.
Prior to that, the Group sponsored a vehicle for the SRC in 2002, and made a co-donation, together with the Rotary Club, of a vehicle which was also modified for wheelchair access to the Tan Tock Seng Patient Care Centre in 2007. The vehicle considerably improved the services that the Centre could provide in shuttling patients, obtaining necessary supplies and conducting other essential activities.
"Eurokars Group is an organisation that is committed to a tradition of corporate social responsibility and philanthropy. We continue to find ways to engage with and contribute to non- profit and charitable organisations and worthy causes which bring relief, comfort and joy to the underprivileged and disadvantaged groups among us. These organisations rely on the support and generosity of individuals and corporate donors to keep their essential programmes and services going especially during these uncertain times. Even as the Group celebrates its success in doing business, we believe in giving back to society, nurturing relationships and investing in betterment of our community," said Miss Ong.
Photo: Mr Benjamin William, Secretary General and CEO of Singapore Red Cross, and Miss Ong Lay Ling, Group Managing Director of Eurokars Group, officiating the handover ceremony.
Photography by Billy Wong, Volunteer