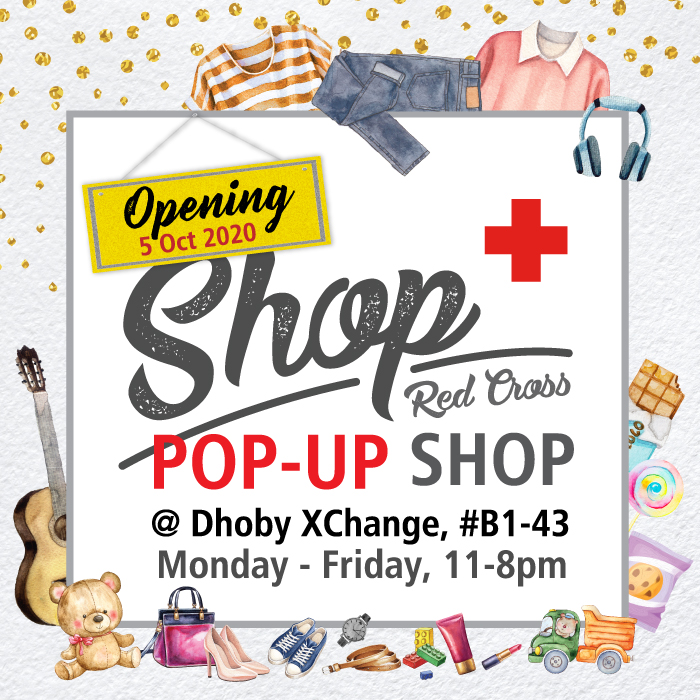 Shop for a cause: Exclusive SRC merchandise; brand new and pre-loved donation items
Singapore, 5 October 2020 - The Singapore Red Cross (SRC) today launched its first pop-up Shop+ at SMRT's Dhoby XChange (Dhoby Ghaut MRT Station). An extension of the homegrown humanitarian's social enterprise Shop+, the initiative is the latest of SRC's ongoing efforts to engage the community and raise funds for its local services, such as COVID-19 relief for vulnerable communities in Singapore.
Mr Benjamin William, Secretary General and CEO at Singapore Red Cross, said, "Due to the COVID-19 pandemic, we had to suspend face-to-face fundraising and outreach activities. At the same time, we have had to increase our efforts to provide essential services for the vulnerable in our community. Shop+ at Dhoby Xchange is part of our fundraising revitalisation in this new normal, which is to make sure that giving remains appealing, convenient, and meaningful, while ensuring the safety of our supporters. The pop-up store offers consumers a way of making contributions for a worthy cause, whilst enjoying a shopping experience."
SMRT Experience will support with a shop space for a period of six months. Leveraging Dhoby Xchange's prime location in the inter-connectivity of the SMRT public transport network, the pop-up Shop+ offers great convenience to commuters who would like to drop off donations, such as consumer electronics, fashion accessories, footwear, sunglasses and toys.
Ms Margaret Teo, Chief Communications Officer, SMRT Corporation said, "SMRT is happy to work with the Singapore Red Cross in this initiative to extend care and support to the community."
Shoppers can enjoy an ever-changing array of brand-new and preloved items, ranging from electronics, fashion accessories, footwear and toys, to exclusive Red Cross souvenirs and first aid kits, sold at wallet-friendly prices. 100% of sales proceeds will be channeled towards supporting SRC's local humanitarian services, such as ElderAid, Family LifeAid, Medical Chaperone and Transportation, and Residential Home and Day Activity Centre for the Disabled.
"As one of our Partners for Humanity, SMRT has supported our mission over the years, be it in hosting in-station blood drives, to sponsoring a vehicle for our community-based healthcare programme. We are grateful to SMRT Corporation for believing in and supporting our cause," added Mr William.
Also at Dhoby Xchange is Blood Bank @ Dhoby Ghaut, which opened in 2012. It is managed by the Health Sciences Authority in partnership with SRC, the National Blood Donor Recruiter. A first in a MRT station, Blood Bank @ Dhoby Ghaut targets those working in the nearby offices, shoppers as well as students from the surrounding education institutions. It is also one of four satellite blood banks strategically located in each major geographic hub of Singapore.
###
For product previews and updates, visit us on our Facebook Page.
SHOP+ is located at:
Dhoby XChange (28 Sep 2020 to 5 Mar 2021)
Dhoby Ghaut MRT Station, B1-43
Open: Mondays to Fridays, 11am - 8pm
Red Cross Campsite
62 Jalan Khairuddin, Singapore 457524
Open: Mondays and Fridays, 11am - 4pm