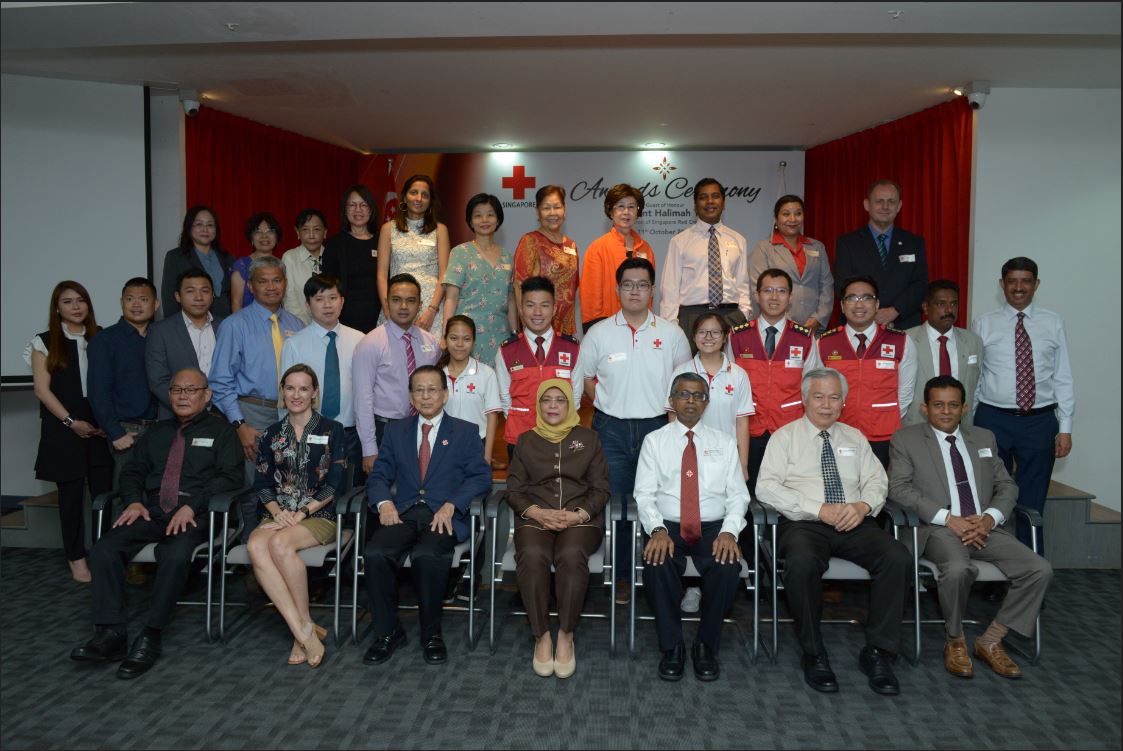 President presents awards to dedicated community volunteers and partners; unveils commemorative wall mural to kickstart 70th Anniversary
Singapore, 11 October 2018 – 23 individuals and eight corporate groups received top accolades at the Singapore Red Cross (SRC) Awards 2018, held today at Red Cross House. The prestigious awards were presented by Guest-of-Honour and Patron of SRC, President Halimah Yacob, and SRC Chairman Mr Tee Tua Ba.
Organised for the sixth year running, the annual awards recognise and honour the contributions of volunteers and partners who have all given selflessly of their time, each contributing their expertise and resources in their own unique ways to further SRC's mission.
President Halimah Yacob said, "Over the years, Singapore Red Cross' volunteers and partners have contributed significantly to the spirit of community service in Singapore. As we build a caring and compassionate society, we should encourage those who are better-off to contribute their time, skills and resources to help the vulnerable. I am very heartened by SRC's enduring efforts in promoting philanthropy and volunteerism in Singapore. I applaud all award recipients for their commitment and contributions to furthering the mission of SRC, to relieve suffering, protect lives and respond to emergencies."
Speaking at the ceremony, Mr Tee Tua Ba said, "As a charitable organisation, Singapore Red Cross relies on our volunteers and partners to fulfil our lifesaving mission. They are like the "heart" of our organisation; pumping life into all the humanitarian services that we run. It is only when we work together that we can mobilise the power of humanity, to build a more resilient Singapore."
This year, a total of 31 awards were given out - comprising two Outstanding Service Awards, six President Youth's Awards, 13 Commendation Awards, eight Friends of SRC Awards, and two Outstanding Employee Awards (see Annex A for the list of award recipients).
Assistant Professor, Dr Caroline Brassard, was one of the two volunteers who received the Outstanding Service Award (OSA) - the highest honour in this year's ceremony. An active and dedicated volunteer of SRC for more than 10 years, Caroline has made significant contributions as a Council Member from 2011 to 2017, and in different capacities on various oversight committees, giving advice on human resources, academy standards and international services. She currently chairs the society's HR and Compensation Committee, a position she has held since 2016. She demonstrates how working professionals can volunteer their skills and expertise to strengthen the capacity of voluntary welfare organisations.
The other awardee of the OSA was Mr Wong Leong Jeam, a retiree and long-standing volunteer with SRC. For over a decade, Leong Jeam has photographed multiple high-profile SRC events, including fundraisers and community outreach, as well as disaster missions and rebuilding projects. In 2005, he spent 10 months in Meulaboh, Indonesia, to coordinate SRC's relief and rebuilding efforts following the Great Indian Ocean tsunami of 2004.
The impact of SRC volunteers' contributions goes beyond Singapore's shores. Commendation Award winner Karunanithi s/o Letchumanan has been actively supporting SRC in its overseas disaster work. Over the last few years, he has assisted SRC in several rebuilding projects in the Philippines. In 2016, Karunanithi led a physiotherapy team to Pidie Jaya following the Aceh earthquake. He was also part of a two-man disaster response team sent by SRC to conduct ground assessments and distribute relief supplies to the affected communities of the 2017 Sri Lanka floods.
The nature of corporate giving has evolved over the years, from "corporate social responsibility" to "social impact". This shift was apparent from the contributions of the corporate groups that received the Friends of SRC Award this year. Amongst them are AVS Printing, Cartrack Technologies and Outward Bound Singapore, that over the years have respectively sponsored photo exhibition prints, fleet management system and venue spaces to SRC. Another awardee is AVIVA Singapore, that has supported the Family LifeAid and Home Monitoring and Eldercare (HoME+) programmes of SRC with financial sponsorship and employee volunteerism.
Mr Benjamin William, Secretary General and CEO of Singapore Red Cross, noted, "SRC sees the private sector as partners rather than merely donors or sponsors. We work closely with corporations who identify with our mission to help the most vulnerable. In doing so, these corporations give beyond monetary donations. Many of our partners, including this year's award recipients, have supported SRC's cause in varied forms - from contributing directly to our local community programmes, initiating welfare activities for our beneficiaries, to offering in-kind and venue sponsorships."
At the ceremony, President Halimah Yacob also presented six youth leaders, aged 15 to 35, with the SRC President's Youth Award. They were selected from hundreds of Red Cross Youth (RCY) cadets and mentors based on wide-ranging criteria that included leadership qualities, global perspectives, excellence in academics and service to RCY. Youth Leader Mohammad Zaidi Bin Ariffin, aged 30, was one of the six award recipients. Since his cadet days in secondary school 13 years ago, Zaidi has risen through the ranks to spearhead the RCY Youth Members @ District. He also helms the Southeast Asia Youth Network as its Chair, representing SRC as a Youth member.
President makes first visit to Red Cross House
After the ceremony, President Halimah Yacob was given a tour around Red Cross House - her first visit as Patron of the SRC. The tour included a showcase of SRC's efforts in enhancing community resilience, such as Singapore Red Cross Academy and Blood Donor Recruitment Programme. President also met with beneficiaries, volunteers and caregivers of Red Cross Home for the Disabled, Family LifeAid, ElderAid and Medical Chaperone and Transportation programmes. Thereafter, teams of Red Cross Youth and International Services volunteers briefed her on their community engagement efforts and post-disaster missions respectively. President also met with the young employees, who run the Community Health on Wheels and TransportAid services.
During the tour, President Halimah Yacob also unveiled a wall mural that was specially-commissioned to commemorate the humanitarian organisation's 70th Anniversary, which will take place in 2019. Jointly hand-painted by Singapore Red Cross volunteers and Singapore Polytechnic's Diploma in Experience & Communication Design School students, the mural would be a way to make the headquarters more visible to citizens in Singapore, to amplify the good work it does for the city's vulnerable, and to enhance its engagement with youth - the future of humanity.