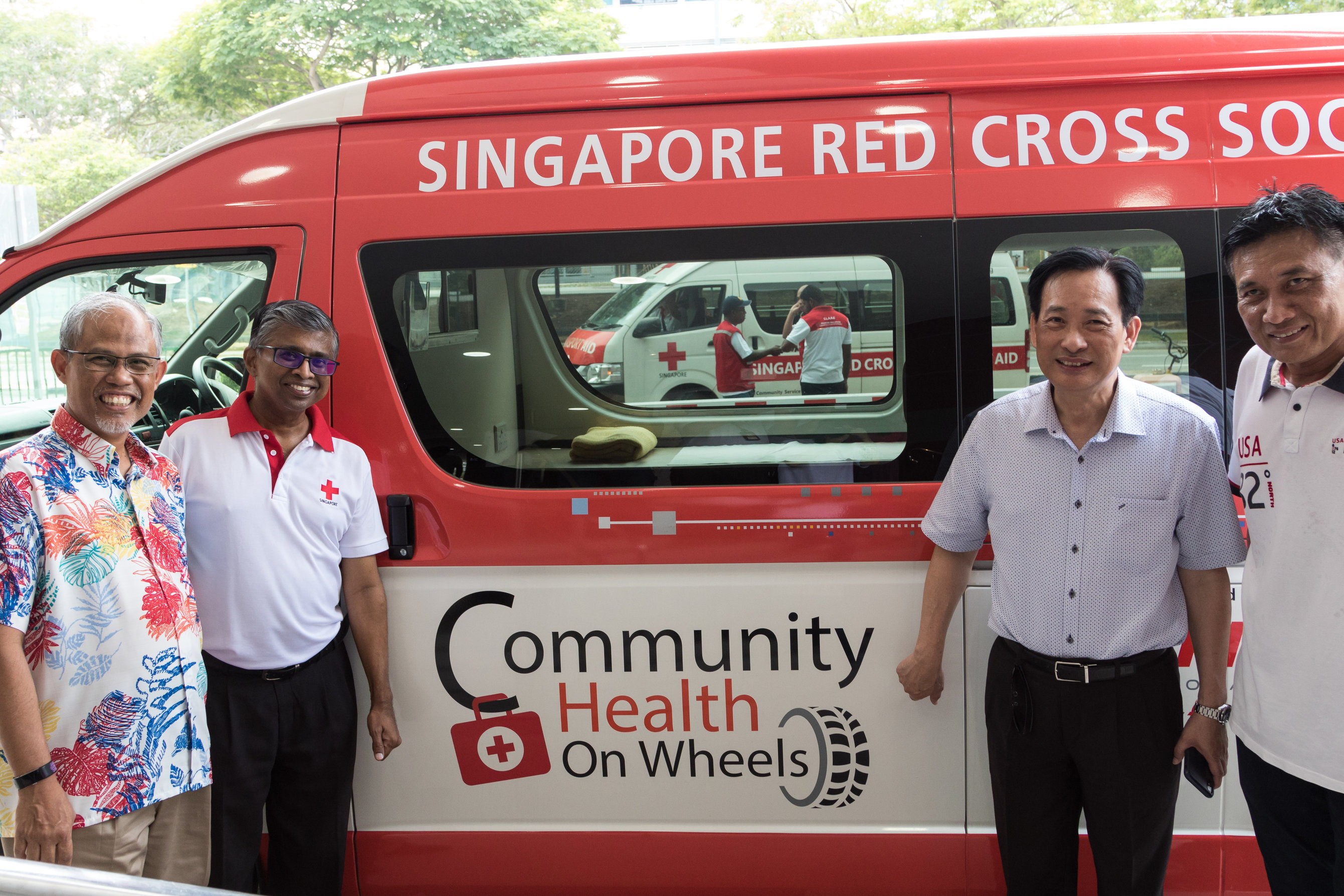 Community Health on Wheels delivers free ancillary services to seniors in the heartlands
Vehicle sponsored by SMRT Corporation's Gift of Mobility Fund
Singapore, 29 July 2018 - Singapore Red Cross (SRC) has unveiled Community Health on Wheels (CHoW), a community-based mobile healthcare programme that brings free ancillary services and basic medical care directly to the heartlands. The launch was officiated by Guest-of-Honour, Mr Masagos Zulkifli, Minister for the Environment and Water Resources and Member of Parliament for Tampines GRC, at a community outreach held at Tampines West Community Centre today.
This is the latest of the homegrown humanitarian organisation's ongoing efforts to strengthen community resilience and improve the lives of local vulnerable. CHoW was developed with the aim of supporting the health needs of the community, in particular, the elderly population. The CHoW vehicle, a brand new Toyota Hiace that was retrofitted with basic medical diagnostic and therapy equipment, is fully sponsored by Transport operator SMRT Corporation. The sponsorship comes from its "Gift of Mobility" Fund, launched in August 2017 in commemoration of SMRT's 30 years of operations.
CHoW will visit different parts of Singapore on designated weekends to provide health checks, physiotherapy services, psychosocial support and health counselling. These services complement the nation's healthcare network, by making medical support more accessible and ensure better continuity of care for patients.
This is in line with the Ministry of Health's Healthcare 2020 masterplan, which called for a transformation of its healthcare model - moving beyond hospitals to the community - in order for Singapore to meet her long term healthcare needs in a sustainable manner. Today, more than 47,000 seniors aged 65 and above in Singapore live alone, and government projections indicate that this number is expected to reach 83,000 in 2030. The free medical support services offered under CHoW complements the nation's elderly healthcare network in helping to ensure support for patients, especially those who are vulnerable, physically challenged and/or living alone.
Mr Benjamin William, Secretary General and CEO at Singapore Red Cross said, "Our rapidly aging population necessitates more comprehensive community-based health care and support services, which is only viable with the collaborative efforts of various agencies and service providers. We thank SMRT for believing in our vision of Community Health on Wheels, and for sponsoring the vehicle. We have curated the services that ChoW provides to augment the current healthcare for the elderly, and to complement our existing suite of community-based programmes, to help our seniors age in place within the community."
Mr Seah Moon Ming, Chairman of SMRT Corporation, added, "We are delighted to support a Singapore Red Cross' community-based initiative with a 'mobile clinic' that will serve elderly patients with mobility needs. SMRT's sponsorship of the Community Health on Wheels vehicle is part of our wider efforts to give back to the community we serve and is a meaningful way for us to support our seniors in leading healthy and active lives."
One-stop community-based elder support
Through the introduction of various health-driven initiatives under CHoW, SRC hopes to enhance the quality of life of the elderly, better their health status and at the same time, foster a sense of health resilience among the seniors. The activities are grouped under three primary focus areas:
Health, which augments the management of chronic and acute illnesses for the elderly through nursing and medical support (counselling, education and health monitoring, etc), and social work engagement (social needs assessment and internal referral to SRC's local services, such as TransportAid, ElderAid and FoodAid, if necessary);
Rehabilitation/Therapy, which serves to supplement the exercises that the seniors are receiving at their day activity centres and/or hospitals through occupational therapy and physiotherapy initiatives; and
Psychosocial support, which aims to support the psychosocial well-being of the elderly, as well as their caregivers.
A volunteer-driven initiative, CHoW is supported by some 60 healthcare professionals from the nursing, allied health, social work and psychosocial sectors, all of whom belong to SRC's professional volunteer networks - respectively the Nurses Network, Social Work Network and Allied Health Network. Through the provision of training and active engagement with the committed volunteers, SRC targets to scale up operations of CHoW progressively and maximise outreach to seniors across Singapore.
Since June, SRC has successfully introduced CHoW to several heartlands via partnerships with Residents' Committees, Community Clubs and other ground partner organisations. To date, close to 200 residents have benefited from CHoW and the programme would be rolled out islandwide over the next few months.
Moving forward, SRC plans to extend the services under CHoW to the marginalised individuals, including migrant workers. The mobile community health service may also be deployed during public events or to temporary shelters for affected communities during civil emergencies.