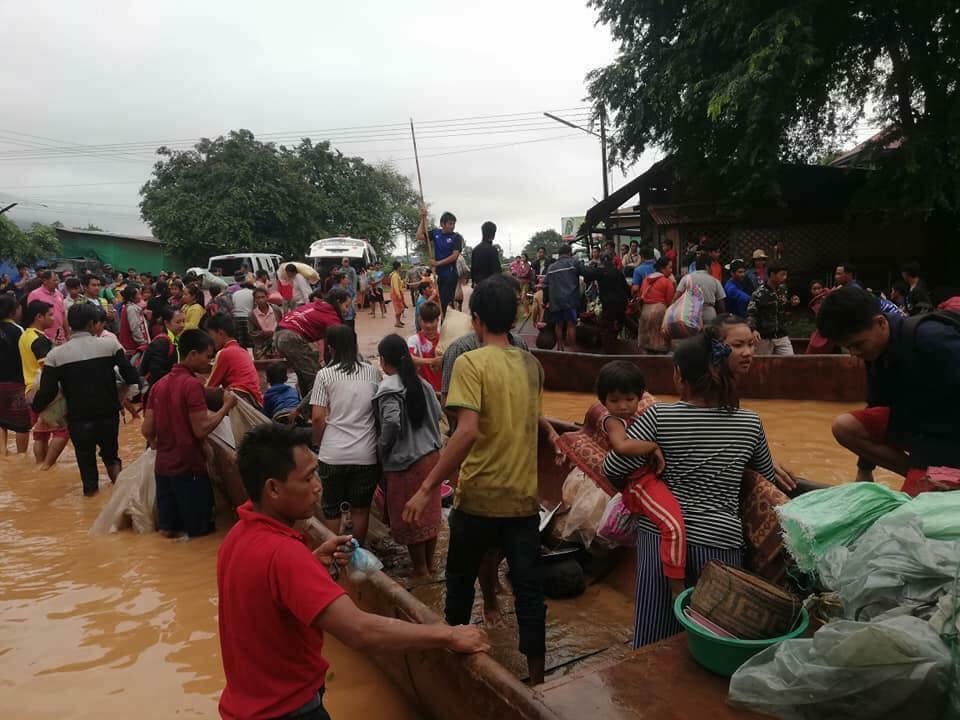 Commits S$50,000 in relief supplies - first aid, blankets, mats
Volunteer team arrives tomorrow for assessment, relief distribution
Singapore, 25 July 2018 - Responding to the heavy rain and flooding that caused the sudden hydropower dam collapse in Southeast Laos on Monday evening, Singapore Red Cross (SRC) has launched a public fundraising appeal, and will pledge S$50,000 in humanitarian aid to affected communities.
The donations will fund the purchase and distribution of relief items, including first aid supplies, blankets and mats for survivors, as well as, other disaster relief and recovery efforts.
Singapore Red Cross is working closely with Lao Red Cross Society (LRCS) to dispatch a three-person advance team on Thursday, 26 July. Comprising experienced Red Cross volunteers trained in disaster management, the team will deliver relief supplies to an estimated 1,000 families, and conduct ground assessments to determine urgent and mid-term needs.
Mr Benjamin William, Secretary General and CEO of Singapore Red Cross, said, "With continued rain and strong winds predicted for the next few days, there is much uncertainty surrounding the situation at this point. We are deeply concerned for the survivors, and plans are already in motion for SRC to provide immediate response. Our first priority is to address the urgent needs and to provide support to the homeless. We will continue to monitor the situation closely and work with our partners to render appropriate aid in this challenging time."
The consequences of the collapsed hydropower dam are dire. Reportedly releasing five billion cubic metres of water - the equivalent of more than two million Olympic-sized swimming pools - through six villages, the flash flooding accident has resulted in hundreds of people missing, an unknown number believed to be dead, and 6,600 people made homeless due to evacuations. Recently, many parts of Laos have been hit by floods from heavy seasonal rains. Over the next few days, continued rain and strong winds are predicted and could worsen the situation.
Laos Floods Response
Make an online donation:
POSB/DBS Internet Banking

DBS/POSB Internet Banking (Web) > Pay > Pay Bills> Billing Organisation not in my pre-arranged list > Select "Laos Flood 2018" from the list of payees
DBS/POSB Digibank (Mobile App) > Transfer/PayNow> Pay One-Time Billing Organisation> Search "Laos Flood 2018"

PayLah! (Will be available in the later part of next week)
Donations can also be made at Red Cross House, 15 Penang Lane, Singapore 238486, during office hours (Monday to Friday, 9am to 6pm). Cheques can be made payable to 'Singapore Red Cross Society' and posted to the above address. Please leave your name, postal address and indicate "Laos Flood 2018" at the back of your cheque.
Notes:
Donations to overseas efforts are not tax-deductible.
In the event that donations exceed the expenses incurred by Singapore Red Cross in this specific disaster response, any surplus or unspent money, after 3 years from the date of inception of the fund, can be used to prepare for and serve communities affected by other disasters or may be used to complement or to sustain projects undertaken by SRC in helping the vulnerable in areas affected by disasters.
Restoring Family Links
The Singapore Red Cross has activated its "Restoring Family Links" (RFL) service to assist Singaporeans and Laotians to locate their immediate family members who may have been affected by the disaster with whom they have difficulty in contacting. Please email us for assistance.
Image courtesy of Laos Red Cross