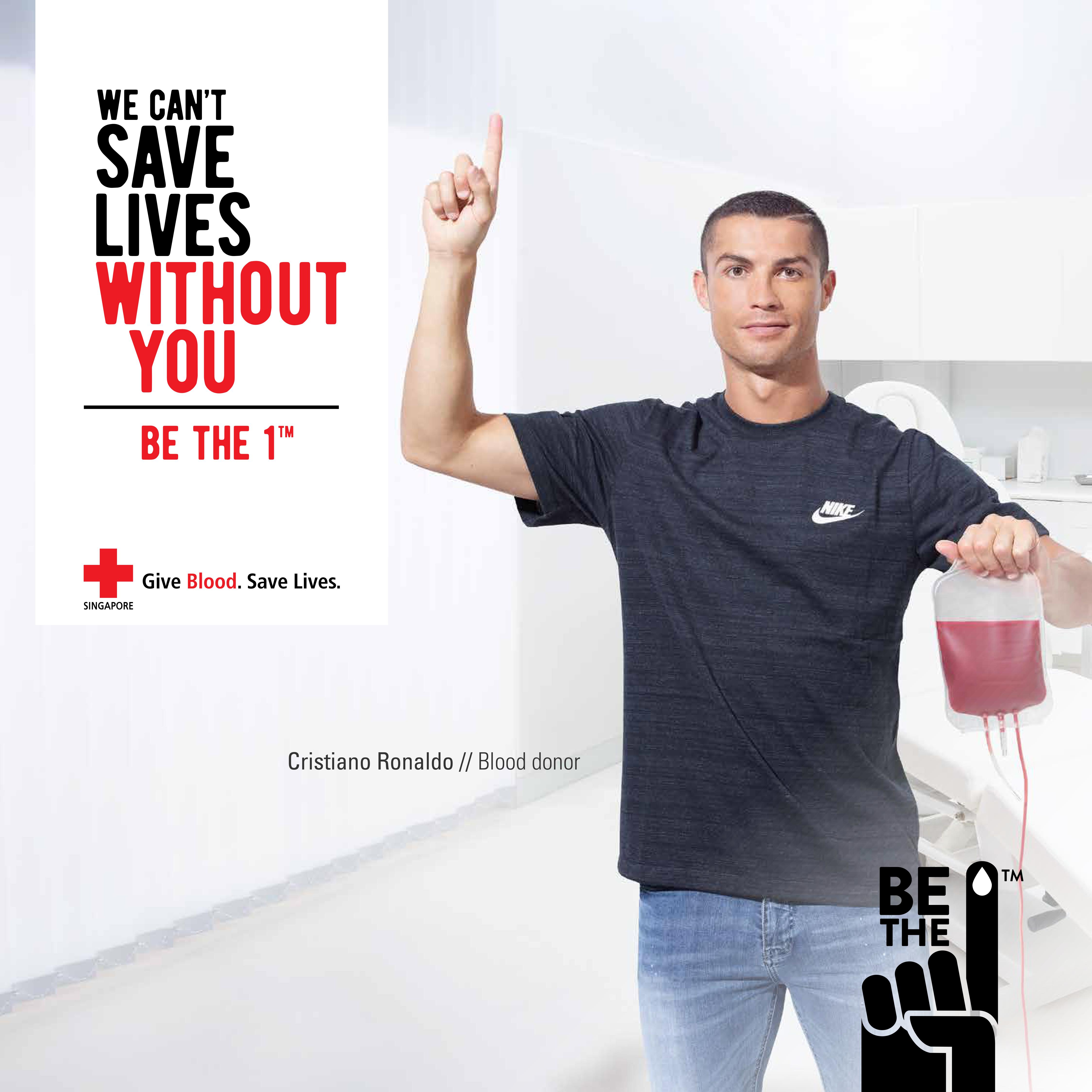 Singapore, 13 June 2018 - The Singapore Red Cross (SRC) today announced the launch of 'BE THE 1™' - its latest blood advocacy campaign that aims to encourage more people, particularly youth, to come forward to give blood.
Fronted by world-famous football superstar, Cristiano Ronaldo, the 'BE THE 1' global movement was created with the aim to inspire young people around the world to donate blood regularly. A strong advocate of blood donation, Ronaldo first gave blood when he was 24 years old after seeing his teammate struggle to get bone marrow donations for his son. Since then, he has continued to donate regularly and has avoided any activities that would prevent him from donating.
With the launch of the campaign, SRC joins the ranks of more than 80 blood donation centres across the world that has come onboard the movement. The campaign is part of SRC's ongoing efforts to expand the blood donor pool in tandem with Singapore's blood usage, which is projected to grow at a rate of 3 to 5 percent annually. While the overall blood donor pool has increased steadily over the years, the number of youth donors has been on a downward trend. In 2017, out of the 73,107 blood donors, only 26% are youth donors.
"Many young people are starting to take a more active interest and role in community service, moving from simply volunteering their time to taking the initiative to plan and organise charity events on their own," says Mr Robert Teo, Director of the Blood Donor Recruitment Programme at Singapore Red Cross. "Through meaningful youth engagement, we hope to harness their exuberance and giving spirit, and nurture a whole generation of lifesavers. By stepping up as a blood donor or an advocate of blood donation, youth can play an active role in ensuring blood is available at all times – just like Cristiano Ronaldo!"
The 'BE THE 1' campaign will run from now till the end of July. Interested members of the public can join Cristiano Ronaldo and Singapore Red Cross in the movement by:
Taking a photo of themselves (or a selfie with the life size cut-out standee of Ronaldo located at any of our four blood banks; from 19 June) and posting it on their social media pages with #BeThe1DonorSG
Making a pledge to give blood
Helping to spread the word about blood donation and encouraging their friends or followers to do the same.
In conjunction with the campaign, SRC has also partnered Sport Singapore (SportSG) for their upcoming Singapore Football Festival. Held from 30 June to 30 July, the month-long festival will see a line-up of football activities and tournaments being organised across the island to encourage everyone to watch, play and celebrate football. As part of the partnership, there will be Singapore Red Cross roadshows present at selected activities to spread awareness about blood donation.
To kick-off the partnership, a "Be The 1 Football Clinic", held on 21 July, will be offered exclusively to students from the various secondary schools and junior colleges under SRC's network of bloodmobile organisers, with limited slots available. The football clinic offers participants the opportunity to engage with coaches from the ActiveSG Football Academy, pick up tips to improve their skills, and enjoy a game or two with the coaches and fellow football enthusiasts.
Mr Lim Tong Hai, Team Lead, ActiveSG Football Academy said, "Football is a powerful tool to rally Singaporeans to show care for their fellow people. We hope to raise awareness of blood donation among the participants and their families and friends during the Singapore Football Festival. I will be encouraging our coaches and parents to take the lead in supporting the cause during the festival period and beyond."
Mr Teo added, "Youth engagement has always been one of our top priorities. With the support of SPORT SG and DATE (Develop the passion And Teach Everyone), we aim to reach out to these students in a fun setting and encourage them to lead an active lifestyle, while learning about blood donation. Our hope is that youth will also be inspired by Cristiano Ronaldo to step forward and "Be the 1" to donate blood. Ultimately, we wish to encourage them to adopt blood donation as a lifestyle, much like keeping active, and to help spread the cause to their family and friends."