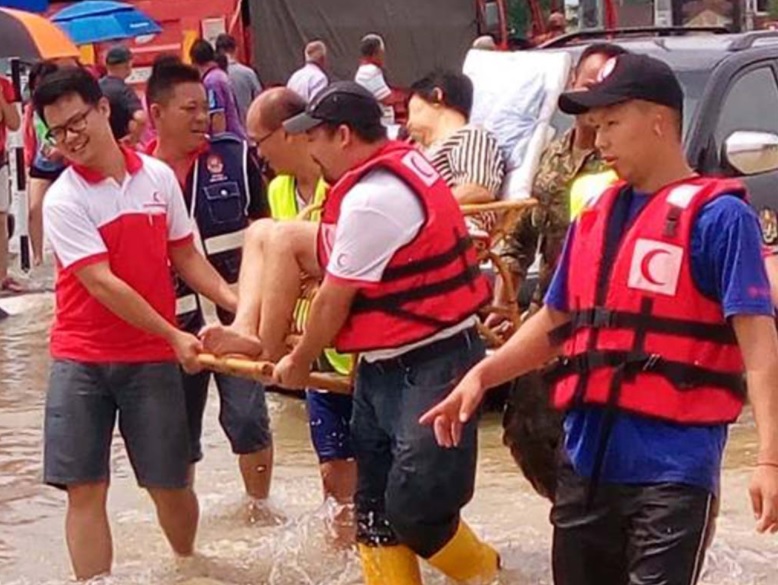 Singapore, 23 November 2017 - Singapore Red Cross (SRC) today launched a month-long fundraising appeal to aid communities affected by the recent floods in Southeast Asia - notably Typhoon Damrey in Vietnam and the Penang floods early this month.
In the first instance, SRC will contribute US$20,000 in humanitarian aid to Vietnam, to support the purchase and distribution of 600 water filters and 272,000 water purification tablets, 600 shelter tool kits and 1,200 tarpaulins, as well as blankets and hygiene kits. SRC has separately committed S$20,000 to support communities in Penang affected by the devastating floods.
A three-man SRC team has arrived in Danang, Vietnam for relief distribution and recovery assessments. The team, comprising Red Cross volunteers who have experience in disaster management, will participate in relief operations in the Thua Thien Hue province. During the 3-day mission, the team will deliver households kits to 232 households and conduct ground assessments to determine future needs of the affected communities.
Mr Benjamin William, Secretary General and CEO of Singapore Red Cross, said, "We are deeply concerned by the extensive devastation caused by the recent spate of flooding in our neighbouring countries. Our counterparts in the Malaysian Red Crescent and Vietnam Red Cross are working round the clock to assist survivors and to stabilise the situation on the ground. Our priority is to support them with resources so that they can expand their outreach."
He added, "With the ongoing monsoon season, we foresee the floods extending to other parts of the region, including Cambodia and Thailand. We will continue to monitor the situation closely and collaborate with our counterpart Red Cross national societies to deliver timely aid to the affected communities."
According to the International Federation of Red Cross and Red Societies, as of 10 November, Typhoon Damrey had claimed the lives of 82 people, with 26 people missing and 174 injured. The typhoon has also destroyed nearly 1,500 houses and around 120,000 houses are partially damaged. The aftermath of the Penang floods has been equally severe. Touted as Malaysia's worst flooding, the Penang Flood had caused the death of seven people and left more than 7,000 people homeless.
Fundraising Appeal: We appeal for donations to be made at Red Cross House, 15 Penang Lane, Singapore 238486, during office hours (Monday to Friday, 9am to 6pm). Cheques can be made payable to 'Singapore Red Cross Society' and posted to the above address. Please leave your name, postal address and indicate SEA Floods 2017 Relief Fund at the back of your cheque.
Notes:
Donations to overseas efforts are not tax-deductible.
In the event that donations exceed the expenses incurred by Singapore Red Cross in this specific disaster response, any surplus or unspent money, after 3 years from the date of inception of the fund, can be used to prepare for and serve communities affected by other disasters or may be used to complement or to sustain projects undertaken by SRC in helping the vulnerable in areas affected by disasters.
DBS and POSB customers can make donations via online / mobile banking and PayLah! from mid next week.
(Photo credit: Malaysian Red Crescent)