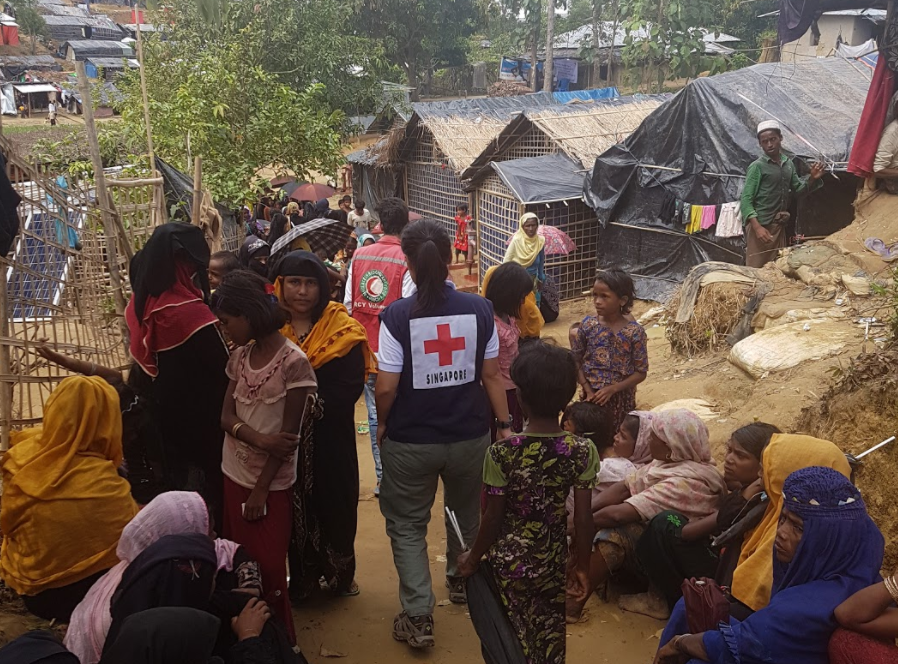 More than SGD$50,000 has been raised to support relief efforts
Red Cross distributes US$30,000 in relief supplies
Assessment team dispatched to communities affected by population movement in Cox's Bazar, Bangladesh - two medical teams to follow
Singapore, 9 October 2017 - The Singapore Red Cross' (SRC) advanced team is now in Cox's Bazar, Bangladesh to assess needs of the affected communities, and to assist with relief distribution. Working alongside the Bangladesh Red Crescent Society (BDRCS) and International Federation of Red Cross and Red Crescent Societies (IFRC), SRC will distribute US$30,000 worth of relief items to aid the affected communities in the ongoing humanitarian crisis in Rakhine State.
Earlier in September, SRC launched a public appeal for funds to support relief efforts for the people from Rakhine state, Myanmar. Through the month-long appeal, SRC raised more than SGD50,000 in donations, all of which will be used in aid of those affected by the current crisis.
On 4 October 2017, a forward team comprising two SRC staff members headed to Bangladesh to assist in the distribution of the relief items and to assess future needs of the affected communities. The assessment team visited Hakimpara (51,800 displaced people), Thankhalli, Balukhali (46,110), Mainnerghona (71,770) and Palong Khali camps to assess the situation and the needs of the people in these settlements. The team worked with the Turkish Red Crescent and the Bangladesh Red Crescent to distribute food items including rice, dhal, salt, and oil etc for 800 families.
In the coming weeks, SRC plans to deploy medical and WASH (water, sanitation and hygiene) personnel to assist with the relief efforts at these camps.
Since the crisis began, nearly 587,000 people have fled from the Rakhine State of neighbouring Myanmar into Bangladesh. The Red Cross and Red Crescent teams have been providing relief items to the affected communities, while healthcare, food and water are still needed for the communities who have self-settled in the areas surrounding Cox Bazar.
"The large wave of population movement has resulted in a critical humanitarian emergency in the Cox Bazar area, with the communities facing issues like overcrowding, poor sanitation, and insufficient first aid, medical assistance, clean water and food", said Benjamin William, Secretary General and CEO of Singapore Red Cross. "These challenges are likely to persist for an extended period of time. The Singapore Red Cross will remain in close contact with the Bangladesh Red Crescent Society andInternational Federation of Red Cross and Red Crescent Societies to evaluate the needs on the ground, and provide further support where we can."
SRC has been providing humanitarian assistance in Rakhine since 2012. In July this year, a team deployed by SRC deployed in Rakhine distributed USD $50,000 worth of shelter items, school kits and teaching kits to communities affected by flooding in Rakhine. Earlier on, SRC had also provided assistance to internally displaced person (IDP) camps in Rakhine.
SRC had also previously distributed US$50,000 worth of relief items in collaboration with BDRCS to support the people who were affected by Cyclone Mora in Bangladesh. Dry food rations and household items were distributed to beneficiaries of the Cyclone Mora, together with toolkits for repairing shelters, and cash grants to help restore lost livelihoods.