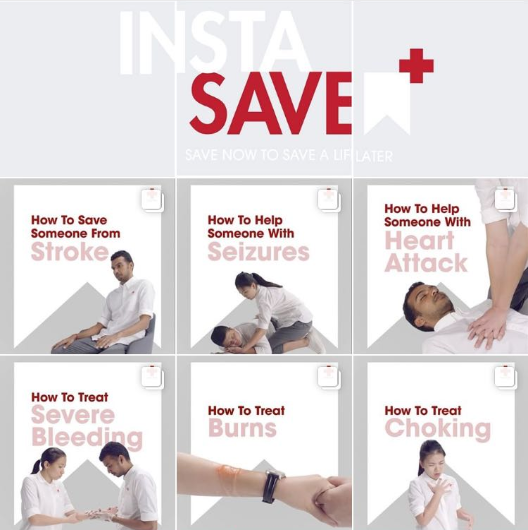 Social outreach: SRC and DDB turn Instagrammers to Lifesavers with 'InstaSave'
Public outreach: Red Cross Youth distribute first aid kits to 300 elderly households
Singapore, 9 September 2017 - To commemorate World First Aid Day, the Singapore Red Cross (SRC) today launched InstaSave - a series of step-by-step first aid videos on Instagram - at a community outreach graced by Guest-of-Honour, Mr Desmond Lee, Second Minister for Home Affairs and National Development. Themed "First Aid Is For Everyone" and held at the Taman Jurong CC, the annual outreach is part of the humanitarian organisation's ongoing efforts to demonstrate the importance of first aid in building community resilience.
Reinforcing why learning first aid is critical, Minister Lee shared in his speech, "In the spirit of keeping Singapore secure and strong, it is essential that we all learn and know how to apply our first aid skills. Emergencies may happen at home, in school, at work, or even from a terrorist attack. When we are proficient in first aid, we can react to such situation calmly. In the long run, it will help strengthen security, community cohesion and community resilience."
InstaSave marks the latest initiative by SRC to make first aid more accessible to all in the community, starting with the youth and those on-the-go. Developed in partnership with local advertising agency DDB Group Singapore, this campaign comprises a collection of six bite-sized instructional first aid videos hosted on SRC's Instagram. Each addresses one of the six common conditions of emergencies in Singapore - cardiac arrest, seizure, choking, severe bleeding, stroke, and burn wounds. For easy access in case of emergencies, Instagrammers can download the videos and 'save for later' within the app. Instagram users are also encouraged to help spread the word by sharing the videos with their followers, tagging @sgredcross and including hashtags #instasave and #savenowtosavelater.
Mr Benjamin William, Secretary General and CEO for the Singapore Red Cross, said, "Through the years, SRC has remained in the forefront of national efforts to have a first aider in every home. To achieve this, we have to continue to stay relevant, and even get ahead of the curve, by being creative and innovative, but at the same time remaining pragmatic. InstaSave has potential to turn a photo-sharing community of 1.4 million Instagrammers to a lifesaving force."
"In an emergency, every second matters. Faster response rates significantly increase a person's chance of survival," added Mr Chris Chiu, Chief Creative Officer at DDB Group Singapore. "However, more often than not, access to life-saving knowledge can be hard to follow. With 65 per cent of Singaporeans on Instagram, the opportunity is huge."
At the event, residents were also treated to an educational and fun-filled carnival featuring activity booths, complimentary health checks, and first aid games. Through these activities, they learnt first aid knowledge and tips from Red Cross Youth leaders.
As part of SRC's outreach efforts, Red Cross Youth distributed first aid kits to 300 elderly households in the vicinity. Echoing this year's theme, which emphasised making first aid more accessible for people of all ages, the youth volunteers also guided residents on the use of the items in the first aid kit and basic first aid skills. At the same time, in an effort to reach out to and engage vulnerable members of society, the youth also distributed food aid packs to needy residents. This is in line with SRC's Community-Led Action Resilience (CLARE), which mobilises neighbourhood-based volunteers to provide first response, first aid, eldercare and befriending service to vulnerable groups in their community.
Mr William concluded, "First aid is for everyone, and no one is too old or too young to pick up these life-saving skills. I am heartened to learn that many youth in our midst today are proficient in first aid. It is encouraging to witness their passion for humanitarian causes and desire to spread first aid awareness within the community."
Speech by Singapore Red Cross Secretary General/CEO Benjamin William
Speech by Minister Desmond Lee, Second Minister for Home Affairs and National Development, and soon Minister of Social and Family Development