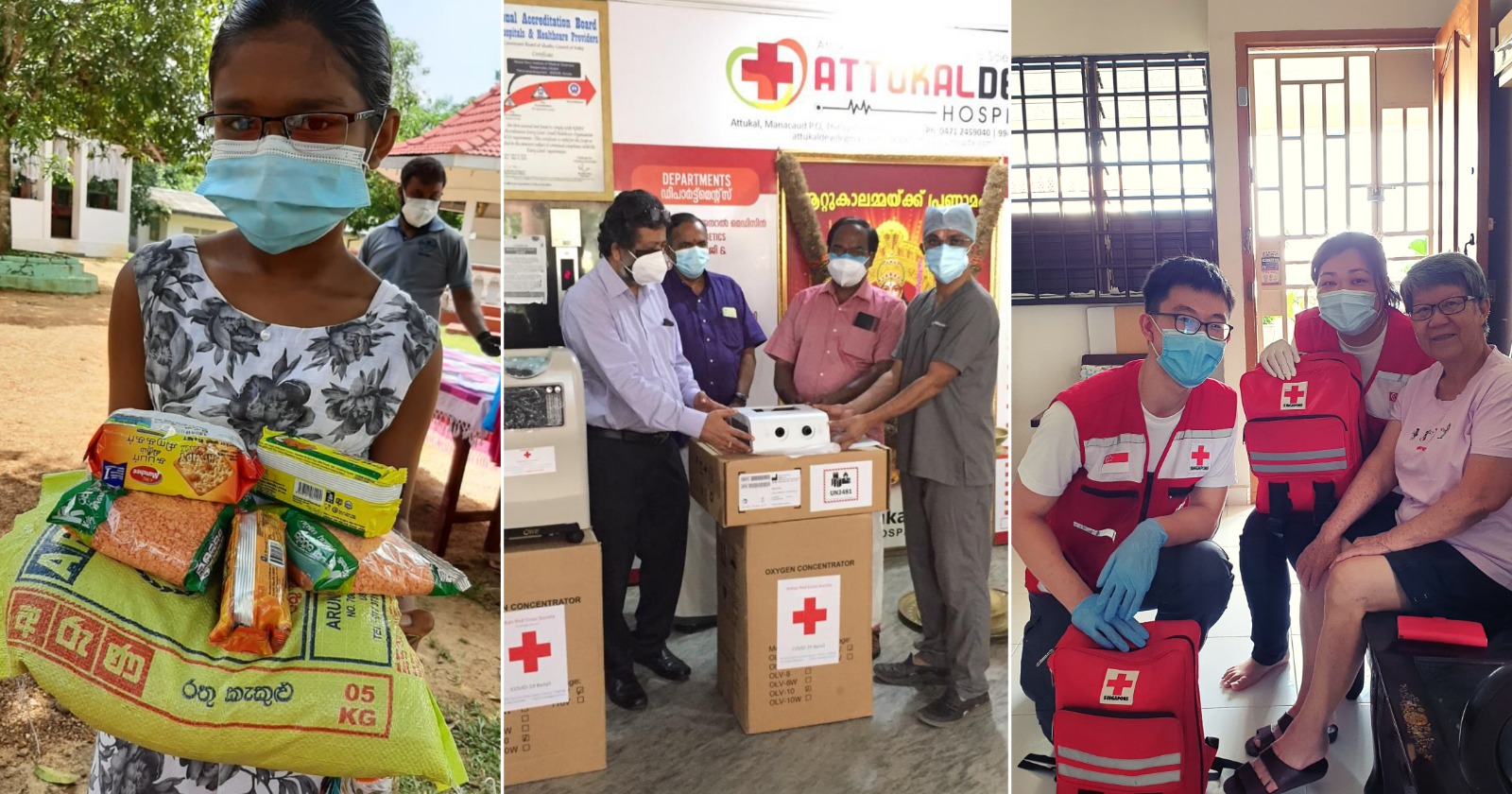 SG Scaling up support to the elderly and low-income families; new livelihoods initiative
India Disbursed over SS$6M in healthcare aid to 14 Indian states; wraps up response
South Asia & Southeast Asia Humanitarian response spanning seven countries; fundraising appeal for Asia Pacific
Singapore, 6 July 2021 - The Singapore Red Cross (SRC) has launched a public appeal to deliver assistance and support communities in South Asia and Southeast Asia, affected or at risk of being affected by the ongoing COVID-19 outbreak. In a media briefing held today, the homegrown humanitarian organisation also announced the inauguration of its Centre for Occupational Learning and Employment (COLE), and shared a series of upcoming initiatives to support the vulnerable communities in Singapore.
Against the backdrop of COVID-19's serious and far-reaching effects on low-income families, SRC's COLE offers basic employability training and job facilitation for Singaporeans aged 18 to 59, whose livelihoods were affected. To mitigate the impact of the pandemic on the livelihoods of vulnerable communities, SRC will provide free soft-skills training, career coaching, and job recommendations to 550 candidates including SRC's beneficiaries, from July 2021 to July 2023.
Mr Benjamin William, Secretary General and CEO, Singapore Red Cross, said, "More people are coming to us for help over the past year, as they grapple with the loss of jobs and business due to the economic downturn. To offer practical livelihoods support and achieve direct impact, we are working closely with our corporate partners to fund training that enhances employability, as well as to offer job opportunities."
Local Community Efforts
Since the start of the pandemic, SRC has continued to reach out to its existing beneficiaries and clients, and provide them with essential care services via its ElderAid, Family LifeAid, TransportAid, and Home Monitoring and Eldercare (HoME)+ services. As restrictions on the safe distancing measures gradually ease, SRC has been ramping up on community engagement activities, both online and offline.
Following the customised care packages initiative introduced in 2020, SRC has continued with monthly distribution of essentials (medical, hygiene, food and household supplies) to 220 seniors. In addition to the fortnightly home visits to the seniors by volunteer befrienders, SRC has also, since July 2020, resumed conducting weekly art and craft, haircut and workout activities for seniors in Tampines. Working with The Social Kitchen, SRC has also delivered close to 1,800 warm meals to more than 1,000 families-in-need over four months.
Since the start of the pandemic, more people have come forward to various Social Service Agencies (SSA) seeking assistance in their livelihoods. Through Project R.I.C.E+, the annual fundraising campaign championed by youth leaders from the Red Cross Youth, SRC will also be reaching out to close to 23,000 beneficiaries from single-parent, skipped generation, and low income families, as well as migrant workers. Over the next few weeks, the youth will be conducting island-wide distributions of customised bundle sets comprising food and daily necessities to the identified beneficiaries.
Meanwhile, as part of its Young Hearts programme for at-risk children and youth, SRC has recently established an interim Children's Centre at Nee Soon East. Intended as a safe space for hybrid learning and interaction, the Children's Centre runs weekly tuition and digital workshops (in-person or online), led by volunteers, for 80 children aged 7 to 12 from low-income households. These children will also be given nutritious meals for the next six months (July - December).
Partnering with the Centre for Domestic Employees (CDE), SRC has also embarked on initiatives to engage the foreign domestic workers (FDW) community through mental wellness activities, such as art jamming and music ensemble. Other plans in the pipeline include organising virtual talks for FDWs living in the shelter on specific topics related to them; as well as introducing capacity building activities for the migrant workers community, including basic first aid and psychological first aid courses.
Moving forward, SRC is also looking into other areas to enhance resilience within the local vulnerable community, especially the elderly, including digital skills training for seniors, and dialect workshops helmed by seniors for youths to promote intergenerational learning.
Support to Asia Pacific communities
At the media briefing, SRC gave an update on its humanitarian response to India. To date, SRC has purchased and delivered 205 ventilators, 2,975 oxygen concentrators, 2,510 oxygen cylinders, over 1.2M surgical masks, 2,000 flow meters, 50,000 nasal cannulas and 48,000 PBS vials. Valued at over S$6M, the supplies were distributed, through the Indian Red Cross Society (IRCS), to 14 states across India: Andhra Pradesh, Assam, Bihar, Goa, Karnataka, Kerala, Madhya Pradesh, Maharashtra, New Delhi, Odisha, Tamil Nadu, Telangana, Puducherry and West Bengal. Since the launch of its public appeal on 28 April, SRC has received over S$7.5M in donations from corporate organisations and members of the public. Future activities that SRC may undertake, aside from further procurement of medical items, include activities to provide livelihood support as numerous families in the rural communities might have lost their breadwinners to COVID-19 as well as, to help strengthen rural healthcare facilities to assist communities in coping with the pandemic.
In view of the escalating COVID-19 cases over the last few months, SRC has initiated a second public appeal to raise funds for other countries, especially in South Asia and Southeast Asia, that are challenged to cope with the recent surge in COVID-19 cases. The funds from the International COVID-19 Response will be channelled towards the purchase of oxygen supplies, Personal Protective Equipment (PPE) and other medical supplies such as ventilators to identified countries that urgently need them.
Mr William explained, "Geographically-proximate countries such as Nepal who shares a border with India saw daily cases jumping drastically while Sri Lanka saw spikes in cases following local New Year festivities in April. The rise of the more transmissible Delta-variant is also another reason for the surge in COVID-19 infections across South Asian countries. This unabating wave of cases across the region is deeply concerning. With the sudden exponential rise in COVID-19 cases, healthcare systems are reaching breaking points with limited medical supplies and facilities on hand for affected patients. Our plan is to help support the response efforts of our sister National Societies and the authorities, including the healthcare institutions in these countries, as well as to deliver immediate aid to communities worst affected around the region."
To date, SRC has also reached out to and delivered 634 Oxygen concentrators, 10 ventilators, 351,000 surgical masks, 13,000 reusable face masks, 1,000 PPE gowns, and 150,000 latex gloves, to seven South Asian and Southeast Asian countries, namely Afghanistan, Bhutan, Indonesia, Maldives, Nepal, Philippines and Sri Lanka.
SRC has also contributed S$125,000 to the local Red Cross and Red Crescent Societies and local non-governmental organisations in Nepal, Sri Lanka and Malaysia, for the purchase of medical supplies needed by hospitals, and basic necessities for families affected by COVID-19.
"SRC will keep in close contact with our Red Cross Red Crescent Movement partners in the region to understand the immediate needs of the various countries in the coming weeks. Future activities that SRC may undertake, aside from further procurement of medical items, may include livelihood activities. The aim is to enable people to cope with and recover from shocks and stresses and enhance their well-being, as well as for communities to be able to resume activities that allow them to make a living and secure the necessities of life."
International COVID-19 Response (appeal ends on 31 December 2021)
2) PayNow
Go to "PayNow" > Click "Paynow to UEN" > Key in "S86CC0370EFR2" > Key in the amount you would like to donate> Input "Intl COVID-19 Response" under Bill Reference.
Or
Go to "Scan & Pay" > Scan QR Code below> Key in the amount you would like to donate> Input "Intl COVID-19 Response" under Bill Reference.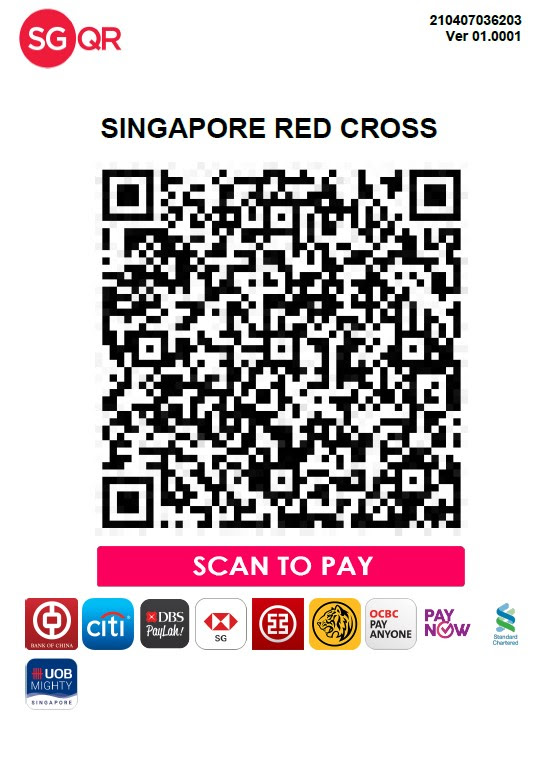 3) Fund Transfer
Select "Transfer Money" > Go to "One-Time Transfer" > Click "To other bank" > Key in "SINGAPORE RED CROSS" > Select "HSBC (Corporate)" > Enter account no. "142038546002" > Key in the amount you would like to donate> Input "Intl COVID-19 Response" under Comments.
4) Cheque donation
Please make cheque payable to 'Singapore Red Cross Society', to be posted to Red Cross House, 15 Penang Lane, Singapore 238486. Please leave your name, postal address and indicate "Intl COVID-19 Response" at the back of your cheque.
Notes:
Donations to overseas efforts are not tax-deductible.
In the event that donations exceed the expenses incurred by Singapore Red Cross in this specific disaster response, any surplus or unspent money, after 3 years from the date of inception of the fund, can be used to prepare for and serve communities affected by other disasters or may be used to complement or to sustain projects undertaken by SRC in helping the vulnerable in areas affected by disasters.
COVID-19 Local Response
2) PayNow
PayNow to UEN S86CC0370EFR1 (via Bank App) or scan the QR code. Please indicate 'SRC Champion' and your NRIC number under Bill Reference.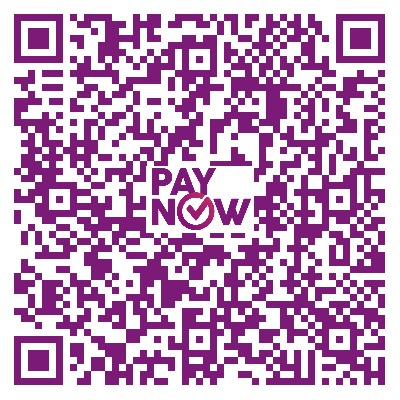 3) Fund Transfer
Bank Transfer to HSBC 142038546001. Please indicate 'SRC Champion' and your NRIC number in the Reference section.
4) Cheque Donation
Please mail your cheque, made payable to 'Singapore Red Cross Society', to Red Cross House, 15 Penang Lane, Singapore 238486. Please leave your name, postal address and indicate 'SRC Champion' and your NRIC number at the back of your cheque.
Notes:
Donations to local efforts are eligible for 250% tax deduction.