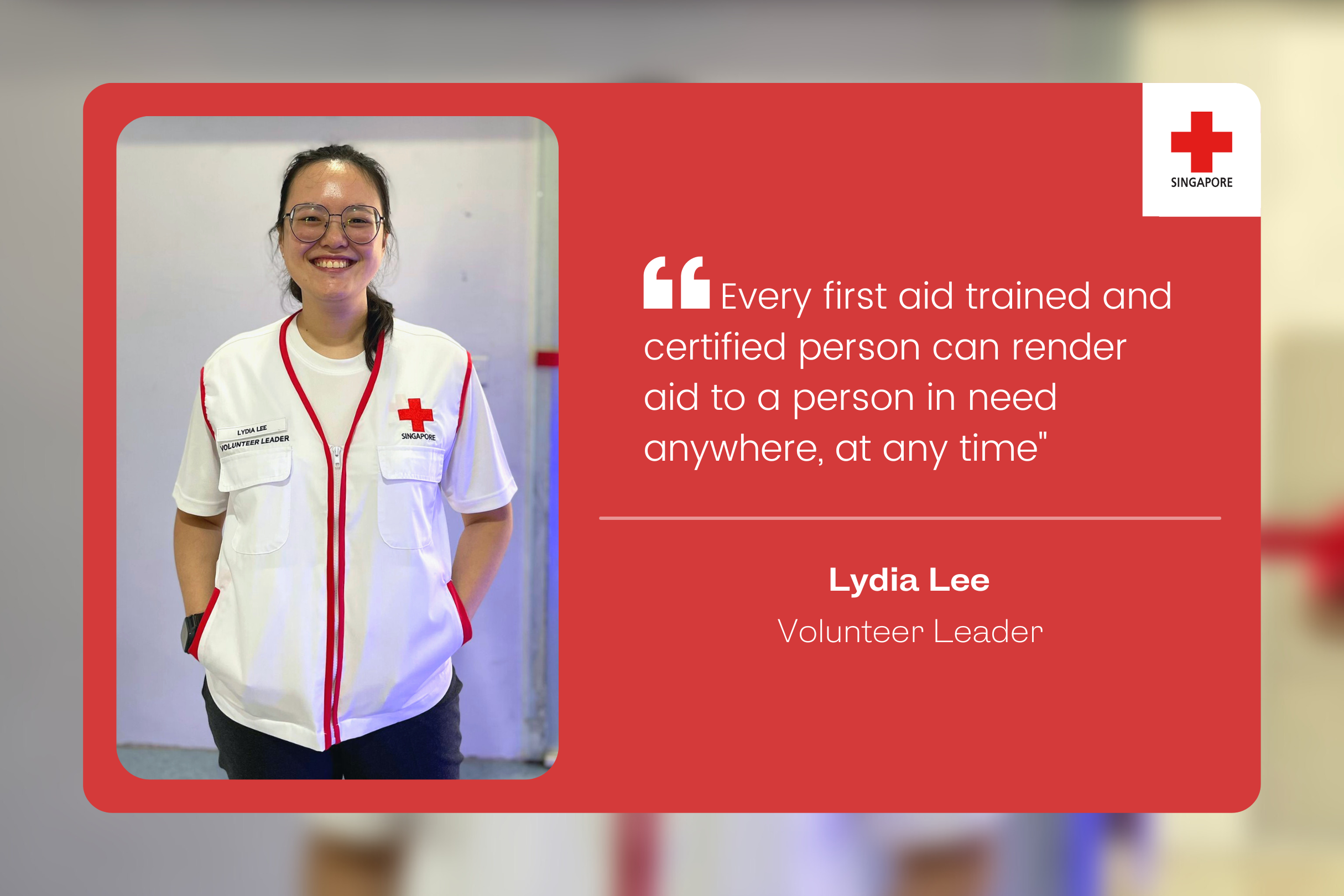 Having witnessed schoolmates getting hurt in scrapes, Lydia Lee learnt first aid at the Singapore Red Cross so she could be in the position to help others. She recounts putting her first aid skills to the test in a real-life scenario. She also shares her volunteering experiences as a community first aider and the insights gleaned as a volunteer leader.
Lydia Lee has always enjoyed volunteering and helping others. Having witnessed her junior college schoolmates sustain lacerations and bruises after getting into scrapes, she picked up first aid and was volunteering with another organisation. Inspired by the professionalism and willingness to help of the Singapore Red Cross (SRC) volunteer first aiders who served at an event, she connected with the SRC and learnt first aid.
Leveraging First Aid Skills to Help Someone
Her first aid skills were put to practical use years ago when she received a notification on the Singapore Civil Defence Force's (SCDF) myResponder mobile app that a man was unconscious at home. The app is aimed at alerting members of the public to an emergency so they could help save lives in the first few critical minutes, thereby enhancing survival rates.
Upon receiving the notification, Lydia rushed over to the home, where she found the man's family in a state of panic. Lydia managed the situation by swiftly putting her first aid knowledge and skills to the test. Although the elderly man was unconscious, he was still breathing, so Cardio Pulmonary Resuscitation (CPR) was not required. She put him in a recovery position by keeping his hand pressed against his cheek, pulling the far leg to turn him to his side, and adjusted the top leg so it was bent at a right angle. She then monitored his vital signs before the arrival of the SCDF. Lydia also collected the man's background information from the family, such as medical history and allergies and meal times. This was passed on to the SCDF, who then conveyed the man to a hospital.
Lydia attributed her calm confidence and composure in managing the situation to the years of volunteering and sharing experiences with fellow volunteers. Through these exchanges, she learnt what to expect at such scenes, which mentally prepared her for the situation and staved off panic.
"That experience served as a reminder that every first aid trained and certified person can render aid to a person in need anywhere, at any time," she said.
Volunteering Experiences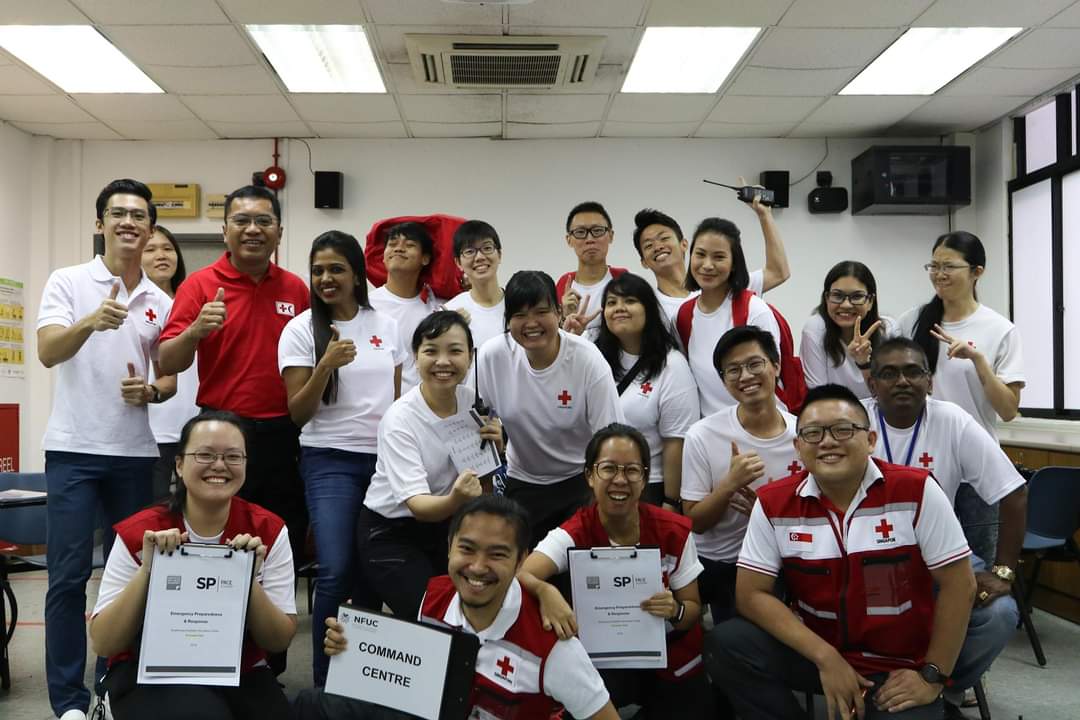 Lydia started volunteering with the SRC's Community FirstAid programme in 2014 when she was 19, as part of the local civil emergency response team and as a first aider with the First Aider on Wheels programme.
Over time, Lydia gained a sense of purpose and belonging among like-minded SRC employees and volunteers who were likewise committed to enhancing local community resilience. She also saw the practical ways that volunteers served individuals and the broader community.
Besides volunteering as a first aider, Lydia was also roped in to volunteer as Red Cross Youth's (RCY) Youth Member in 2017. She was also involved in various youth programmes in RCY.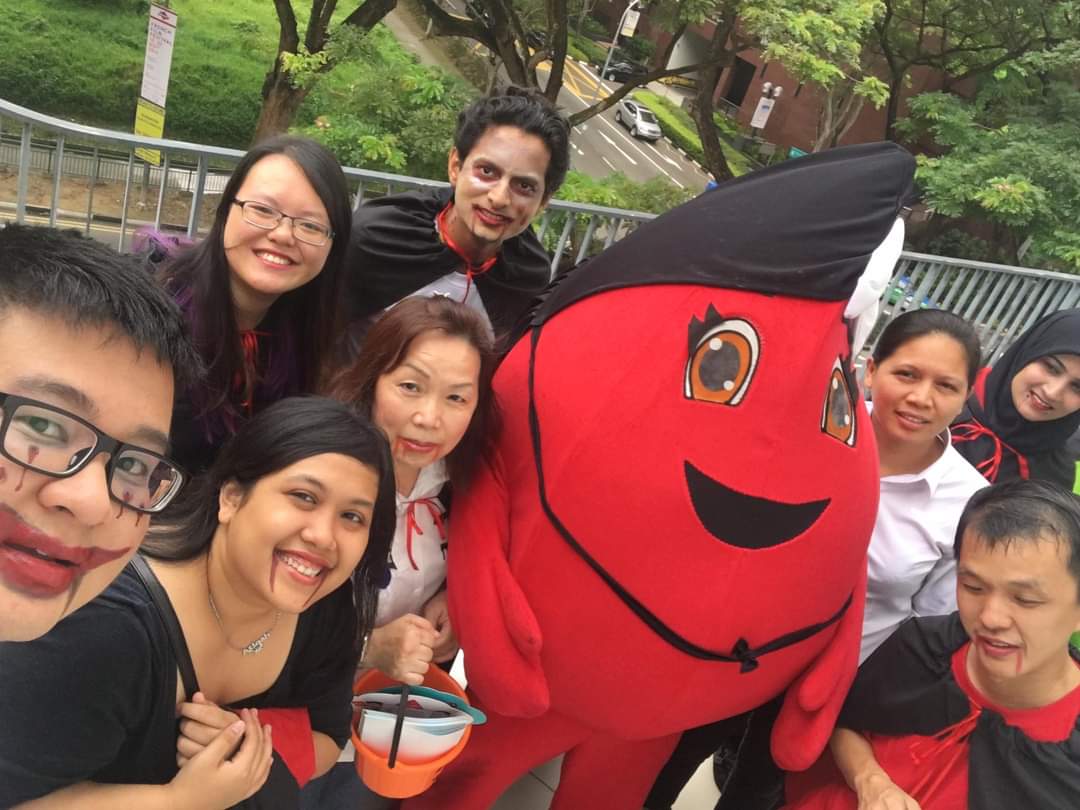 Lydia recounted organising a Halloween Blood Drive, which was an inaugural collaboration between RCY and the SRC's Blood Donor Programme. Her role in the blood drive was primarily operational and logistics-based: she was tasked with organising and providing guidance to new volunteers. Volunteering at the blood drive was a vastly different experience to regular volunteering at community centres and nursing homes as there was more interaction with seniors and residents for the latter. While this presented certain challenges, the enthusiasm of new volunteers was refreshing, energising and encouraging for SRC employees and more seasoned volunteers.
"Their enthusiasm reminded us of the raison d'être and the joy of volunteering, which further reinforced our commitment to volunteering," said Lydia.
From Regular Volunteer to Volunteer Leader
Lydia explained that SRC's Volunteer Management department formalised a volunteer leader pathway training in 2021. As she was already volunteering in a leadership capacity in local civil emergency response with SRC's Community Services department since 2018, she was nominated to attend the six-day training programme spanning four weekends. The programme not only equipped participants with more information about SRC but also soft skills, such as teamwork and volunteer management. Her key takeaway from the programme was learning about her thought processes and her communication with others.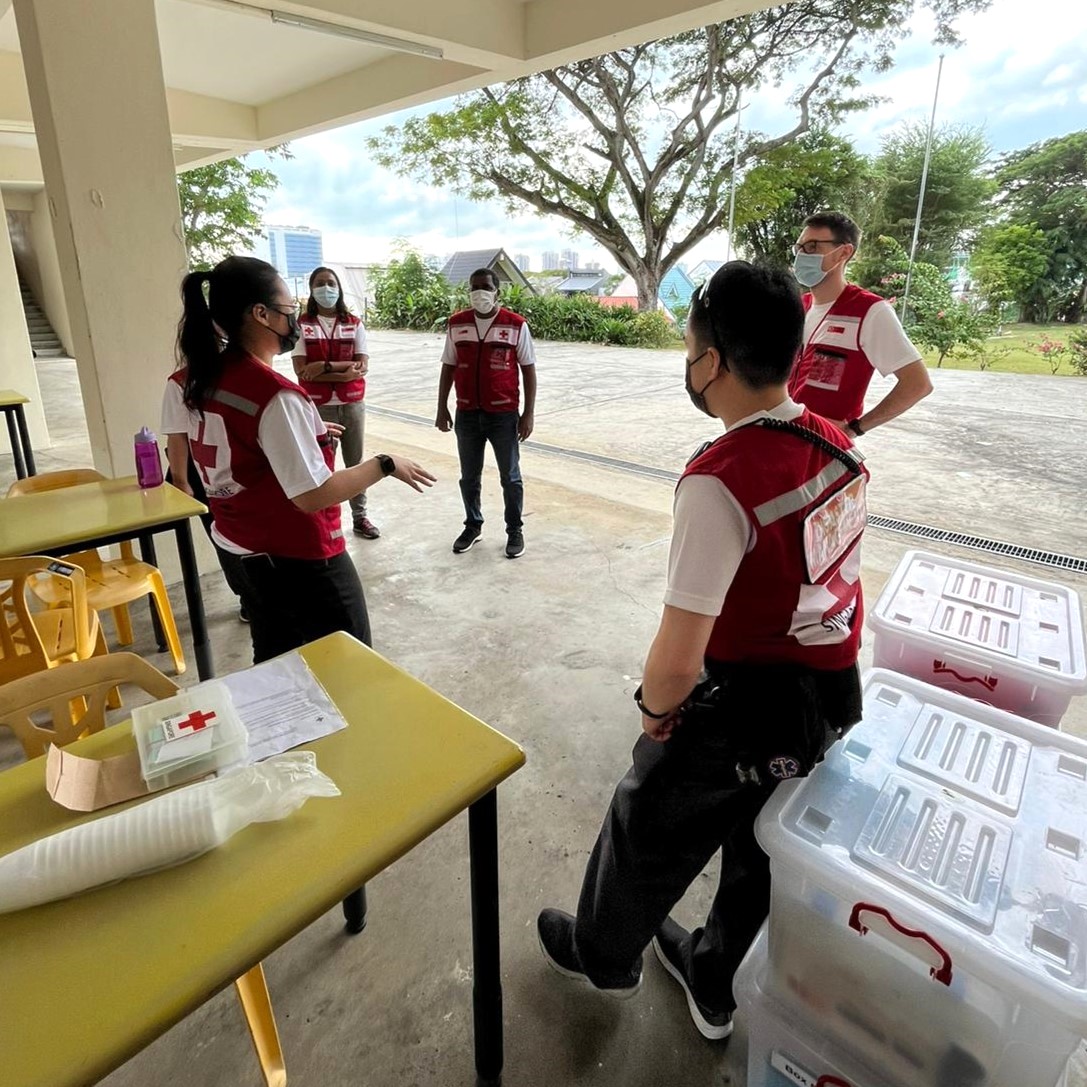 "It was an eye-opener for me, as I now appreciate a difference in opinion as a difference in perspective. This enabled my fellow course mates and I to understand and manage other volunteers more effectively," she said.
There are opportunities for specialisation among volunteer leaders as well, with Lydia opting to focus on emergency response preparedness.
Lydia continues to participate in SRC activities as a regular volunteer, which has enabled her to witness a wide variety of leadership styles. She additionally supports SRC employees with backend duties such as administration, and logistics. For instance, she has been crafting messages for e-mail blasts to facilitate organisational outreach.
Lydia is very appreciative of the SRC employees who provide invaluable mentorship and support to volunteers.
"The SRC employees are very passionate about the work they do. Their drive is exemplified by the programmes developed and the empowerment of volunteers to do our utmost for the beneficiaries. By providing mentorship and guidance, the SRC employees enrich our volunteering journey," Lydia says.
Challenges Faced by Volunteer Leaders
The COVID-19 pandemic resulted in the suspension of several SRC's volunteer-based services, such as Community FirstAid. Volunteer leaders grappled with attrition as some volunteers' interest waned while first aid certificates had expired for others. Non-essential in-person training for emergency response preparedness was also suspended for a period, curtailing the interactions within the volunteer pool while putting volunteer recruitment on hold. On her part, Lydia worked at a human resource consulting firm, and the pandemic accentuated the need to balance work and personal life, which also translated into reduced hours spent on volunteering.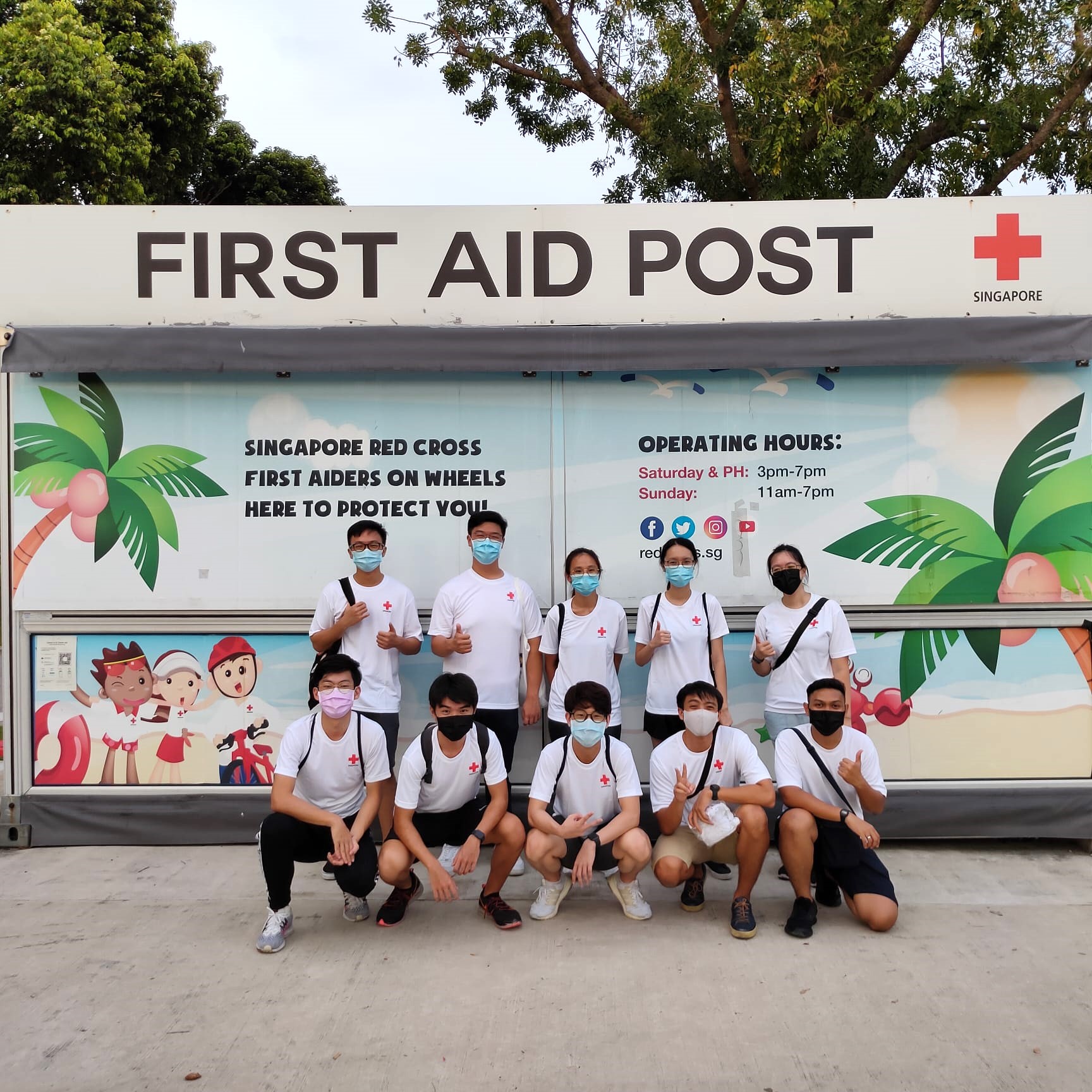 On the other hand, the post-pandemic resumption of activities catalysed the return of existing volunteers and the recruitment of new ones. The pandemic also highlighted the importance of learning and applying useful first aid skills among the wider public, as it was no longer feasible to seek help at hospitals and clinics for every minor ailment.
As a volunteer leader, Lydia hopes to organise programmes and training for volunteers and encourage new members to volunteer more frequently across SRC's services and departments.
Volunteering is Vital for Society
Besides attesting that a population that is not encountering adversity and is in a position to share resources, volunteering strengthens communal bonds, vital to a functioning society.
"The intrinsic value of volunteerism is reflected in a culture of giving, loving, caring, and helping others," Lydia said.
Today, she spends an average of four hours each week volunteering with the SRC, although there are lull periods. Most recently, she provided first aid coverage at the National Day Parade 2022. This will be followed by an emergency responder training this year. When asked why she continues to volunteer, Lydia smiled and quipped, "It is meaningful and quite fun!"
By Lee Zhu'ai Sian, Volunteer
Copyedited by Keval Singh, Volunteer