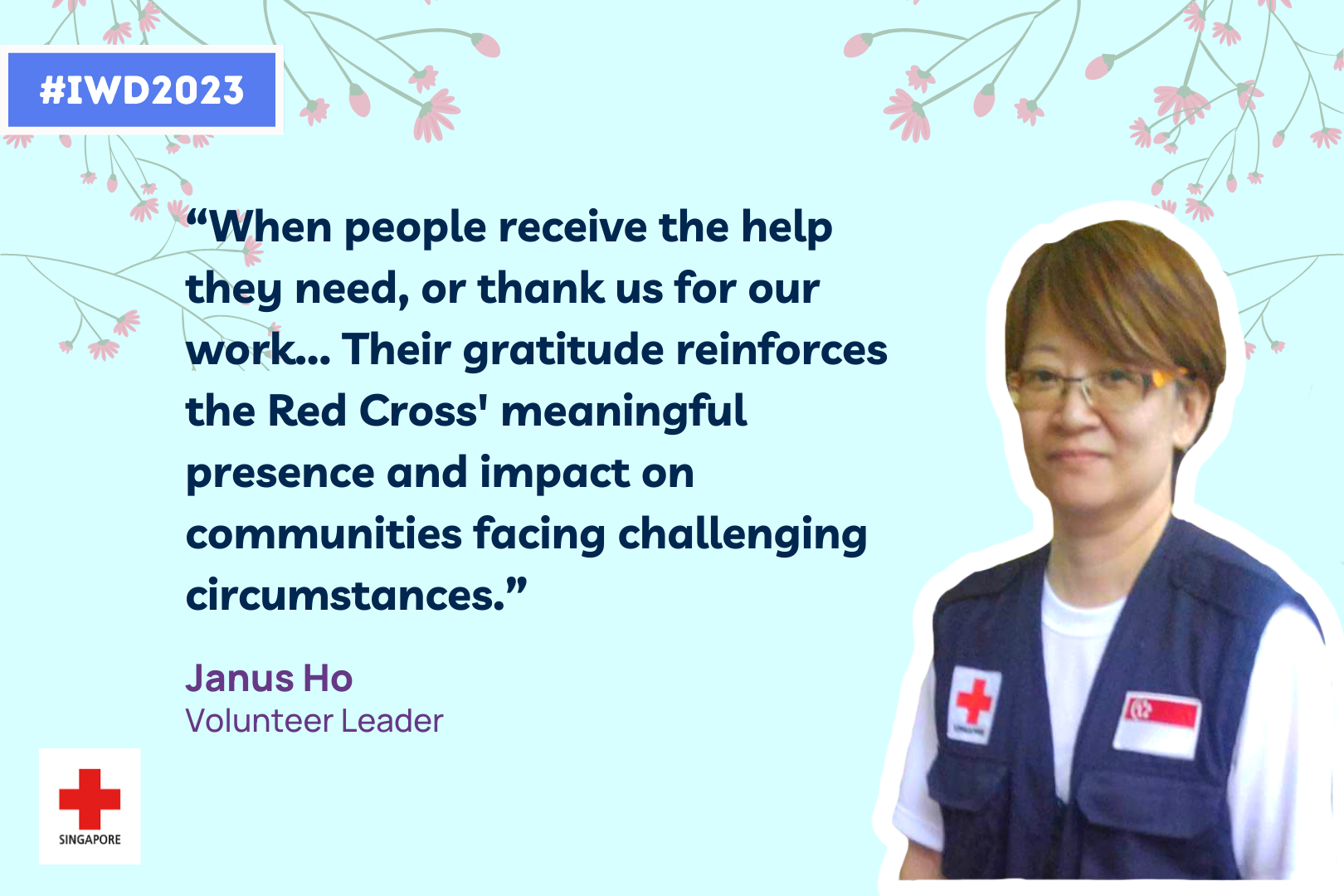 As we commemorate International Women's Day, we celebrate women who have made a difference through their contribution to the Singapore Red Cross' (SRC) humanitarian efforts.
True to her name, which connotes 'God of Beginnings', Janus Ho Kit Wan has had several good starts in her life. Having volunteered with other organisations since 1995, Janus became a community first aider with the Singapore Red Cross in 2013. After attending the Overseas Disaster Deployment Training (ODDT) with SRC in 2016, Janus had been deployed on several overseas humanitarian missions in Bangladesh, Indonesia, Nepal and Vietnam. She shares how she overcame challenges and found fulfilment through volunteering.
Inspired to Volunteer
One can contribute to the community in various forms, be it financially or by giving one's time and effort through volunteering.
Janus Ho Kit Wan was inspired to volunteer because of her late mother, a former healthcare worker in a public hospital. Deeply impressed by the professionalism and dedication of the Singapore Red Cross' (SRC) youth volunteers in the hospital she worked during the 1960s–70s, Janus' late mother encouraged Janus to join the Red Cross Youth as an extracurricular activity. Unfortunately, a Red Cross Youth unit was not available in her school at the time.
Undeterred, she started volunteering at other organisations in 1995. In 2013, at the age of 25, she started volunteering with SRC after completing her Standard First Aid (SFA) refresher course, as SRC's humanitarian mission to save lives resonated with her.
Keen to put her first aid skills into practice, Janus volunteered with SRC's Community Services department, providing first aid coverage at community and national events from 2013 to 2017. Some of the events that she volunteered for include the National Day Parade, the 18th ASEAN University Games and the National Vertical Marathon.
Leaving Footprints Overseas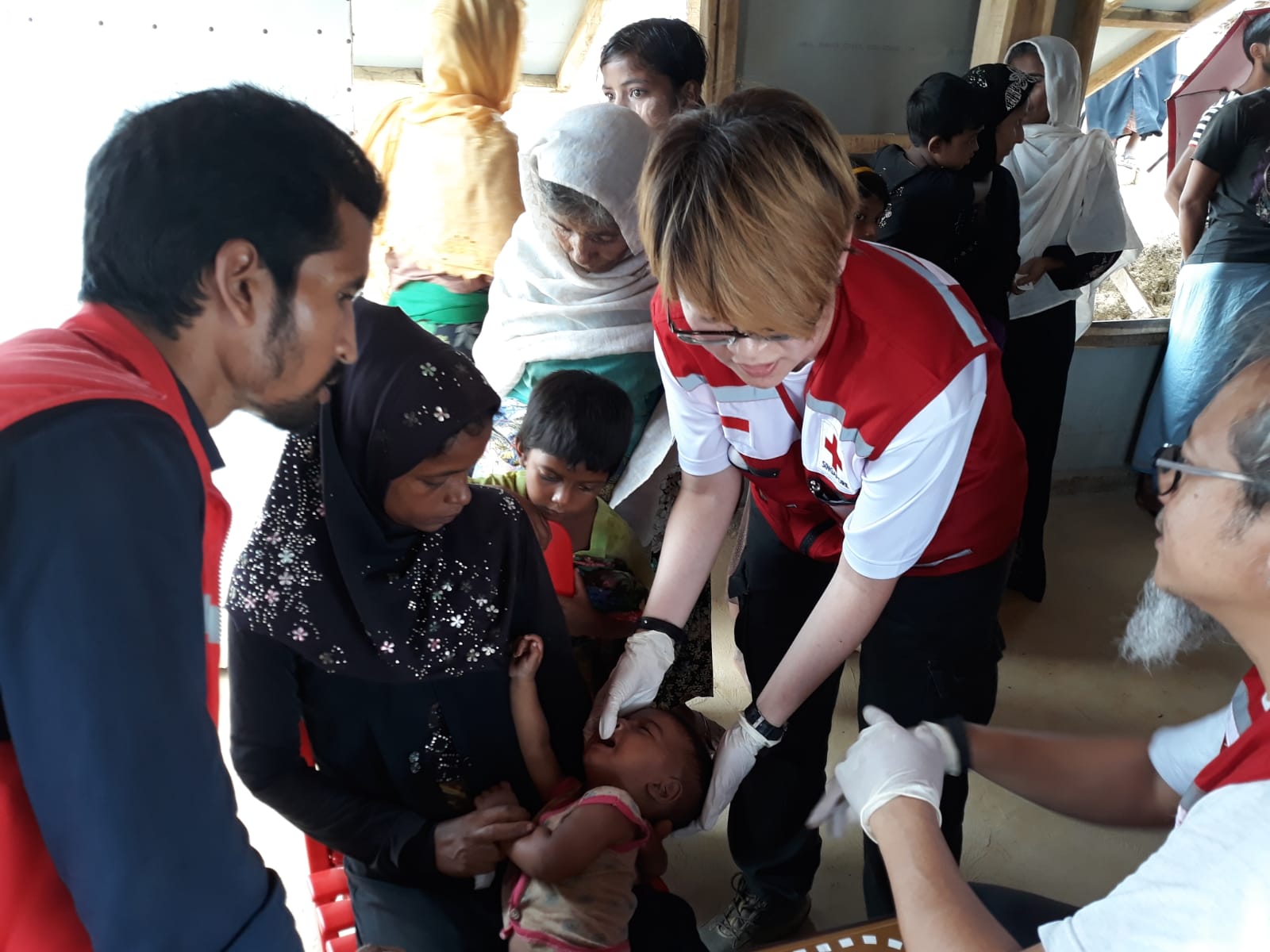 Her volunteer journey in overseas humanitarian missions came about serendipitously after she was invited to attend a briefing session on Zika, organised by SRC's International Services (IS) department. At the briefing, an IS banner featuring SRC's disaster response and recovery missions overseas caught Janus' eye. While she was looking at the banner, an SRC employee approached her and shared more about SRC's international humanitarian work. That encounter encouraged her to look out for announcements on IS activities and events.
"Learning about IS' work overseas was a source of inspiration for me. I thought I could play a part in its disaster relief teams overseas if I were better trained and equipped to serve the affected communities. My concern was that I lacked the knowledge and the skills to volunteer overseas. Upon receiving an invitation to register for the Overseas Disaster Deployment Training, I registered and attended the sessions to equip myself with the knowledge and skills to effectively contribute in overseas disaster deployments to help the survivors affected," Janus said.
The Overseas Disaster Deployment Training (ODDT) is aimed at equipping Singapore Red Cross (SRC) volunteers and employees with the technical knowledge and skill sets to support SRC's regional activities. Volunteers and employees trained in ODDT will be considered for future Regional Disaster Response Team training and deployment in the Asia Pacific region and beyond.
Janus was among the pioneer batch of volunteers who attended the Overseas Disaster Deployment Training (ODDT). Since graduating from the programme, Janus has been serving as a trainer/facilitator for ODDT and has been mobilised for several overseas humanitarian missions.
From carrying out needs assessments and relief aid distributions in Northern Vietnam following the heavy floods in October 2016, to leading a volunteer team to provide health screenings to local communities in Nepal in November 2017, Janus has demonstrated her passion for enhancing the resilience of communities overseas.
She has also helped the survivors of the 2004 Asian tsunami in Nias, Indonesia, as a volunteer for SRC's recovery and rebuilding projects there, and assisted doctors at mobile clinics at the refugee camp in Cox's Bazar, Bangladesh, alongside volunteers from the Bangladesh Red Crescent.
Overcoming Challenges
While volunteering overseas, Janus has encountered her fair share of challenges, but she has learnt to overcome them.
"We were aware that the language barrier and unfamiliarity with local culture could potentially undermine the effectiveness of the relief aid delivery. We engaged local volunteers to facilitate communication while learning about the culture of the affected community," she said.
The frequent tardiness of the transport system in other countries was another challenge that Janus and her team had to deal with. Accustomed to Singapore's efficient public and private transport system, Janus was taken off-guard by the local drivers' lax attitude towards punctuality in some countries.
Later, she learnt that some of these drivers had to wake up very early and drive for at least two hours through rural areas and congested traffic to reach the SRC volunteer team.
"I have learnt to manage my expectations and be more empathetic towards people of different countries," she said.
A Humbling Experience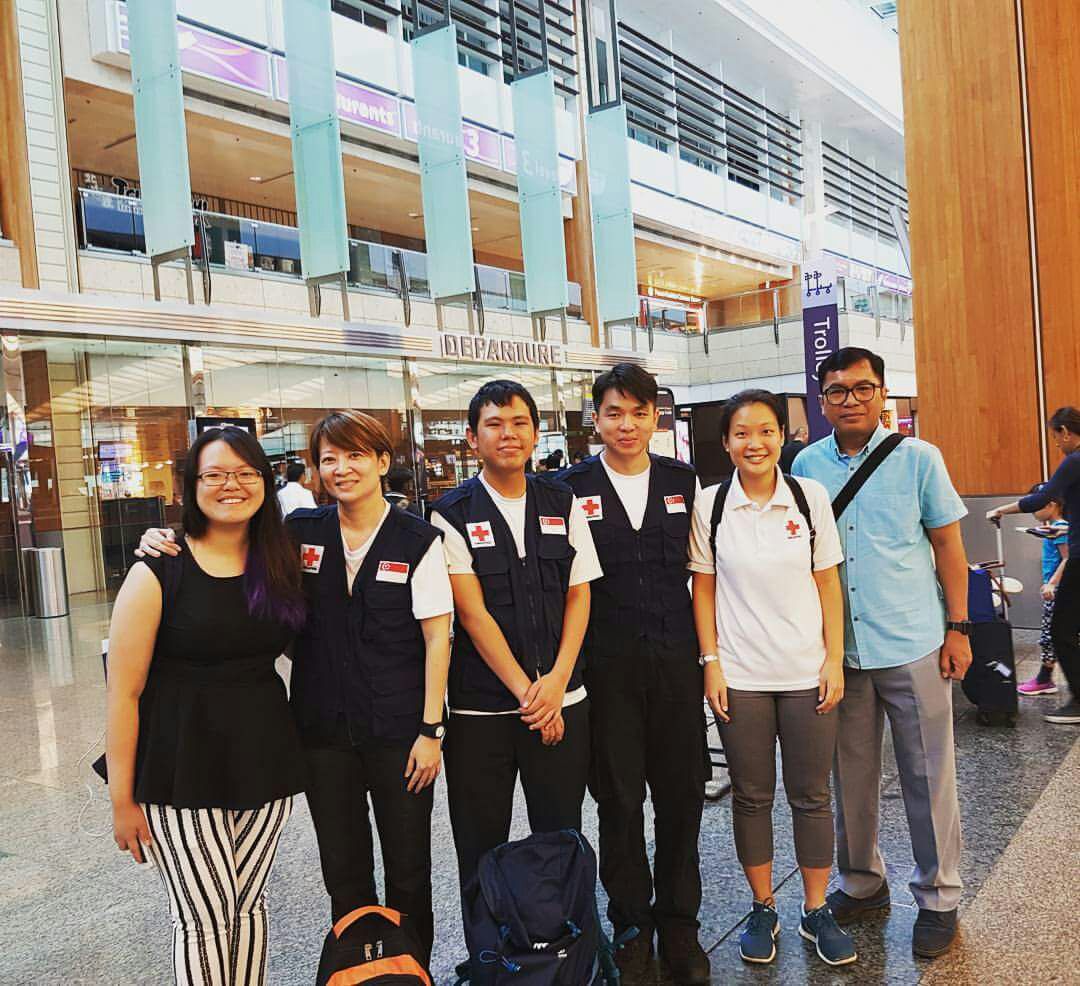 Janus recounted other memorable experiences from her overseas missions: "I remember the grateful smiles and the heartfelt goodbyes from the prisoners whom we had interacted with during a health screening at one of my medical missions. They waved goodbye to us behind the gates. We were touched and saddened by the sight, which was unforgettable."
Noting how gratifying these overseas missions were, Janus said,
"When people receive the help they need, give positive feedback or thank us for our contribution, I feel that our efforts are worthwhile. Their gratitude reinforces SRC's meaningful presence and contributions to the affected community."
Volunteering in overseas humanitarian missions has also been a humbling experience for Janus and she has picked up useful life lessons along the way.
"These overseas deployments have taught me to count my blessings in life and not take the living conditions in Singapore for granted. We are fortunate that help is readily available in Singapore for those from challenging backgrounds and even in times of emergencies," she said.
Aspiring to be a Trusted Leader
From July to October 2022, Janus, 52, attended SRC's Volunteer Leadership Training, which groomed her to take on the role of a Volunteer Leader with SRC's Global Engagement Division (International Services Department).
"I am thankful for the opportunity to be trained to take on a bigger role in my volunteering journey with the Singapore Red Cross. Through the training, I learnt about servant leadership, working with different personalities to achieve the Singapore Red Cross's objectives. I aspire to be a trusted leader, and I look forward to contributing my effort and sharing my experiences with fellow volunteers to enhance community resilience both locally and overseas," she said.
Advocating Volunteering
Janus hopes that more people will volunteer, as it is a good learning experience, which allows you to give back to the community at the same time.
"People should not be afraid to volunteer. We can always start small, stay humble and be open to learning and acquiring knowledge and skills. The day will come when we can volunteer and contribute our experience, knowledge and skills," she said.
By Naseem Sulthana Shaik, Volunteer
Copyedited by Michael Gutierrez, Volunteer