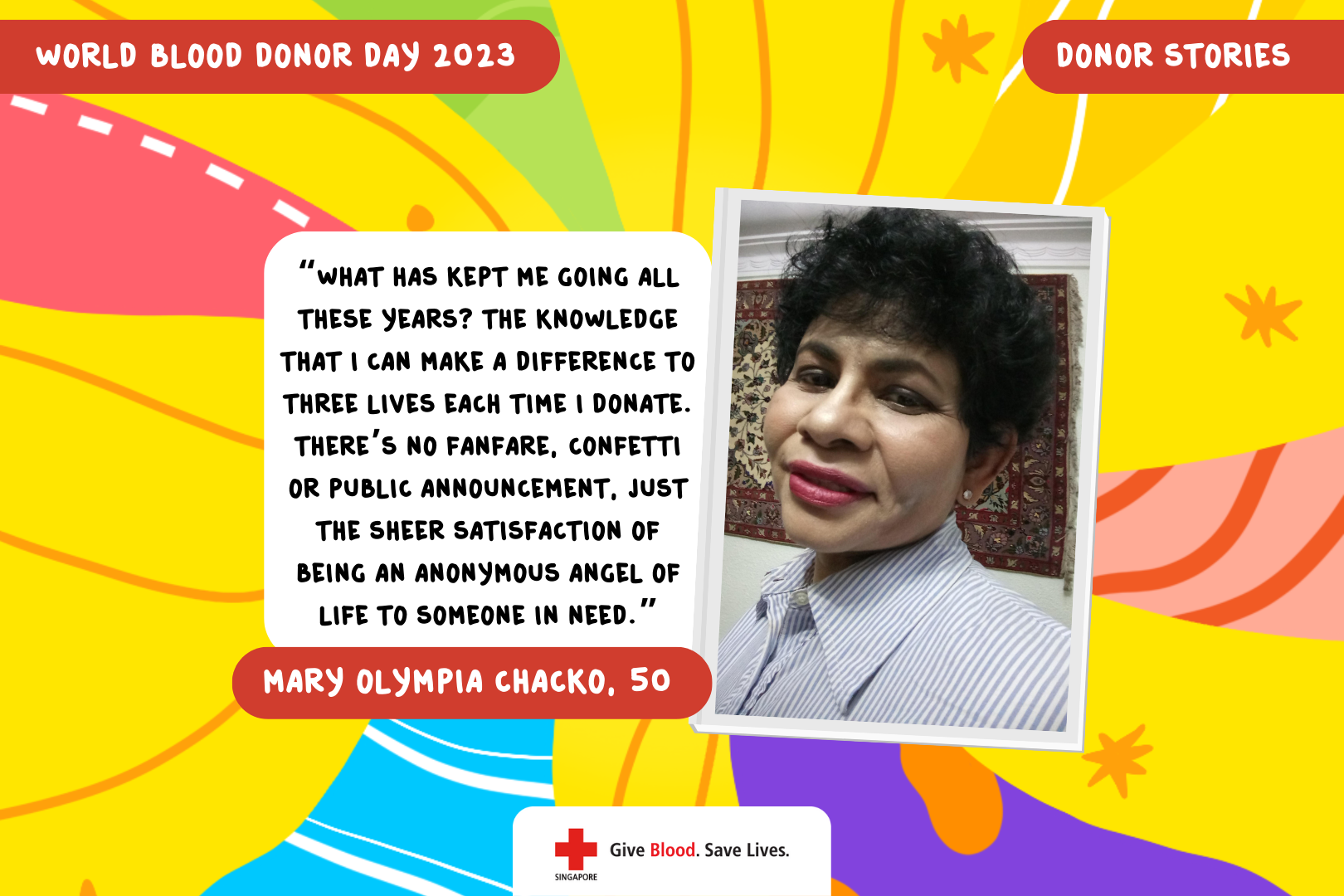 As a child, Mary Olympia Chacko used to wonder why her father, a regular blood donor, would give a part of himself to help people he hardly knew. This was at a time long before satellite bloodbanks and mobile blood drives were introduced. Yet, years later in 1989, Mary followed in his footsteps to become a regular blood donor herself while an undergraduate in Perth. As a donor with B- blood type, Mary's motivation to donate stems from the fact that her blood type is rare and in high demand. At this year's World Blood Donor Day, she will receive the Ruby Award for having made more than 50 blood donations.
As a child, Mary Olympia Chacko often wondered why her father regularly donated blood to help strangers, at a time when satellite blood banks were not set up. She found herself following in her father's footsteps, becoming a regular blood donor years later in 1989 while an undergraduate in Perth. Cognisant that each blood donation can potentially save up to three lives, she continued donating even after returning home to Singapore.
Keeping up the Routine to Donate Blood
Having B- blood, Mary is motivated to donate because her blood type is rare and in high demand. Her blood type constitutes only 0.3 percent of the donor pool today.
Like all blood donors, she has to ensure her haemoglobin levels meet the standards required for donation.
"I take iron-rich food, such as beef, and liver, and vitamin C to boost iron absorption," she said.
Despite her hectic schedule, she sets aside time to routinely donate blood.
"I fix my next appointment almost immediately after each blood donation to ensure it's on my radar, scheduling them either during my lunch break or after work," she said.
With four bloodbanks conveniently located near MRT stations – at Outram, Dhoby Ghaut, Woodlands, Jurong East – this helps Mary maintain a regular schedule for her blood donations.
"What has kept me going all these years? The knowledge that I can make a difference to three lives each time I donate. There's no fanfare, confetti or public announcement, just the sheer satisfaction of being an anonymous angel of life to someone in need," she said.
Reaching a Milestone
Her dedication to blood donation has not gone unnoticed. She recently received the Ruby Award, given in recognition of donors who have made at least 50 donations. She is honoured to have been given the award and encourages others to achieve this milestone.
"This can be achieved with a little effort and planning!" she quipped.
Conducting Learning Journeys for Students
Mary's influence extends beyond her blood donations. In the pre-COVID years, she conducted Learning Journeys for students at the Bloodbanks as a docent, introducing them to the blood donation process and dispelling common misconceptions.
"Some people stay away, afraid they will experience pain during the donation process, or worry about the risk of infection. Others hold the misconception that blood donors are drained entirely of their blood during the donation. I even had queries if it caused weight loss! I believe that education and communication are keys to addressing these issues. Getting more youth donors is crucial – they are lifelines keeping the blood donation ecosystem alive," she said.
Mary hopes her efforts will inspire more young people to become blood donors, especially at a time when the number of local blood donors aged 16 to 25 has been declining. In 2022, HSA records indicated a donor pool of 74,154, comprising merely 1.8 percent of the Singapore population. Of this pool, 40 percent were regular blood donors while 17 percent were youth donors.
As blood sustains the lives of people with severe medical conditions or those undergoing major surgeries, blood donors are their lifelines. It is important for youth donors to step up as the potential blood donor pool decreases when people age.
In Singapore, only 1.3 percent of the donor population have negative blood types like Mary. Patients with A-, B-, O- and AB- blood types requiring blood transfusion can only receive blood from Rhesus negative blood types. Therefore, to maintain sufficient blood stocks, donors with Rhesus negative blood types should donate at least twice a year.
Mary's story is a testament to the power of commitment and dedication. A regular blood donor for over 30 years and having saved more than 150 lives in the process, she is an inspiration to others to come forward as donors, particularly the youth and people with rare blood types.
Blood donation is a selfless act that can make a significant difference in someone's life; a simple yet powerful way to give back to the community, helping those in need. Mary's story is a reminder that anyone can become a blood donor. All it takes is a little effort and planning.
By Elisa de Sousa Ribeiro Pinchemel, Volunteer
Copyedited by Michelle Tanmizi, Volunteer
| | |
| --- | --- |
| | Keen to donate blood or organise a blood drive? Click here. |