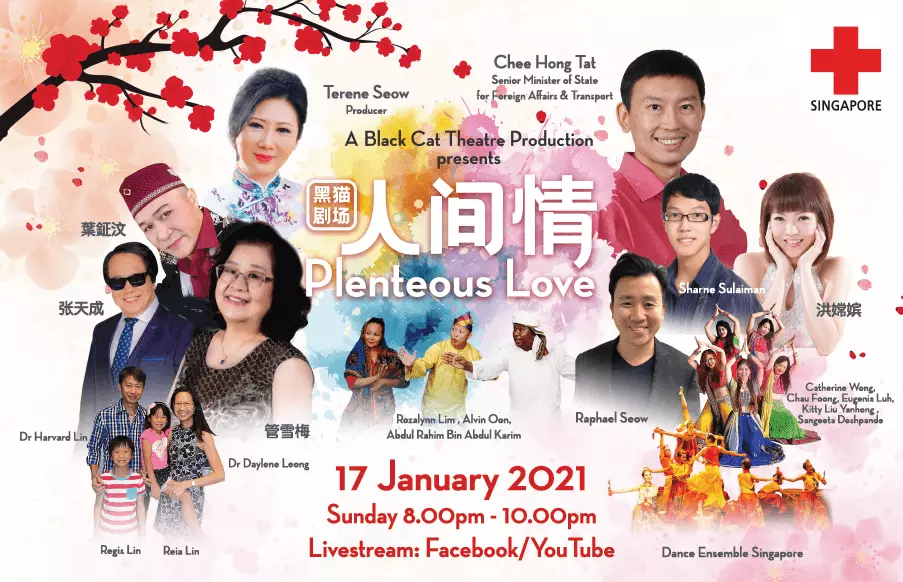 In support of the Singapore Red Cross Society
About the Concert
The Singapore Red Cross (SRC) celebrates its 72nd anniversary this year and would like to extend a special invitation to you, your family and friends! Let's join us at our inaugural virtual concert by 'Black Cat Theatre: Plenteous Love'.
We are taking our signature concert to an online platform to digitally share the spirit of love and altruistic giving, while bringing joy to everyone through entertaining live music and dance performances to raise funds for Singapore Red Cross!
Event Details
Date: 17 January 2021, Sunday
Time: 8.00pm
Livestream: Singapore Red Cross Facebook/YouTube
Ways to Donate
Online Donation:
PayNow* UEN S86CC0370EFR1
Bank Transfer* to HSBC 142038546001
*Please state <SRC Concert> in the Reference section
Cheque Donation:
Please write cheque payable to *Singapore Red Cross Society* and mail to: 15 Penang Lane, Singapore 238486. Indicate *SRC concert* full name, IC no & address at the back.
All donations will be fully donated to the Singapore Red Cross and are eligible for a 2.5 times tax deduction.
For all enquiries on donations via cheque or claim for tax deduction on your donation, please take a screenshot and Whatsapp the image to Genie or email us your Name and IC no.
Do Like and Share our Event and FB page.
We wish you blessings of happiness, good health, success and prosperity, and look forward to your kind and generous support.