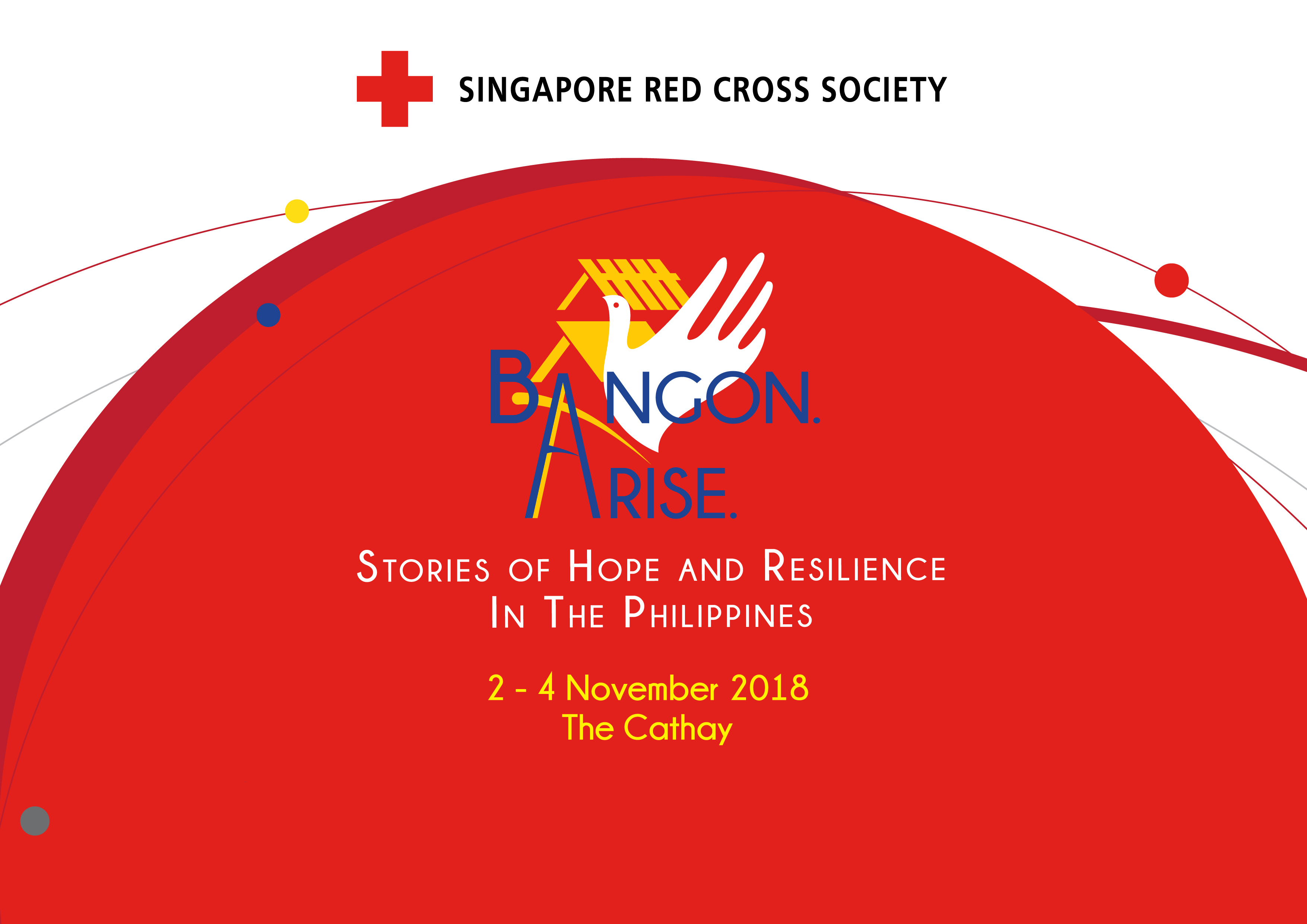 Inspired by the survivors' strength and resilience, the Singapore Red Cross (SRC) launched a commemorative photo exhibition, Bangon. Arise. Stories of Hope & Resilience, at The Cathay, on 2 - 4 November 2018, to share the impact of rebuilding projects on survivors, five years after the widespread devastation caused by Typhoon Haiyan (known as Super Typhoon Yolanda in the Philippines).
The photo exhibition featured previously untold survivors' stories from 12 rebuilding projects funded and rebuilt by the Singapore Red Cross across Cebu, Palawan, Aklan, Capiz, Iloilo, Samar, Eastern Samar and Leyte, as well as rehabilitation projects in other regions affected by Typhoon Ketsana and Typhoon Bopha in 2009 and 2012 respectively. The showcase also featured a series of seven heartwarming short films produced by students from ITE College East, School of Electronics & Info-Comm Technology.
Noting that the contributions were modest given the scale of the disaster, Mr Benjamin William, Secretary General and CEO, shared, "The People of Singapore entrusted us with S$12 million in donations for communities affected by Typhoon Haiyan, and I am happy to report that we have delivered on our promise to build back better, through projects in health, education, housing and community, throughout the Philippines. We have provided homes for thousands of families and restarted vital services that continue to enhance the lives of the affected communities. We have come to realise that the rebuilding projects mean a lot more to the survivors than we could ever comprehend."
Philippines Ambassador to the Republic of Singapore, H.E. Joseph Del Mar Yap, also shared, "As we look back on Typhoon Haiyan, we would like to thank the international community for its unwavering support and assistance. We also pledge to continue to work towards addressing the challenges posed by climate changes and to redouble our efforts to develop resiliency and better disaster risk management."
Behind the lens
A collaborative effort by seven photojournalists and six youth film-makers, Bangon. Arise. showcased the power of humanity, the early recovery efforts, and the thoughtful efforts to 'build back better,' across projects in 87 affected communities, positively impacting 1.5 million lives. For Doreen Tan and Wong Leong Jeam - this was a meaningful 'return trip', having been deployed to the Philippines during the emergency response phase. Doreen was part of the first (advance) SRC team deployed to Ormoc, whilst Leong Jeam had led one of three medical teams in 2013. For most of the youth videographers, this was their first overseas trip, and one that will stay with them for the rest of their lives.
Highlights
Special Guest, Mr Victorio Mario M Dimagiba, Jr, Deputy Head of Mission / Minister and Consul General at the Philippine Embassy in Singapore, opened the public exhibition on 2 November. Seasoned media personality Timothy Go, was also engaged as the master-of-ceremony for the launch. Timothy had led Channel NewsAsia's coverage of Typhoon Haiyan in Tacloban back in 2013.
To engage Filipinos residing in Singapore and to attract visitors to the exhibition, the exhibition featured cultural performances such as Pasadoble (Spanish-inspired Philippine folkdance) and Higaonon (ethnic tribal dance), as well as interactive fringe activities and traditional games such as sungka. Singapore-based Filipino a cappella group, Vocablends, and Celebrity Showhost, Recording Artiste and Rockstar, Pamela Wildheart also made guest appearances at the exhibition.
Seven Decades of Serving Humanity, Saving Lives
A special showcase of SRC's local humanitarian services, in celebration of its 70 years of service to humanity, was also included at the exhibition. Singapore Red Cross ambassadors and volunteer leaders were onsite and shared their experiences and cause-involvement opportunities to recruit more people onboard the lifesaving mission of SRC.
SRC's thrift store, Shop@RedCross also sold funpacks which were priced at S$5, at the exhibition. A major hit with visitors at the exhibition, the funpacks contained an assortment of gifts, such as photo frames, keychains and mugs. The Singapore Red Cross Academy was also onsite to share first aid tips and sell first aid kits. All sales proceeds from both the funpacks and first aid kits will go towards funding SRC local humanitarian services.
Background
About the Typhoons
One of the most powerful typhoons in recorded history, Typhoon Haiyan (known in the Philippines as Typhoon Yolanda) pummelled South China, Vietnam, Caroline Islands and the Philippines from 3 to 11 November 2013. It left behind a trail of destruction across nine regions of the Philippines on 8 November, claimed thousands of lives, displaced hundreds of thousands of people, and destroyed tens of thousands of homes.
Categorised as a Category 5 super typhoon with winds reaching 280km/h, Typhoon Bopha (known in the Philippines as Typhoon Pablo) ravaged Mindanao, an island of the Philippines on 4 December 2012. The onslaught spawned torrential rains that flattened and inundated entire villages, destroyed homes, claimed the lives of more than 1,000 people, disrupted communications, resulted in power outages, uprooted trees and compelled the cancellation of flights and ferry services.
Lashing an assault on the Philippines and neighbouring countries on 24 September 2009, Typhoon Ketsana (known in the Philippines as Tropical Storm Ondoy) was the second most devastating tropical cyclone in that year's Pacific typhoon season. It resulted in a total damage of $1.09 billion and 747 fatalities.
About the Singapore Red Cross' Response
On 11 November 2013, the Singapore Red Cross (SRC) launched a fundraising appeal for Typhoon Haiyan relief efforts. The generous support enabled SRC to deliver S$200,000 of emergency supplies (food and relief items), mobilise one advanced and three medical response cum psychosocial support missions to Ormoc from 14 to 30 November 2013, and support large-scale relief operations mounted by the International Federation of Red Cross and Red Crescent Societies (IFRC), the International Committee of Red Cross (ICRC) and the Philippine Red Cross, across the affected areas in the Philippines. About S$750,000 was disbursed during the emergency response phase. SRC also activated its Restoring Family Links service (RFL) to assist people in locating their immediate family members affected by the disaster and with whom they have difficulty contacting.
Post-Typhoon Haiyan, the Singapore Red Cross worked closely with 12 partners to build the long-term resilience of the typhoon-stricken communities. More than twenty significant rebuilding projects were undertaken across Cebu, Samar, Eastern Samar, Leyte, Iloilo, Capiz, Aklan, Palawan, Zambales and Davao.
These projects benefitted some 87 affected communities, and positively impacted an estimated 1.5 million lives. Spanning across housing, health centres, schools and community, the rebuilding projects are aimed at helping families reconstruct stronger, safer houses, supporting local health services providing curative and preventive health care, rebuilding essential health facilities and kick-starting local economies by providing cash grants and launching cash-for-work schemes.