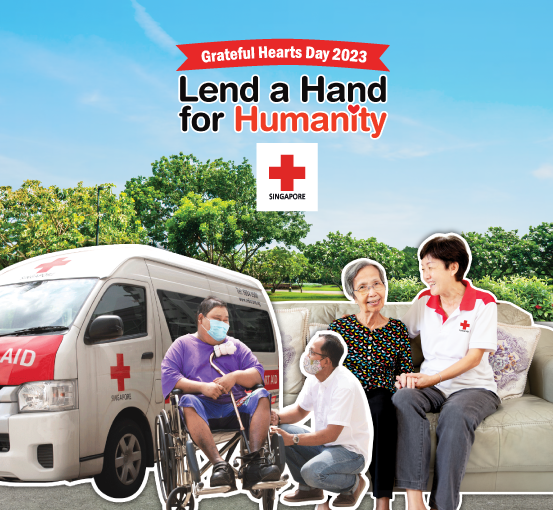 To commemorate World Red Cross Day, the Singapore Red Cross (SRC) is organising Grateful Hearts 2023, Lend a Hand For Humanity, our annual signature fundraiser, from 8 May to 31 July 2023. We invite everyone to come together to send help and hope to the vulnerable. Your partnership can translate directly to social good, and make a real impact in the community. When you support the Red Cross, you help the severely disabled, the isolated elderly and the low-income skipped-generation / single parent families.
This year's theme, Lend a Hand for Humanity, seeks to inspire action for humanity; particularly the more vulnerable members of our community. Through your participation, you will also develop compassion, passion and professionalism - core values of the Singapore Red Cross that we aspire our community to embrace.
Lend a Hand for Humanity! Join us in the following ways:
1. Make a one-time individual donation via Giving.sg to the Singapore Red Cross and receive a 250% tax deduction!
2. Register your interest to adopt a Pledge Card or create an E-Fundraising Campaign.
*Volunteering Hours/CIP points will be awarded
3. Organise a fundraising event.
Eg. selling crafts, sports competitions, concerts and donating the proceeds.
Ways to Donate (*Please state <SRC GHD23> in the Reference section)
1. Credit/Debit Card
2. Bank Transfer to DBS 0010339664
3. Cheque Donation:
Please write a cheque payable to *Singapore Red Cross Society* and mail to: 6 Fort Canning Rd, #02-08, YWCA, Singapore 179494.
Indicate *SRC GHD23* Full name, IC no & address at the back.
For enquiries, please email us.