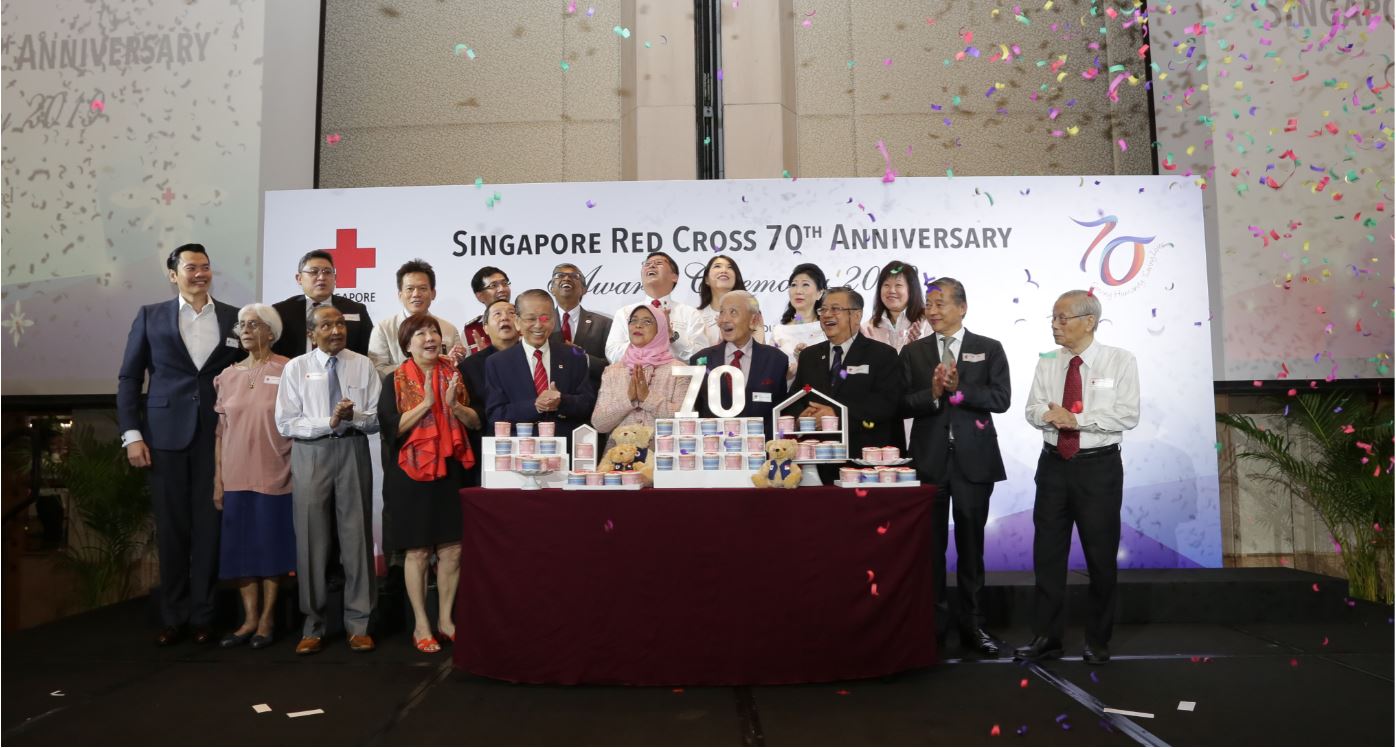 President presents awards to volunteer leaders and youth humanitarians; launches commemorative travelling exhibition
Singapore, 30 September 2019 – The Singapore Red Cross (SRC) at its 70th Anniversary commemoration paid tribute to its pioneer volunteers, and honoured 56 individuals and 20 community partners for their contributions in time, skills and resources to further SRC's humanitarian mission. The prestigious awards were presented by Guest-of-Honour and Patron of SRC, President Halimah Yacob, and SRC Chairman Mr Tee Tua Ba.
President Halimah Yacob said, "Today, SRC continues to fulfil many critical roles by serving the vulnerable through community befrienders, medical chaperones, first aiders, blood advocates and relief workers. As the needs of our society and community evolved, so did SRC's humanitarian services. It introduced new services to ensure relevance in closing the social gaps that have developed. What has remained consistent is the passion and commitment of the Red Cross staff, volunteers and partners, whose contributions we are celebrating today."
The 70th Awards Ceremony recognised volunteers and organisations actively involved in the myriad humanitarian services run by SRC within and beyond our shores. Amongst them are many community and skills-based volunteers, as well as Aviva Singapore (Distinguished Friend of Red Cross), Mediacorp artiste and SRC celebrity ambassador Ya Hui 雅慧 (Commendation Award), and six youth leaders, aged 15 to 35 (SRC President's Youth Award). (See Annex B for List of Recipients)
The President conferred on Mr Tee Tua Ba the SRC Humanitarian Award - the highest honour amongst the awards, recognising his 12 years of leadership in SRC. Mr Tee shared, "While I am deeply honoured and humbled to be receiving the Humanitarian Award, my proudest achievement in my 12-year Red Cross journey has and will always be the SRC's ability to reach out and make a difference in the lives of the vulnerable, locally and abroad. And to be able to do it efficiently, and with pride and integrity. I am eternally grateful to be given the opportunity to serve the Singapore Red Cross in its cause for humanity, in aid of the vulnerable and less privileged."
Tribute to Red Cross veterans
Attended by 300 guests at the Grand Copthorne Waterfront Hotel, the commemorative event paid homage to the veteran volunteers who have pioneered and championed important initiatives for building social and community resilience. In a symbolic entrance reminiscent of a homecoming, a group of Red Cross veterans in their 70-80s led the VIP entourage into the ballroom, to rousing applause from the audience, which included past Chairmen, Council Members and Secretary Generals of SRC. Another group of former Red Cross Youth (RCY), now in their 60s, sang "Those were the days," with a moving photo collage of their yesteryears.
Applauding the veterans in his speech, Mr Tee said, "Over the years, tens of thousands of volunteers have proudly served to carry out the mission of the Singapore Red Cross. Besides providing essential services as the auxiliary to the government, our veteran volunteers also laid the foundation of Singapore's social service."
The commemoration ended with the showcase of a special 70th Anniversary video montage, and a cake ceremony with 70 cupcakes contributed by students from APSN Delta Senior School, which houses Singapore's first inclusive Red Cross Youth Club for youth with and without intellectual disabilities.
Serving Humanity & Saving Lives - An Exhibition
After the ceremony, President Halimah Yacob launched the SRC 70th Anniversary Commemorative Exhibition and Heritage Microsite (myredcross.sg), which showcases the history of SRC and the International Red Cross Movement - through inspiring real-life stories. The month-long exhibition will travel around Singapore to four shopping malls in the month of October. Also included in the showcase is a collection of 200 Red Cross-themed postage stamps, including a number of rare stamps like the first stamp honouring the Red Cross that was issued in 1889.