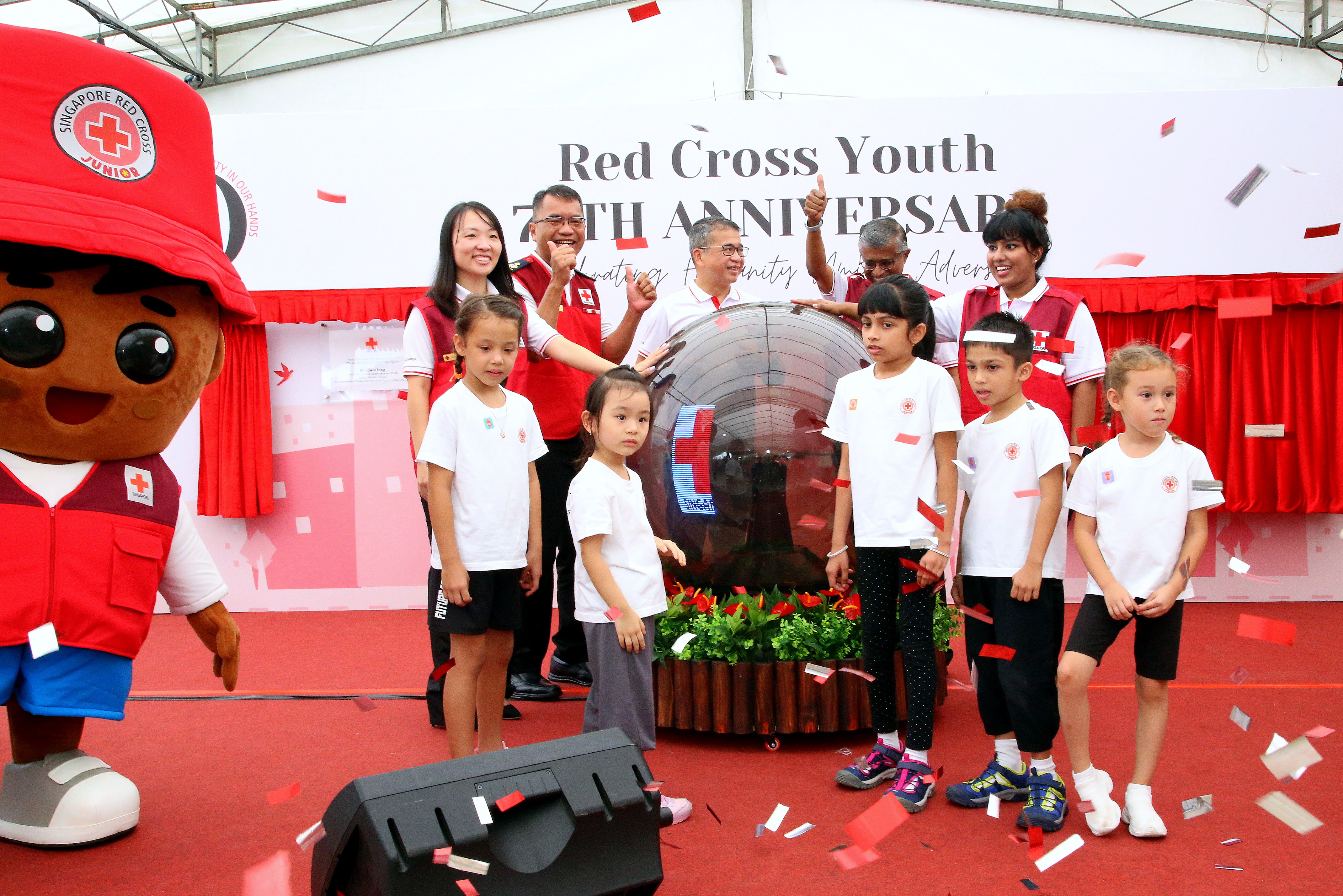 RCJ@Community empowers children and families to kickstart humanitarian journey
Youth Hub a launchpad for youth-led humanitarian endeavours on climate change, mental health, and resilience
Singapore, 3 September 2022 – In celebration of its 70th anniversary, the Red Cross Youth (RCY) today launched the Red Cross Junior @ Community (RCJ@Community) and unveiled RCY Youth Hub, in an outreach event graced by Guest-of-Honour, Minister for Community, Culture and Youth, and Second Minister for Law, Mr Edwin Tong.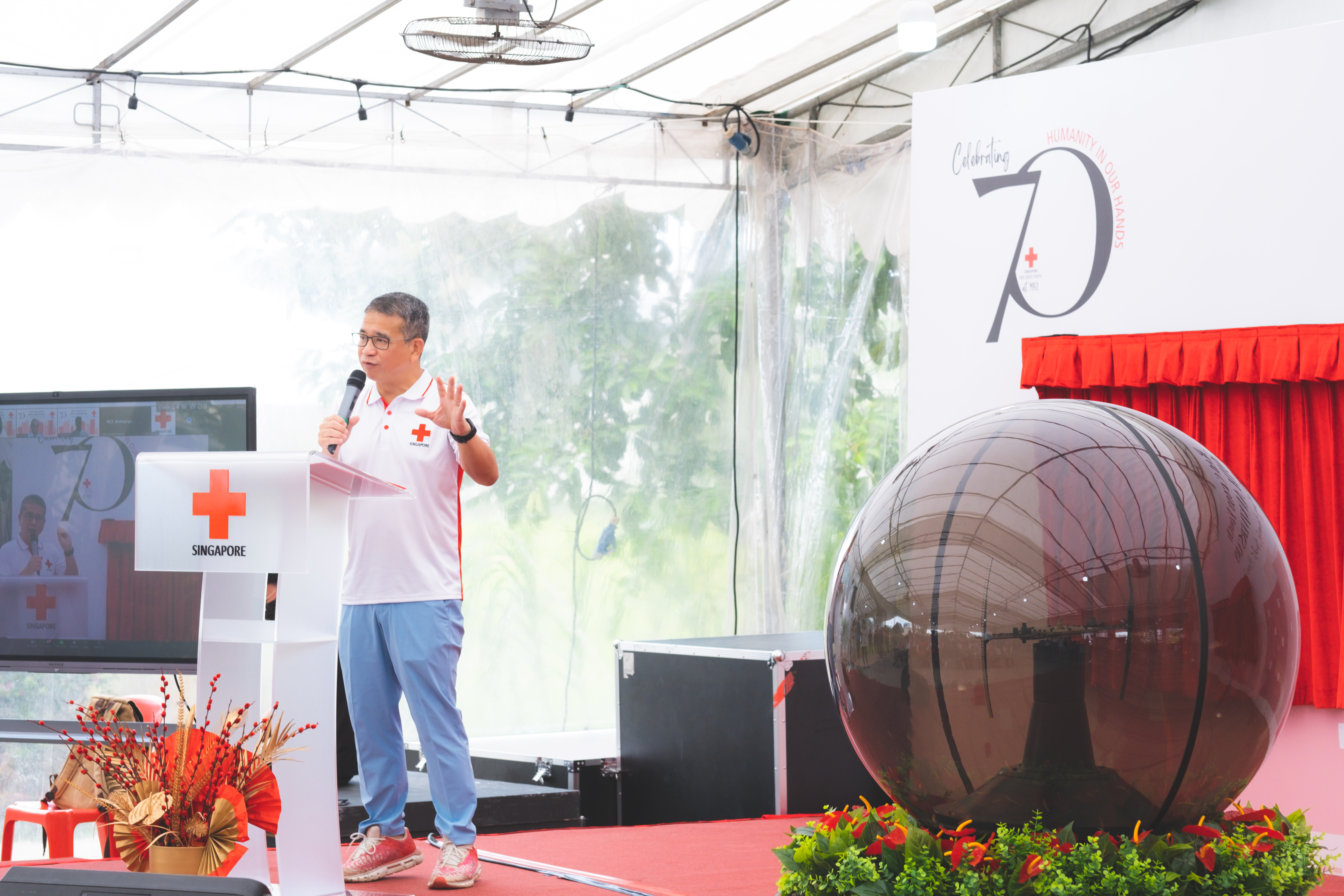 Guest-of-Honour, Minister for Community, Culture and Youth, and Second Minister for Law, Mr Edwin Tong at the Red Cross Youth's 70th Anniversary celebrations. (Photo by Lai Wei Song, Volunteer)
In his speech, Minister Edwin Tong remarked, "Over the past seven decades, the Red Cross Youth has made significant contributions to the community. The Red Cross Youth has evolved with time, refreshing its curriculum and introducing new initiatives to stay relevant. With the launch of RCJ@Community and Youth Hub, Red Cross Youth is able to provide even more opportunities to the general public, allowing everyone to have a chance to join the Red Cross regardless of their ages, and provide a safe space for the youths' mental health and wellbeing, and to learn more about the Red Cross' humanitarian journey with their many initiatives to aid the vulnerable while enhancing resilience, both locally and overseas."
Mr Benjamin William, Secretary General and CEO of the Singapore Red Cross, said, "Not only has the RCY helped shape the lives of thousands of youth, it has also started many youth on their personal humanitarian journey. We thank the past and present members for their contributions, and for imparting essential skills and sound humanitarian values to our Red Cross Youth, playing an important role in their character development."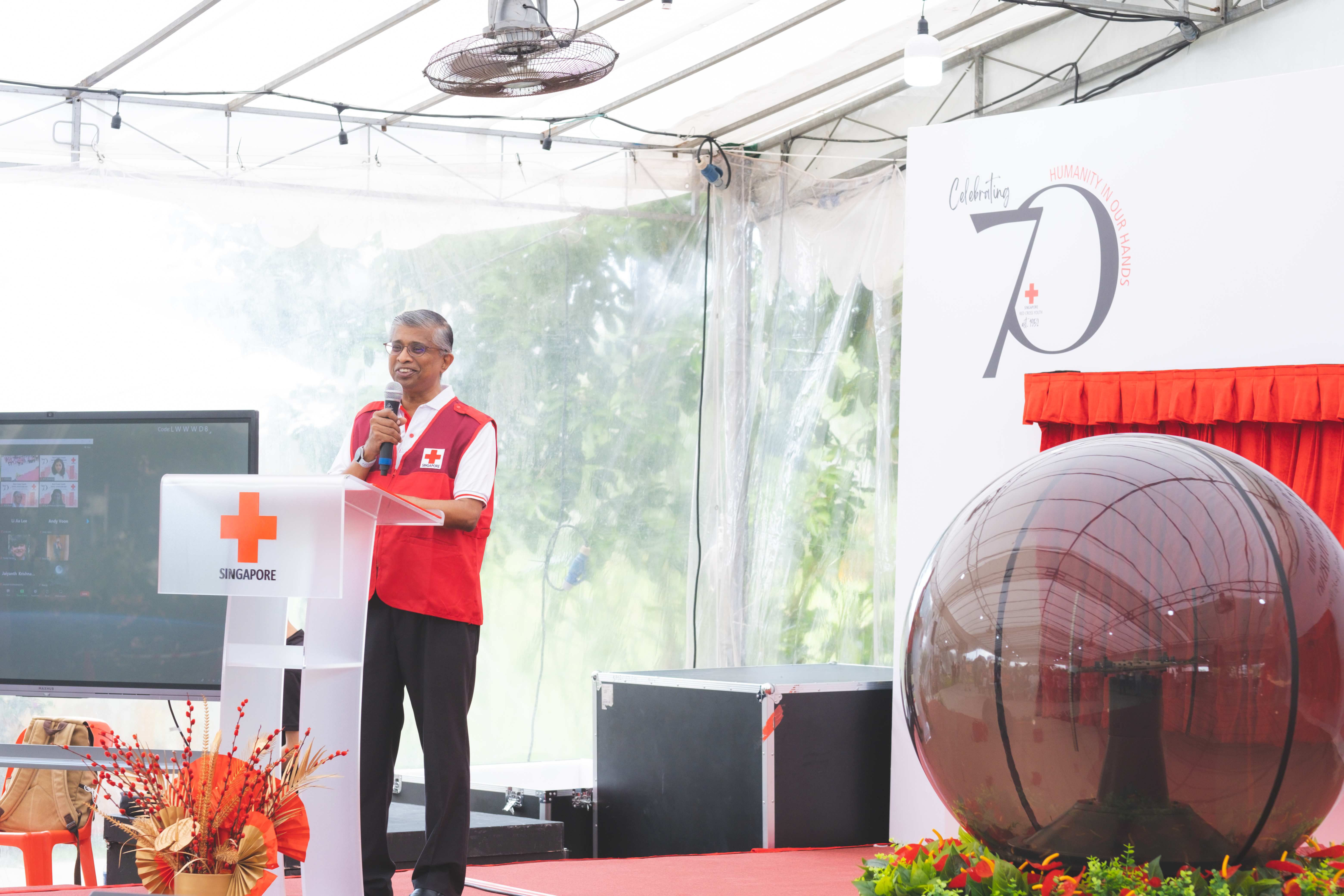 Mr Benjamin William, Secretary General and CEO of the Singapore Red Cross giving his welcome remarks. (Photo by Lai Wei Song, Volunteer)
He added, "RCY Youth Hub will help our youth see themselves as a driving force to find solutions for the many humanitarian challenges ahead of us - from climate change and global pandemics to mental health and resilience. Elements like the Humanitarian Trail, an experiential learning experience comprising activity-based stations to facilitate a deeper understanding and appreciation of SRC's humanitarian work, should inspire youth to embark on a lifelong humanitarian journey of their own. The challenges societies will face in the coming years will be daunting, even existential. Our youth must be ready to play a key role in helping us overcome these challenges. Just as in the past 70 years, we remain committed to providing children and youth ample opportunities for a lifelong humanitarian journey through the Red Cross Youth."
Red Cross Junior @ Community (RCJ@Community) is a junior club for children between 5 and 9 years, and their families, to experience service learning and purposeful engagement, through monthly activities such as community service, arts & crafts, games, festive celebrations, and themed events. Open to the public, RCJ@Community provides many opportunities for young children to engage in humanitarian service. Parents can sign their children up at Redcross.sg/redcrossjunior or email redcrossjunior@redcross.sg. The RCY will also build a network of Red Cross Youth Clubs to reach youth from schools that do not have an RCY unit and welcome children and youth who are not in the regular school system.
On RCY's future plans, Mr William shared, "RCY has always been adaptable, adjusting its activities to keep in touch with the times. Going forward, the Red Cross Youth will shift the focus of its curriculum activities and programmes to include climate change and sustainability; championing psychosocial support and mental wellness; and community resilience, including playing a more strategic role to make blood donation a vibrant movement in our community, especially amongst our youth. RCY must champion humanitarian innovations - be it technology, entrepreneurship or even in processes."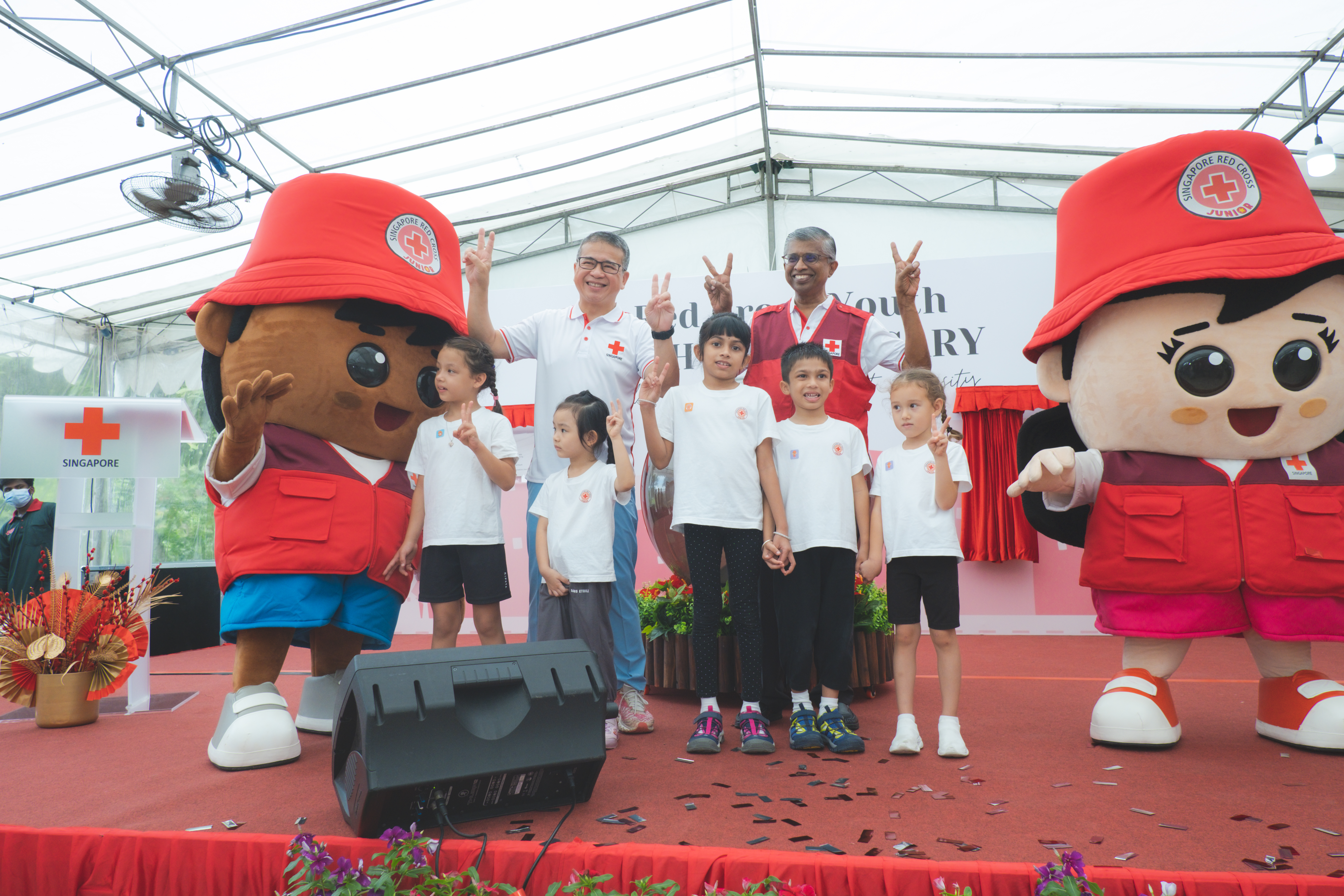 Photo by Lai Wei Song, Volunteer
At the event, Minister Edwin Tong and SRC's invited guests, including residents of Opera Estate where the Red Cross Campsite is in, were briefed on upcoming youth-led community projects during their tour of the Youth Hub. Within the Youth Hub is the Humanitarian Trail, an experiential learning experience comprising activity-based stations to facilitate a deeper understanding and appreciation of SRC's and RCY's humanitarian efforts over the years. Families also shopped at SRC's charity Shop+, participated in dance workouts and were given a talk by Mindline.sg representatives on mental wellness.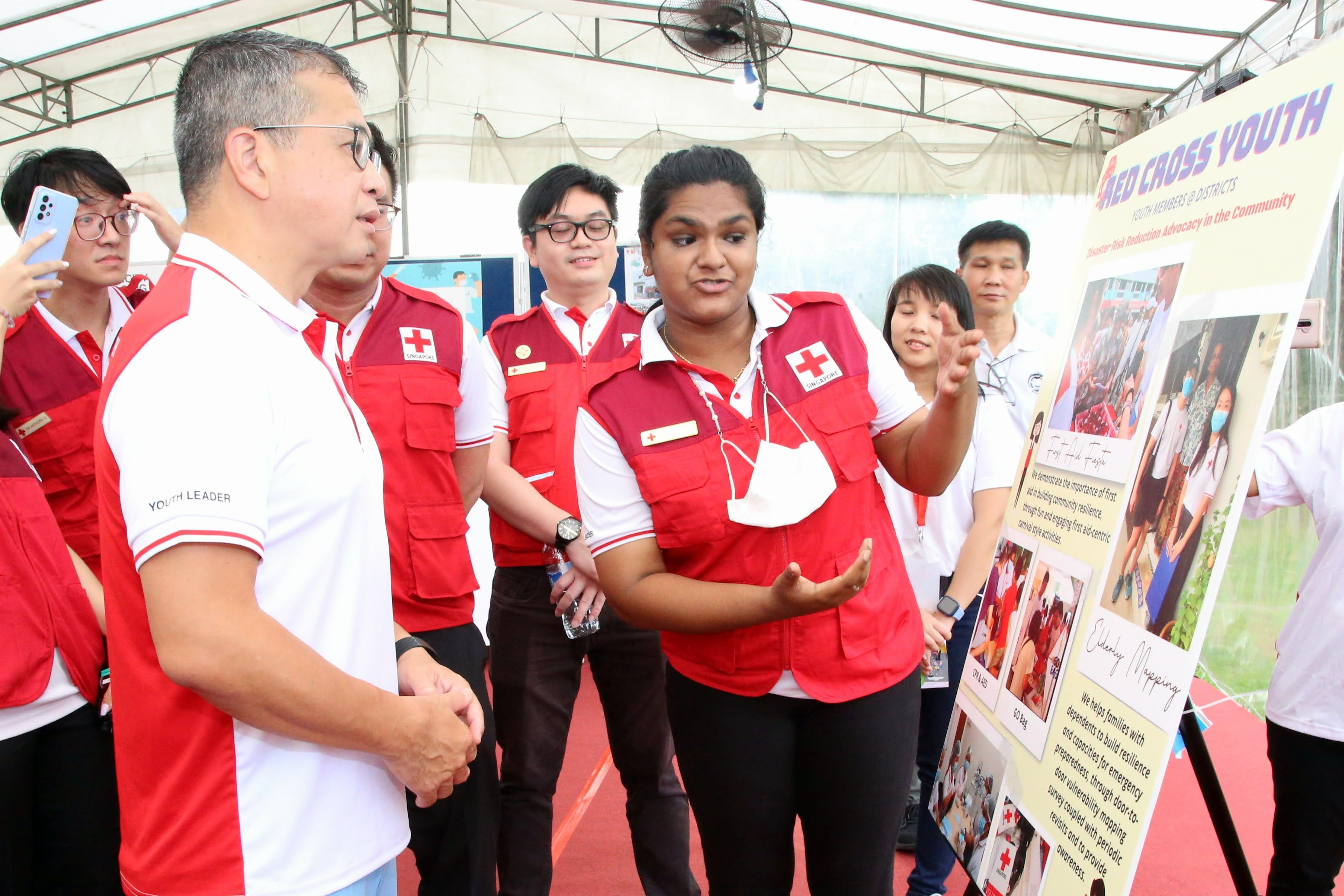 Minister tours the exhibition and speaks to the youth members. (Photo by Wong Leong Jeam, Volunteer)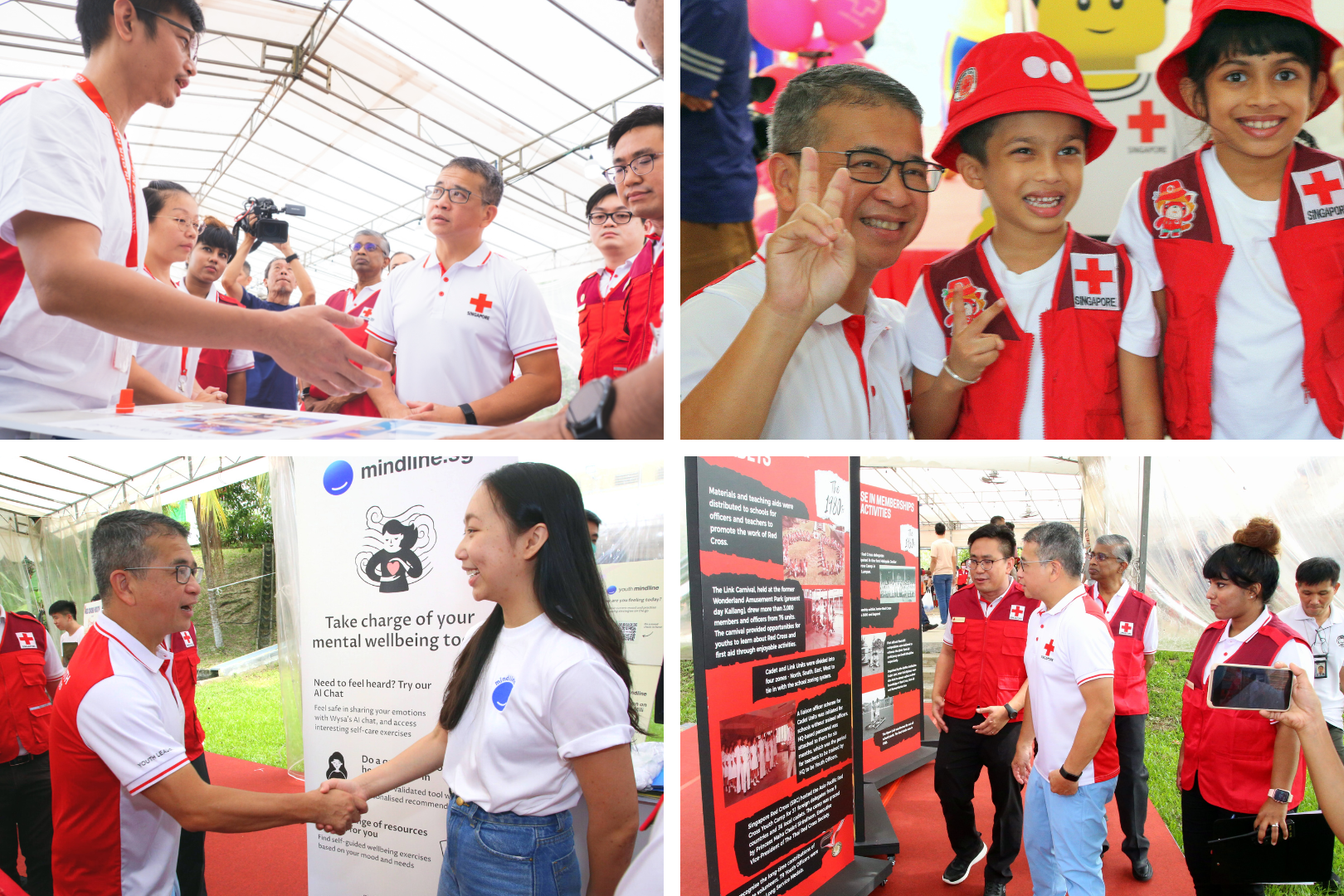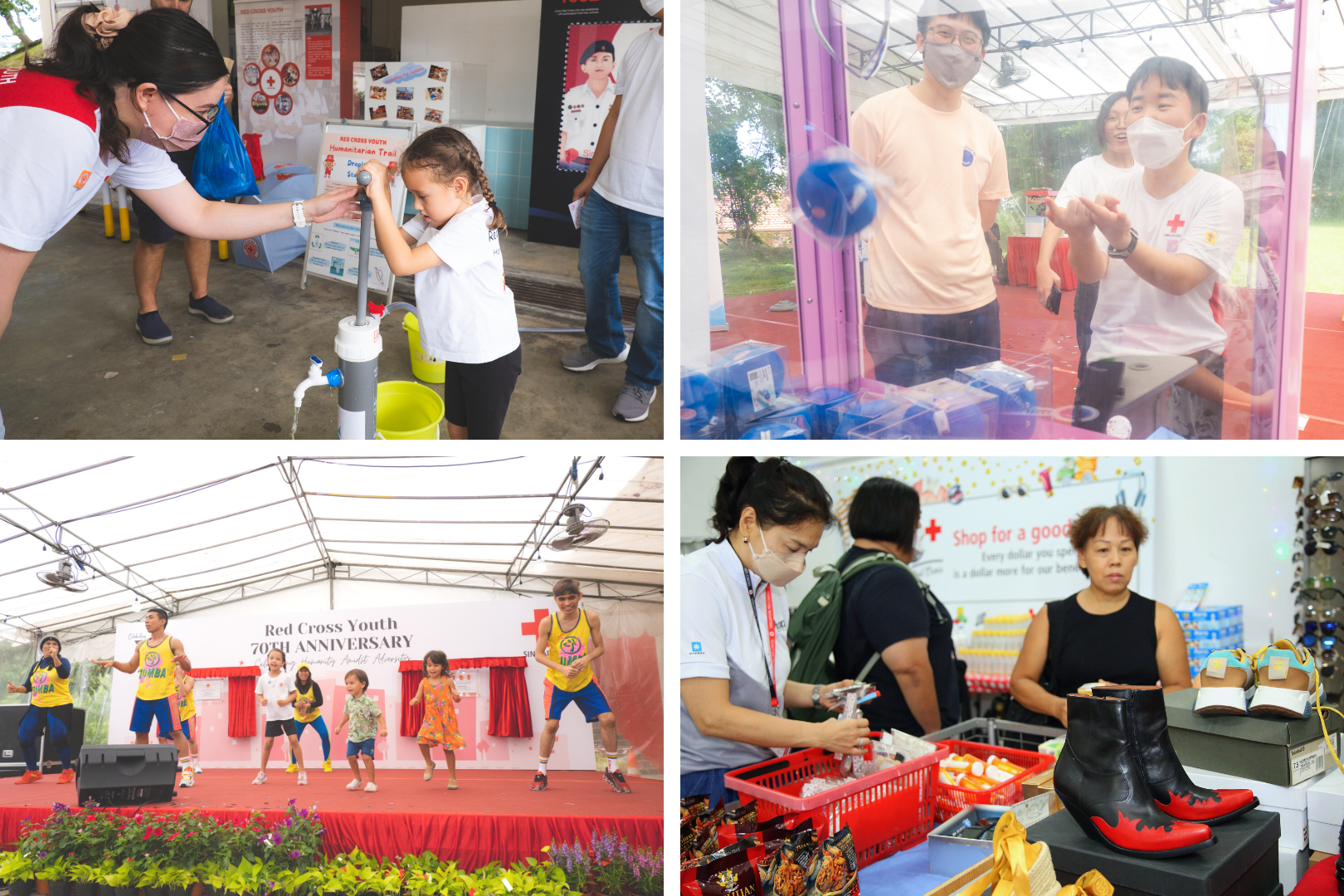 Annex A – Singapore Red Cross Youth Historical Milestones
Year
Milestones
1952
Red Cross Youth was first founded in 1952 as Junior Red Cross. They started with 48 cadets from Raffles Girls School, who formed the first unit.
1961
Junior Red Cross delegates participated in the first Malaysia Junior Red Cross Camp in Kuala Lumpur.
1967
Membership within Junior Red Cross rose to more than 2,600 and doubled to 5,250.
1968

First Aid and foot-drill competitions were initiated to enhance the Links' first aid proficiency and instill discipline respectively.

Organized by the Raffles Institution Cadet Unit, Inter-Unit Quizzes were also held to assess cadets on their knowledge of Red Cross, first aid, and humanitarian law.

1969
The Open Unit was formed for out-of-school youth, with the first intake.
1970s
Junior Red Cross was rebranded as Red Cross Youth (RCY) to encompass members in secondary schools.
Several Red Cross Youth units organised programmes at the Hawkins Road Refugee Camp and distributed food, toiletries, clothes and toys to Vietnamese refugees who were transiting in Singapore.
1973
To ensure uniformity in the casualty evacuation process, Red Cross Youth's Public Duty Department conducted a training camp to standardise RCY's Casualty Evacuation syllabus.
1975
Membership within Red Cross Youth (RCY) rose to 10,135 consisting of 44 Cadet units (secondary schools) and 93 Link units (primary schools).
1980s
Red Cross Youth expanded to officers and teachers.
1981
The Link Carnival was held at the former Wonderland Amusement Park, which drew more than 3,000 members and officers from 76 units.
1982
Cadet and Link units were divided into four zones, North, South, East, West to tie in with the school zoning system.
1985
SRC hosted the Asia-Pacific Red Cross Youth camp for 31 foreign delegates from nine countries and 36 local cadets, and the camp was graced by Princess Maha Chakri Sirindhorn, Executive Vice-President of the Thai Red Cross Society.
1986
To recognize the long-time contributions of passionate volunteers, 79 Youth Officers were awarded SRC's Long Service Medals.
1990s
The Red Cross Youth Cadet and Link Units were restructured into eight districts to achieve operational effectiveness and efficiency.
1990
The Incentive Badge Scheme was implemented for Red Cross Youth Link / Cadet members to further motivate cadets to achieve excellence in community service and first aid.
1994
Red Cross Humanitarian Network - NTU Chapter was set up by Mr Tony Thomas to espouse the work of the Red Cross in his university campus. The members regularly visited the Red Cross Home for the Disabled. They organised small-scale blood donation drives and participated in Flag Days.
1995
Red Cross Youth cadets emerged the champion in the Asia Pacific Regional First Aid Competition held in Hong Kong.
1998
The Unit Support Corps was established in RCY to assess the needs, growth of the memberships, as well as the deployment of Volunteer Instructors and Volunteer Adult Leaders in school units.
1998
RCY introduced the Community Service Award to recognize school units for their exemplary service in caring for the disadvantaged in the community.
2000s
RCY Cadet and Link restructured into four districts - North, South, East, West to align with the zoning system of the Ministry of Education.
2000
RCY Excellent Unit Awards were implemented to be in line with the Ministry of Education's introduction of the sustained Achievement Awards for Uniformed Groups.
2001
Red Cross Humanitarian Network SMU Chapter was established.
2003
To meet the growing need of school units, RCY embarked on a significant restructuring exercise. Focus Committees were formed to enable more youth leaders to take on leadership roles.
2004
NTU Chapter launched its signature event - Vibrant Blood, a public blood drive that aims at raising the awareness of blood donations, recruitment, and retaining of blood donors among the youth.
NTU Chapter organised Operation Moving Hearts to fundraise for survivors affected by major natural disasters, including the Indian Ocean earthquake and tsunami, raising S$106,000 for the survivors.
The Volunteer Instructors Programme and Unit Leaders Programme was introduced by RCY. Teachers who passed the programme were promoted to the rank of Youth Officers.
2008
Project R.I.C.E was conceived by Red Cross Youth - SMU Chapter to collect and distribute rice to the disadvantaged, collecting 1,460kg of rice.
2010s
The Red Cross Humanitarian Network, which comprised Red Cross volunteers in post-secondary institutions was integrated to form a unified Red Cross Youth to ensure a seamless transition in the volunteering experience of youth volunteers as they progress up the educational ladder.
2012
RCY celebrated her 60th anniversary with Red Cross Flag Day, which raised S$400,000, setting a new record in the history of SRC.
2014
After serving with distinction for six years as RCY Director, Mr Ling Khoon Chow handed over the reins of command to Mr Sahari Ani (concurrently Director of Services).
2016
Minister for Health Gan Kim Yong launches Red Cross's Youth (RCY) first Inclusive club for Youth with and without intellectual disability in APSN Delta Senior School.
2016
In conjunction with World First Aid Day, 454 participants from Red Cross Youth Singapore and some volunteers broke the record for simultaneously demonstrating head and arm bandages at Our Tampines Hub.
2018
RCY youth leaders debuted First Aid Fiesta at the Ang Mo Kio Central stage Stage to spread First Aid Awareness.
2018
RCY launched the Red Cross Junior Club for pre-school children, with its early childhood education partner Kidz Meadow. Guest of Honour Minister K. Shanmugam officiated the launch.
2019
To commemorate World Red Cross Day, Red Cross Youth pledged to bring first aid and home safety awareness into the homes of 200 elderly / disabled persons, through the RCY-SAFE STEPS First Aid Outreach.
2020-2021

During the COVID-19 pandemic, Red Cross Youth showed appreciation and distributed meals to frontline workers, and cheered on the elderly by penning messages for care packs. At the height of the outbreak, the youth also helped raise awareness of the importance of vaccinations.

They also engaged the community on dengue prevention.
Welcome Remarks by SRC Secretary General Benjamin William
Speech by Guest-of-Honour Minister Edwin Tong