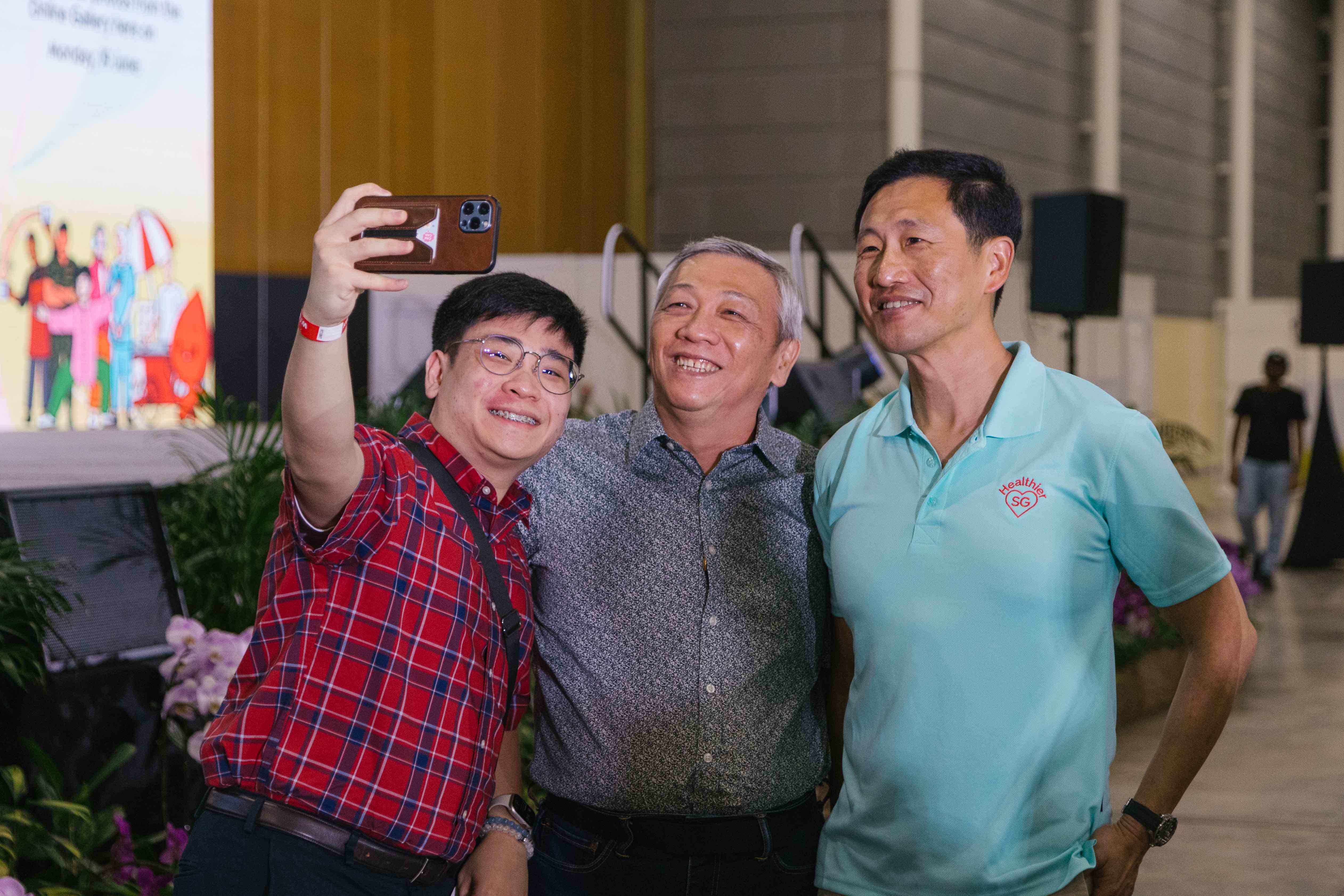 SINGAPORE, 17 June 2023 - ​On World Blood Donor Day, the Singapore Red Cross (SRC) and Health Sciences Authority (HSA) honoured 1,876 dedicated blood donors and 29 blood drive partners for the critical role they play in saving lives and ensuring the sustainability of the National Blood Programme. The award ceremony was held at Singapore Expo on 17 June with Minister for Health Ong Ye Kung as the Guest-of-Honour for the morning ceremony and Member of Parliament and Adviser to Macpherson SMC, Ms Tin Pei Ling, as the special guest for the afternoon ceremony. At the event, Minister Ong announced the easing of variant Creutzfeldt-Jakob Disease (vCJD) restriction and launched the new award for youths, YOUTHphoria.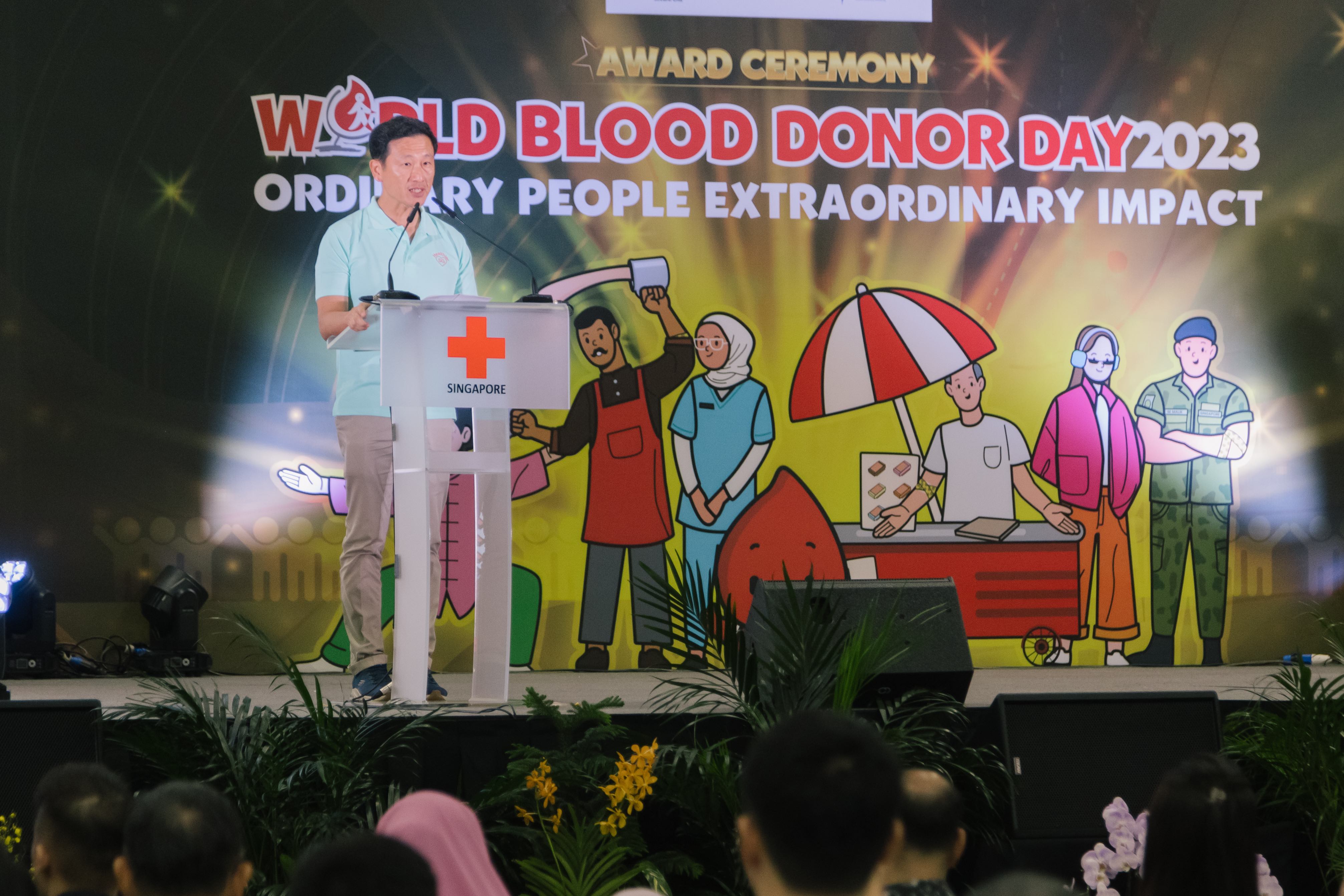 Image: Billy Wong, volunteer photographer
Easing of variant Creutzfeldt-Jakob Disease (vCJD) restriction
HSA will be easing the vCJD restriction to allow donors who have resided in France, Ireland and the United Kingdom for a period of time to donate through apheresis donation by the end of this year. Following the review in 2022, HSA has determined that the risk of transfusion-transmission vCJD is low if the blood donations are leucodepleted, a process that removes white blood cells from blood components. The easing of restriction only applies to apheresis donation for now as it allows direct collection of leucodepleted blood products. Apheresis donation is only available in Bloodbank@HSA.
More information about apheresis donation can be found here.
The criteria for apheresis donation for donors with geographical risks of vCJD exposure are as follows:
Weigh more than 50 kg.
Be at least 18 years old.
Be less than 60 years old (if you are a new apheresis donor).
Have arm veins of a suitable size.
Must not have taken aspirin-containing medications within 48 hours of donation.
YOUTHphoria – New Youth Award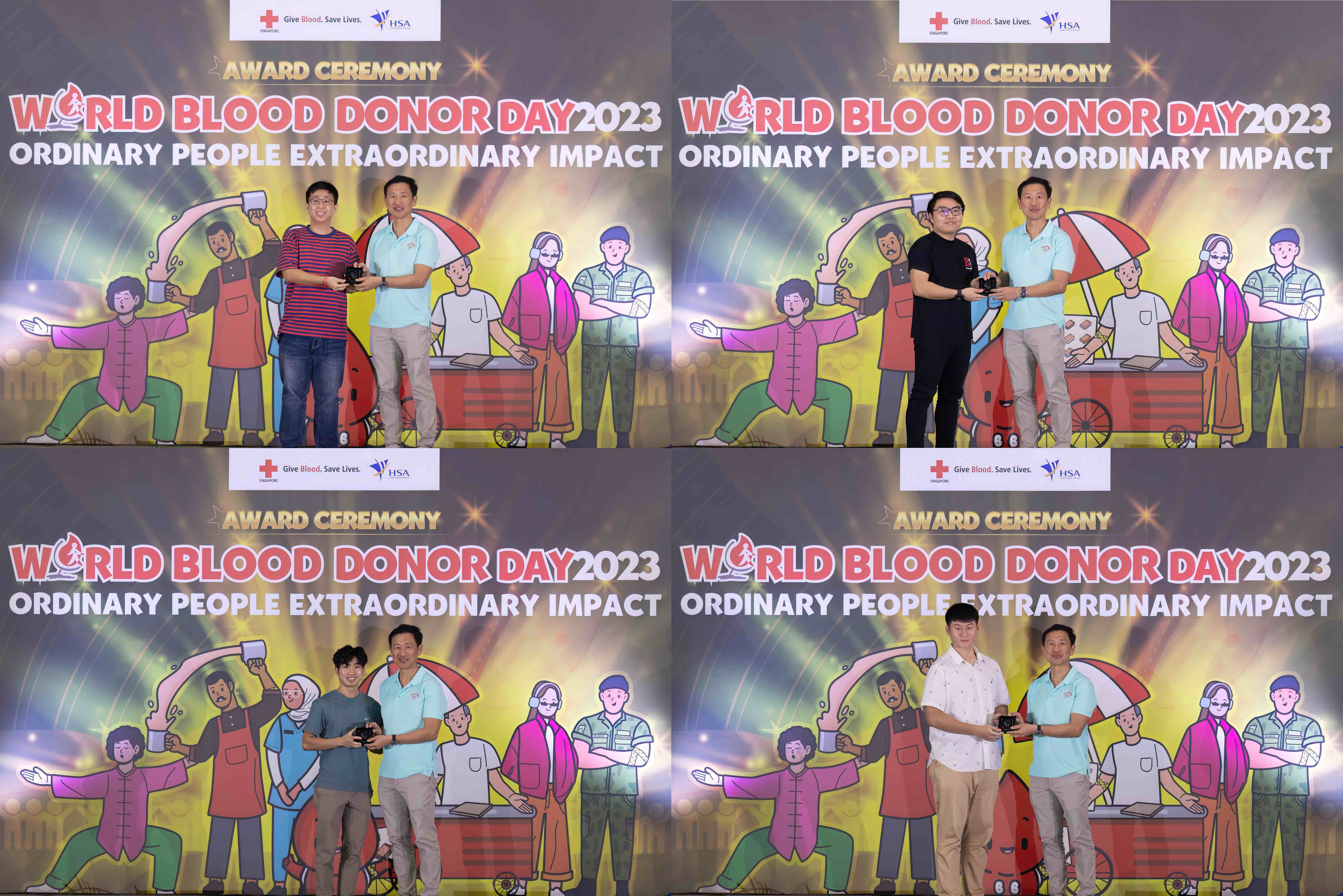 The YOUTHphoria award was introduced by SRC to inspire more young people between the age of 16 to 25, to donate blood. It underscores SRC's ongoing efforts to expand the pool of youth donors, which is crucial for a sustainable blood supply in Singapore.
"By recognising the exemplary efforts of youth blood donors through the YOUTHphoria award, we hope to encourage more young people to start donating blood and to donate regularly, at least twice a year. We are hopeful that the YOUTHphoria award will inspire a new generation of blood donors who will contribute towards increasing the proportion of youth in the blood donor pool," said Ms Tan Poh Hong, Vice-Chairperson, Singapore Red Cross.
Mr Sia Jing Zheng Edwin, aged 22, is one of the youth donors who received the YOUTHphoria award. He started donating blood at the age of 16. Inspired by his mother and brother, who are regular blood donors, he decided to join them in giving blood to those in need.
"Receiving this award was a surprise to me as I have not been keeping track of the number of times I have donated blood. I encourage youths to strive toward the YOUTHphoria Award by making blood donations a part of their lifestyle. You are helping patients in need, so don't hesitate! Try donating blood at least once. It is a worthy cause that saves lives," said Mr Sia.
Blood Donation a Lifeline for Patients
Blood donation has made a significant difference in the lives of many patients, like Ms Kristen Juliet Soh, a lymphoma patient and Deon, a leukaemia patient. Highlighting its importance, Ms Soh said, "More than just a medical procedure, blood transfusion was a lifeline that sustained me during my chemotherapy treatment and gave me a chance to fight for another day. Your invaluable and generous gift may have been given to strangers that you may not have met but know that you have certainly touched and transformed our lives. Your contributions are not just drops of blood; they are the embodiment of love and compassion, from one human to another. Thank you for your incredible impact on my life."
Mr Deon Lee echoed the same sentiment, "As someone who needed weekly blood transfusions for a few months, there was a great comfort to know that there would be a ready supply of blood every time I needed it. Without the extra blood, I would have felt a lot weaker from day to day. The contribution of blood donors is literally "life blood" to many who need transfusions."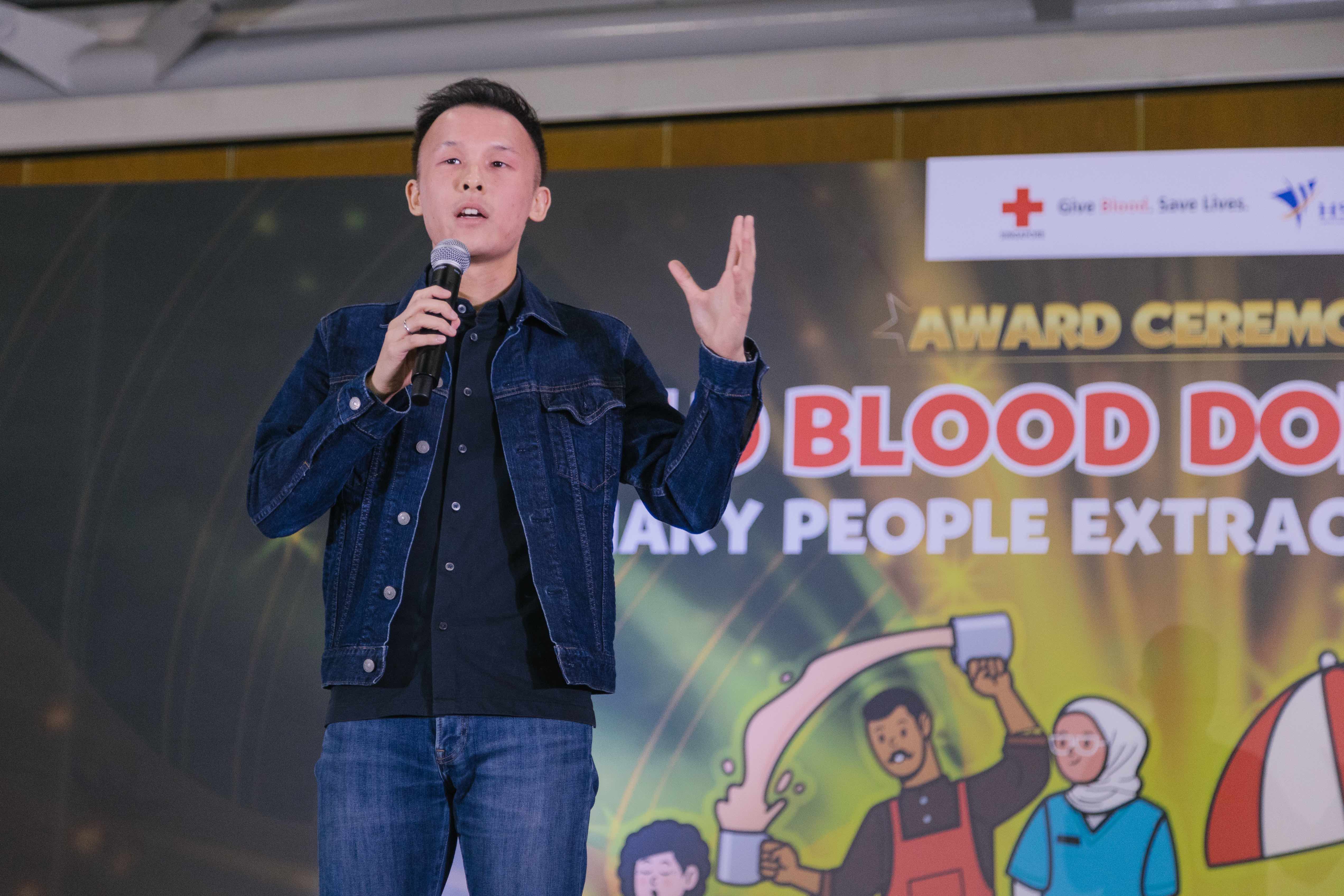 Image: Billy Wong, volunteer photographer
Community Partnerships
SRC also recognised the influential role that its community partners play in promoting blood donation, organising group donations at blood banks, and mobilising donors through blood drives.
SRC Vice-Chairperson, Ms Tan noted, "Our blood mobile organisers are instrumental in promoting awareness on the significance of blood donation, as well as rallying and recruiting people to donate blood. Their passion and dedication toward blood donation make them our best partner in this life-saving cause."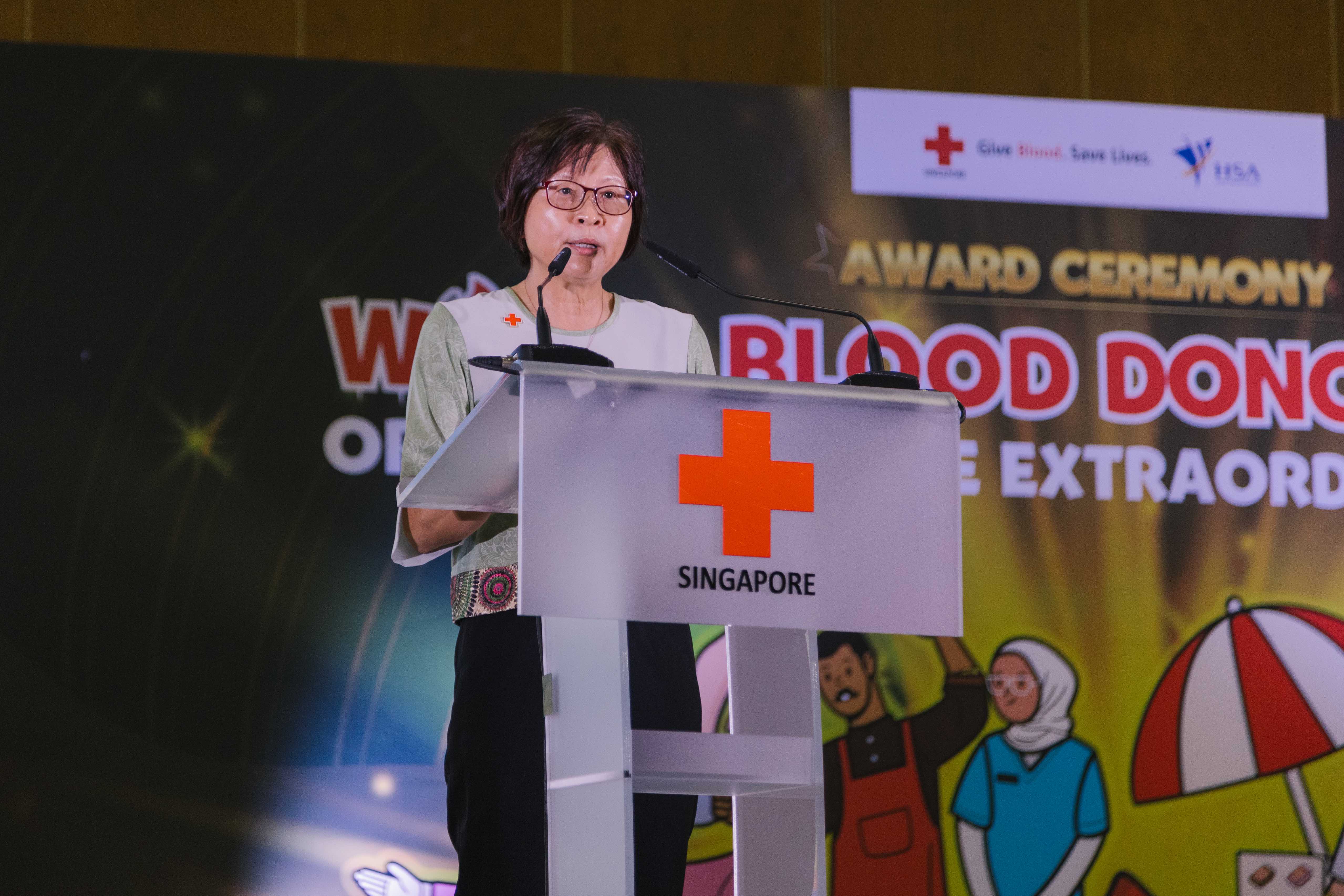 Image: Billy Wong, volunteer photographer
In addition to championing the cause of blood donation, blood drive partners play a crucial role in enhancing the success and effectiveness of SRC's blood drives by leveraging their networks and resources to make blood donation more accessible and convenient for donors.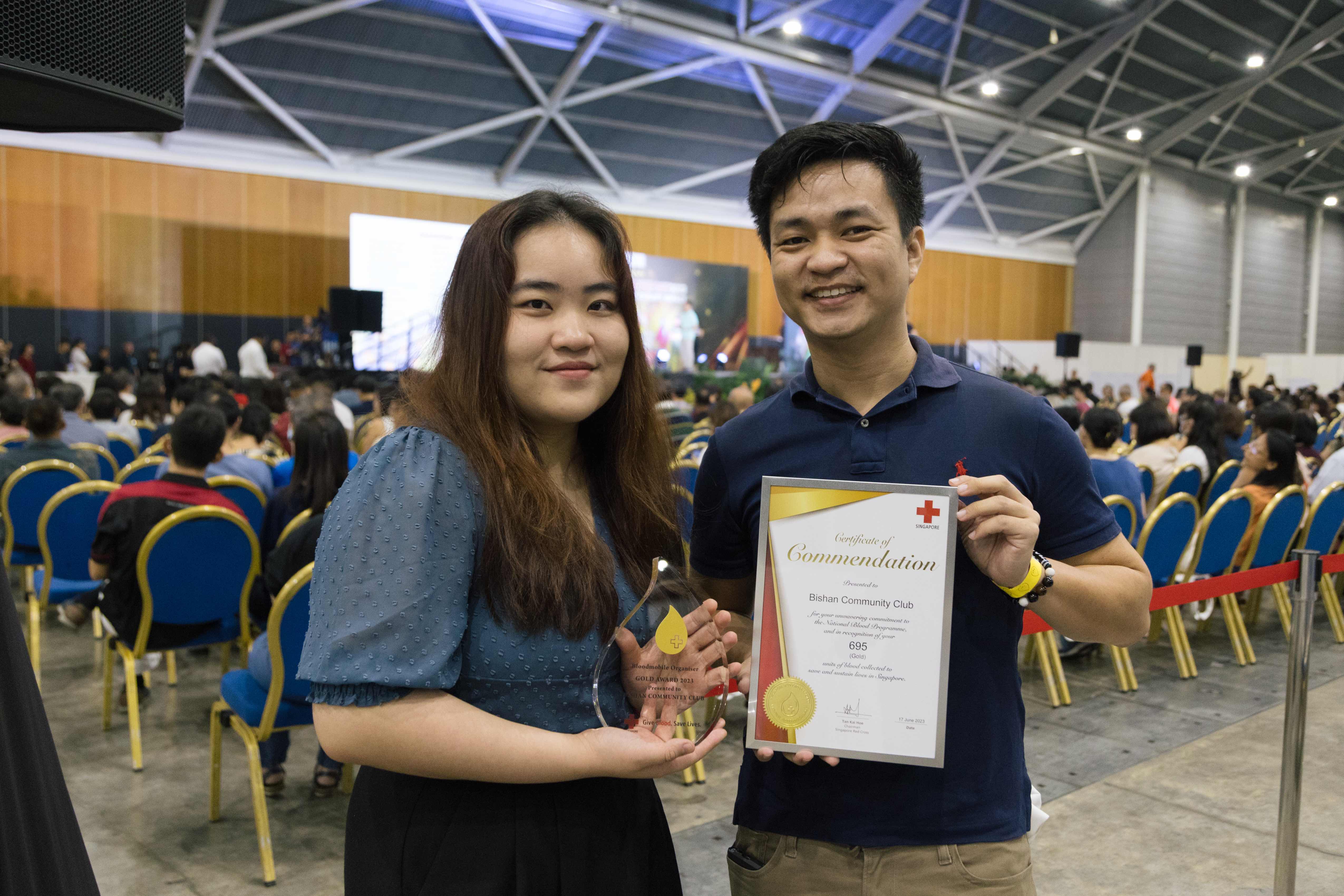 Image: Billy Wong, volunteer photographer
At the awards ceremony, eight community partners, including Buddhist Compassion Relief Tzu Chi Foundation (Singapore), Combat Service Support Command (CSSCOM), and Punggol 21 Community Club, received the Blood Mobile Organiser Gold Award for collecting more than 350 units of blood. 21 partners, such as Toa Payoh Methodist Church, Myanmar Volunteer Family Singapore, Nee Soon East Youth Network, and Singapore Sindhi Association, received the Blood Mobile Organiser Merit Award for collecting more than 150 units of blood.
Issued by the Singapore Red Cross and the Health Sciences Authority
Facts About Blood Donation

1.8 percent of the population in Singapore are blood donors
Number of blood donors increased by 7 percent between 2021 to 2022
Number of youth blood donors aged between 16 and 25 declined by 10 percent in 2022
To encourage youth aged between 16 and 25 to donate blood regularly, a new 'Youthphoria Award' is conferred to youth Champion Donors for having made 20 blood donations before the age of 25
Keen to learn more about blood donation, donate blood or organise a blood drive? Click here.

Annex A
Award
Category

Number of Donations
Male
Female
Total
Medal for Life
F: 150
M: 200
20
2
22
Titanium
F: 135
M: 175
36
1
37
Champion of
Champions
F: 125
M: 150
28
3
31
Diamond
F: 100
M: 125
48
4
52
Gold
F: 70
M: 100
80
28
108
Ruby
F: 50
M: 75
132
45
177
Silver
F: 35
M: 50
241
114
355
Bronze
F: 25
M: 25
780
275
1,055
YOUTHphoria
(NEW)
F: 20
M: 20
34
5
39
Blood Mobile
Organiser
(Gold)
Organisational partners who, through organising blood donation drives, achieved a total collection of more
than 350 units of blood with an average collection of 100 units per drive.
Award
Category
Number of Donations
Male
Female
Total
Medal for
Life
F: 150
M: 200
20
2
22
Blood
Mobile
Organiser
(Merit)
Organisational partners who, through organising blood donation drives, achieved a total collection of more
than 150 units of blood with an average collection of 75 units per drive.
Annex B
About the National Blood Programme
Since 1947, the National Blood Programme (previously the Singapore Blood Transfusion Service) has sought to ensure that all patients in Singapore, regardless of nationality and residential status, have access to a safe and sufficient blood supply when they need it. The Health Sciences Authority and the Singapore Red Cross (which was appointed the national blood recruiter in April 2001) work in partnership to collect blood from donors on a voluntary, non remunerated basis. Each year, more than 100,000 units of blood are needed to save lives. In 2022, 117,967 units of donation blood were used to benefit more than 34,000 patients in Singapore as follows:
Surgery (including heart surgery): 54%
General medicine (e.g.) chemotherapy: 31%
Haematology (blood diseases): 9%
Accident and emergency: 6%
To meet the annual blood transfusion needs, the Singapore Red Cross focuses on three main functions:
Recruitment and retention of blood donors
Promotion and education on the importance of blood donations to increase public awareness
Organization of mobile blood donation drives in the community
In 2022, the Singapore Red Cross recruited 74,150 donors with the support of community partners.