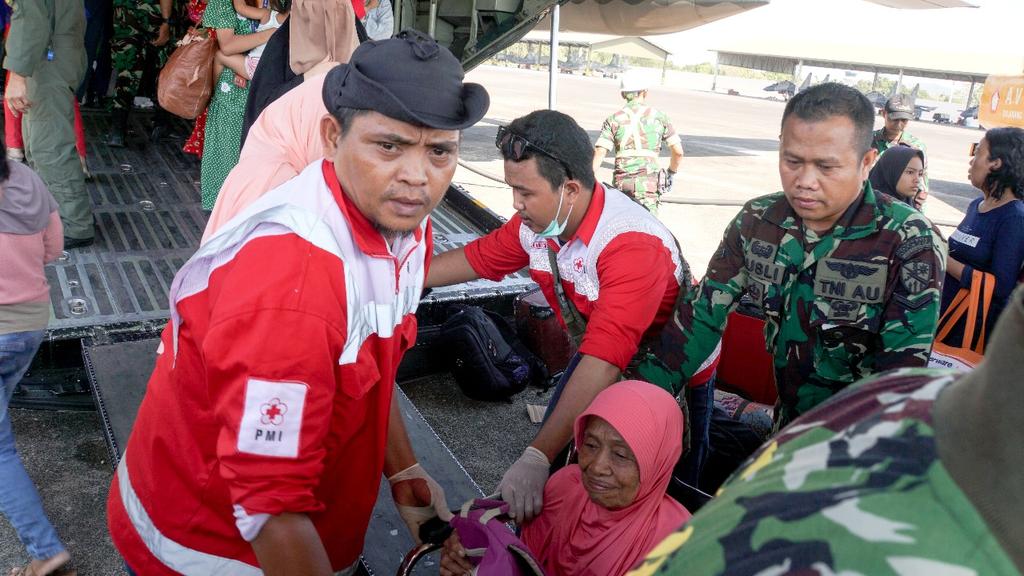 Singapore, 1 October 2018 - In response to the devastating earthquake and tsunami that has struck Sulawesi, Indonesia, on Friday, the Singapore Red Cross (SRC) has launched a public fundraising appeal, and in the first instance, pledged S$50,000 in humanitarian aid to support affected communities.
With its International Services team closely monitoring the situation across four affected cities and regencies: Palu city, Donggala, Sigi and Parigi Mouton, the SRC has readied a 3-person advance response team, which could depart as early as tomorrow (Tuesday) on a 6-day mission, to conduct ground assessments and to support the Palang Merah Indonesia ("PMI" - Indonesian Red Cross) to distribute relief supplies to displaced families. The Indonesian Red Cross has been on the frontline of search and rescue efforts, providing emergency disaster relief.
All donations to the Singapore Red Cross will go towards the purchase of relief items, such as first aid supplies, hygiene kits, water systems, jerry cans, tarpaulins, mosquito nets, blankets and sleeping mats for displaced survivors; and the longer-term recovery and rebuilding efforts.
Mr Benjamin William, Secretary General and CEO of Singapore Red Cross, said, "We are saddened that Indonesia has once again been struck by a major earthquake. The extent of the full devastation is still unfolding - with a rapidly increasing number of fatalities, hundreds of collapsed houses and buildings, and tens of thousands of homeless people. The twin disaster has also caused much damage to infrastructure, including the network of roads and bridges. This poses difficulty to not just the search and rescue efforts, but also the delivery of humanitarian supplies to the affected areas. The humanitarian needs are dire, and we are working closely with PMI on relief efforts to affected areas. We stand in solidarity with our Indonesian friends during this difficult time."
Triggered by a 7.5 magnitude earthquake, the tsunami reportedly sent waves that reached up to six metres high in some areas to shores, flattening and collapsing establishments. A 14-day state of emergency was declared by the Central Sulawesi administration on Sunday to effectively mobilise and coordinate logistics and aid to reach survivors.
The latest devastation to hit Indonesia, the twin-disaster comes on the back of the 6.9-magnitude earthquake which struck Lombok in August, killing more than 550 people. The Singapore Red Cross team had donated S$50,000 in humanitarian aid, and deployed two disaster relief teams to East, North and West Lombok - one of which was caught in a powerful aftershock.
Sulawesi Earthquake Response
Online Donation - Make an online donation here
Cash donation - Red Cross House, 15 Penang Lane, Singapore 238486 (Office hours: Monday to Friday, 9am to 6pm)
Cheque donation - Please make cheque payable to 'Singapore Red Cross Society', to be posted to the above address. Please leave your name, postal address and indicate "Sulawesi Earthquake 2018" at the back of your cheque.
Notes:
Donations to overseas efforts are not tax-deductible.
In the event that donations exceed the expenses incurred by Singapore Red Cross in this specific disaster response, any surplus or unspent money, after 3 years from the date of inception of the fund, can be used to prepare for and serve communities affected by other disasters or may be used to complement or to sustain projects undertaken by SRC in helping the vulnerable in areas affected by disasters.
Restoring Family Links
The Singapore Red Cross has activated its "Restoring Family Links" (RFL) service to assist Singaporeans and Indonesians to locate their immediate family members who may have been affected by the disaster with whom they have difficulty in contacting. Call 6664 0536 or email rfl@redcross.sg for assistance.
Check out our Twitter Page for more updates.
Image courtesy of Palang Merah Indonesia (Indonesia Red Cross)