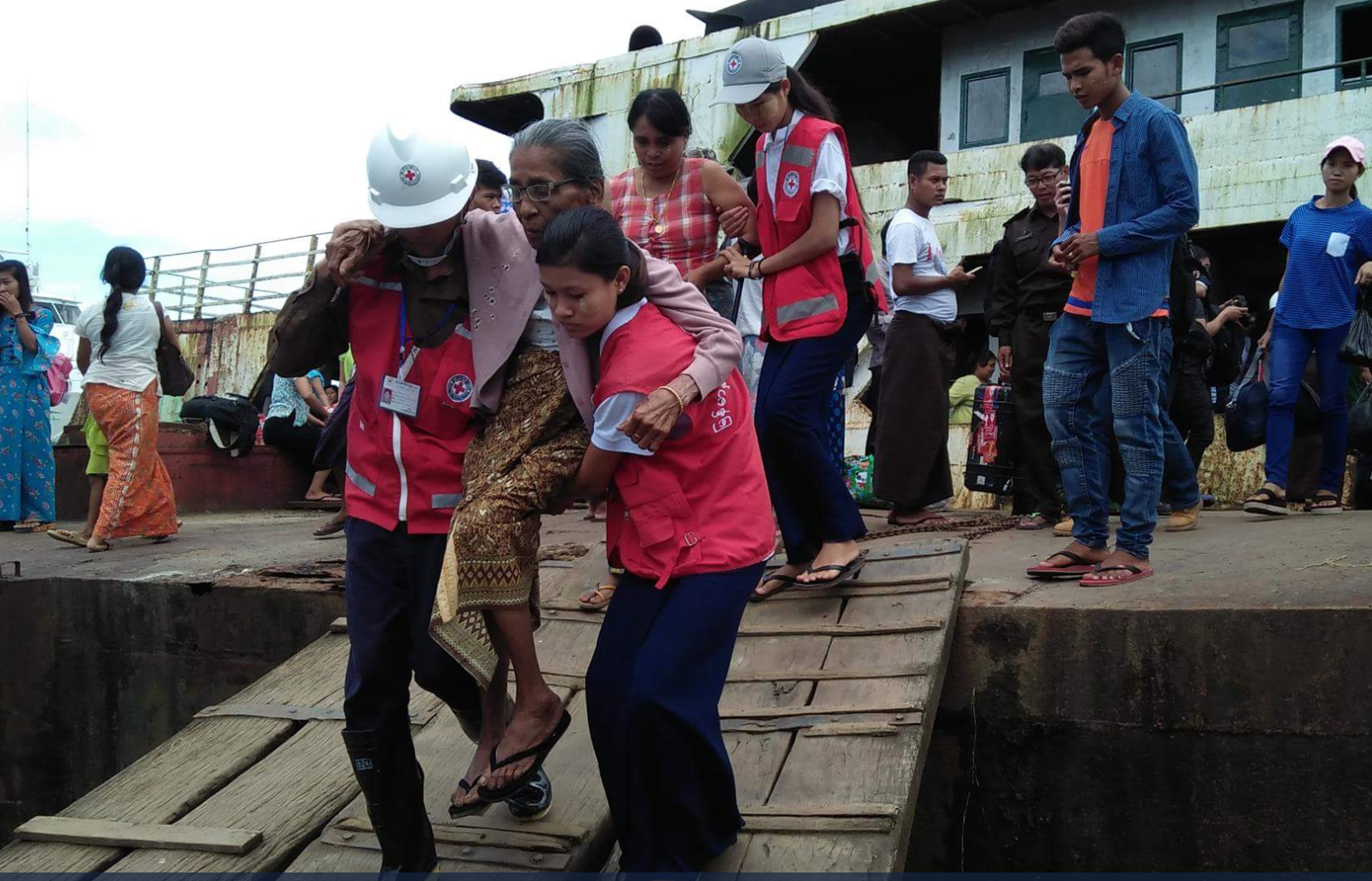 Singapore, 8 September 2017 - Due to the humanitarian crisis in Rakhine, Myanmar, the Singapore Red Cross (SRC) will launch a public appeal for donations to support the affected communities in Bangladesh and Myanmar. In addition to assistance provided recently to Rakhine, SRC will further commit USD $20,000 worth of relief items to be distributed to those affected by the current clashes in Rakhine, including those currently residing in Internally Displaced Persons (IDP) camps in Rakhine.
Working with the Myanmar Red Cross and Red Cross Movement partners, SRC will commit to support all the communities affected by the current violent clashes in Rakhine.
The Red Cross Movement is supporting more than 15,000 people who moved to Sittwe, Maungtaw, Butheedaung, Yathataung, Kyauktaw, Pommagyun and Minbya from the affected area. The Red Cross teams have been providing tarpaulin flooring, water tanks and bathrooms, while health care, food and water are still needed for the communities in IDP camps.
"We are saddened by the situation in Rakhine with the loss of lives and homes. The Singapore Red Cross is reaching out to all the communities affected by the conflict, regardless of religion or ethnicity. We hope that the hostilities will cease soon, and the affected communities will be able to rebuild their lives", said Benjamin William, Secretary General and CEO of Singapore Red Cross.
SRC has been providing humanitarian assistance in Rakhine since 2012. In July this year, a team from SRC was deployed in Rakhine with USD $50,000 worth of shelter items, school kits and teaching kits to communities affected by flooding in Rakhine. Earlier, the Singapore Red Cross had also provided assistance to the IDP Camps in Rakhine.
The Singapore Red Cross is launching a public appeal and receiving donations to support relief efforts. Donations can be made at Red Cross House, 15 Penang Lane, Singapore 238486, during office hours (Monday to Friday, 9am to 6pm). Cheques can be made payable to 'Singapore Red Cross Society' and posted to the above address. Please leave your name, postal address and indicate Rakhine Humanitarian Response Fund at the back of your cheque.
Notes:
Donations to overseas efforts are not tax-deductible.
In the event that donations exceed the expenses incurred by Singapore Red Cross in this specific disaster response, any surplus or unspent money, after 3 years from the date of inception of the fund, can be used to prepare for and serve communities affected by other disasters or may be used to complement or to sustain projects undertaken by SRC in helping the vulnerable in areas affected by disasters.
Photo Caption/Credit: Myanmar Red Cross volunteers assisting the people who fled from Maungdaw and Buthedaung to Sittwe in Rakhine State; Myanmar Red Cross Society