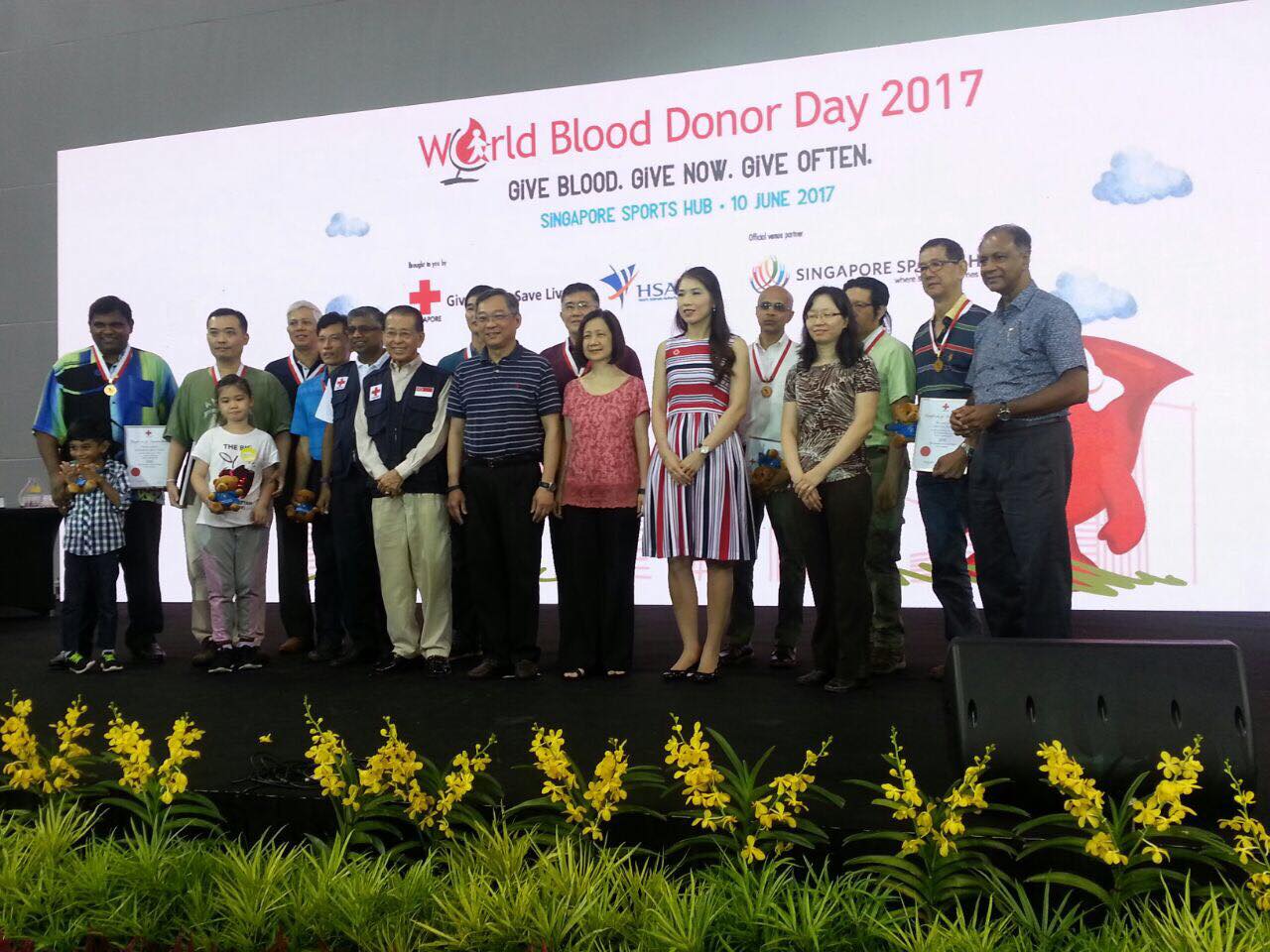 1,257 champion donors recognised - 13 gave over 200 donations each
Singapore's blood needs are currently shouldered by 1.8% of Singapore's residential population
600 donors stop giving each year due to age-related illnesses; blood demand expected to increase by 3% to 5% annually
Call for more consistent giving to ensure sustainability of blood supply
Singapore, 10 June 2017 - On World Blood Donor Day today, 1,257 champion blood donors received accolades for their milestone donations to the National Blood Programme - jointly run by the Singapore Red Cross (SRC) and the Health Sciences Authority (HSA). Minister for Health Mr Gan Kim Yong, who was the Guest of Honour, presented the Medal for Life award to 13 donors who each made over 200 donations.

Aged between 21 and 70 years old, the award recipients constitute a key pillar of our 73,000-strong donor pool, who sustain Singapore's blood supply and contribute blood to some 30,000 patients every year.

Applauding the dedication of champion blood donors in his speech, Minister Gan said, "Regular blood donation takes more than a big heart. It involves the sacrifice of time, the commitment to an iron-rich diet, and the thoughtfulness to visit the blood bank regularly, and especially during holiday periods."

Singapore's blood needs are currently shouldered by 1.8 percent of Singapore's residential population. Blood usage is growing at a rate of 3 to 5 percent annually. There is a need to expand the blood donor pool in tandem with the growing demand for blood as Singapore's population ages and more medical facilities are being built. The ageing population already has an impact on Singapore's blood donor pool. Each year, about 600 regular donors stopped donating due to age-related illnesses.

Highlighting how the World Blood Donor Day theme - "Give blood. Give now. Give often" reflects SRC's efforts to expand the blood donor pool, Mr Tee Tua Ba, Chairman of the Singapore Red Cross (SRC) said, "Last year, 60 percent of blood donors gave blood only once. The Singapore Red Cross is working to encourage more donors to give blood regularly. We also want to attract more young people, aged between 16 and 25 years old, to give blood. The number of youth blood donors has been on a downward trend, decreasing 13 percent between 2012 and 2016."

SRC and HSA have rolled out several new blood donor recruitment initiatives to engage potential youth blood donors and promote regular blood donation.

These include outreach efforts to engage youth, such as the Missing Type Campaign, which generated significant interest and buzz in Singapore last year. It saw more than 60 organisations including government agencies, hospitals, schools and well-known retail brands remove the letters A, B and O (blood groups) from their websites, social media profiles and branding. The campaign led to a 16 per cent increase in blood donations in the month it was launched, when compared to the same period the year before. SRC is also working with the Ministry of Education and MINDEF to enhance its outreach to students and service personnel.

To nurture regular donors and make blood donation as convenient and accessible as possible, SRC launched a scheme to encourage organisations to adopt a blood bank in their vicinity, and rally their staff to donate blood there regularly. Organisations that have adopted a blood bank include SAF's combat service and support command, or CSSCOM. We appreciate their commitments in promoting the adopted blood banks at Westgate Tower and Woodlands Civic Centre.

Lifesaving partnerships with community bloodmobile organisers / partners
Minister Gan also presented accolades to 32 bloodmobile organisers (BMOs), of whom 11 organised community blood drives that each raised over 500 units of blood by in 2016. This represented an 80 percent increase in BMOs that achieved more than 500 units of blood, compared to 2015. The other 21 BMO recipients organised drives that collected between 200 and 500 units.

SRC Chairman Mr Tee Tua Ba added, "BMOs are important contributors to Singapore's blood supply, organising roadshows and blood drives to mobilise their organisation and community to give blood. Last year, BMOs organised 465 community blood drives, collecting over 33,600 units of blood. With their strong support, the Singapore Red Cross organised more than twice the number of roadshows and increased donation bookings at its centres by 66 percent."

Ms Kymn Yee, a Thalassemia patient who has been receiving regular blood transfusions for nearly four decades, shared her experience as a blood beneficiary and showed her appreciation to blood donors at the event. She said, "Blood donation not only saves lives, it also sustains and enhances the quality of life for many beneficiaries. I would not be able to enjoy scuba diving, yoga and mountain climbing, if not for the generosity of regular blood donors. I hope to see more people coming forward to donate blood, to enable others to lead fulfilling lives."

Beyond organising bloodmobiles, many other community partners supported the National Blood Programme by offering outreach and advocacy opportunities. Last year, Nanyang Polytechnic boosted SRC's outreach efforts through publicity and skilled volunteer support. Staff from Hewlett Packard have also volunteered their services and support at blood donation outreach events.

As a result, group donations at the blood banks increased by 66 percent, from 168 in 2015 to 280 last year; and SRC doubled the number of educational roadshows in the community.

Held at the Singapore Sports Hub, the Champion Recognition Ceremony saw Minister Gan presenting awards to donors who made 50 to 200 blood donations. Member of Parliament for Mountbatten SMC, Mr Lim Biow Chuan, presented awards to donors who made between 25 and 50 blood donations in the afternoon ceremony.
Speech by Minister of Health Mr Gan Kim Yong
Speech by Singapore Red Cross Chairman Mr Tee Tua Ba.
Speech by Singapore Red Cross Council Member Ms Emily Tan.