By Tan Yong En, Intern, Corporate Communications
Photo by Nbau Ja Aung, Healthcare Assistant, Red Cross Home for the Disabled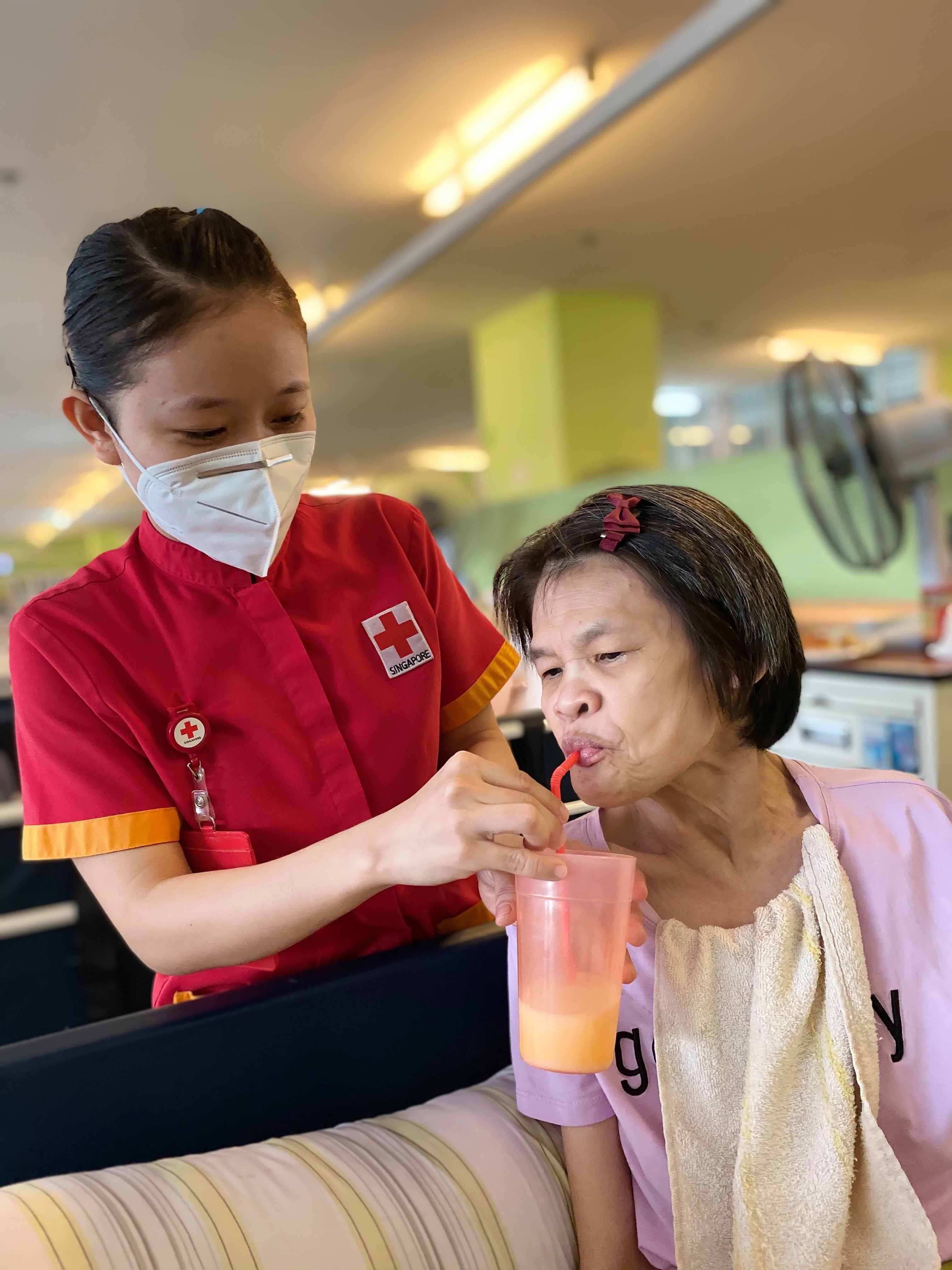 "To all nurses, thank you for all the hard work and support during the difficult times. Thank you for being our guiding light in the face of adversity. Your dedication and professionalism are awe-inspiring,'' shares Nbau Ja Aung, Healthcare Assistant in the Red Cross Home for the Disabled
To commemorate Nurses Day, we go behind the scenes to interview Nbau Ja Aung, a Healthcare Assistant in the Red Cross Home for the Disabled (RCHD). She unpacks some of the challenges and joys that she faces as a Nursing Aide with the Red Cross Home for the Disabled.
1. Why did you join the Red Cross for the Disabled?
My friend told me about RCHD, and I eventually joined on 1 April 2017. I am motivated to work at RCHD as the residents need my help and care. By providing care, I make a positive difference in their lives.
2. What are your roles and responsibilities?
I care for the residents and help them in their daily activities. I am proud to be able to bring happiness to their lives, through the little things.
3. What is most rewarding about your work?
Personally, I feel rewarded when the residents' faces light up with bright smiles. It is really heartwarming when they are appreciative of the work I do for them. I am also very glad to be able to work with my colleagues. We work as a team and we help one another.
4. What brings you the greatest joy?
I think the moments that brought me the greatest joy were when my colleagues and I went out on outings with the residents. Since this is something that is rather rare for the residents, they are always very excited to be out. I can literally feel joy radiating from them whenever we are out.
5. Tell us about how you overcame challenges at work
Initially, a challenge that I faced was the communication barrier between the residents and I. Since the residents are unable to speak, I found it difficult to learn about their needs and wants. For example, when a resident cried, I did not know why they were crying, or what I could do to help. I overcame by watching and observing them every day on my shift. It helped me understand their behavioural patterns, which enhanced my communication with them.
6. What have you learnt from working with persons with disabilities?
I have to be emotionally and physically prepared for any incident that may occur. Most importantly, I have to have a good understanding of my residents' conditions.
7. What would you like to say to all the nurses out there, on Nurses Day?
To all nurses, thank you for the long working hours you put in. Thank you for all the hard work and support during these difficult times. Thank you for being our guiding light in the face of adversity. Your dedication and professionalism are awe-inspiring.
8. How would you describe your nursing journey?
Nurses have the power to positively impact lives. A kind word and listening ear go a long way, especially to those we care for.