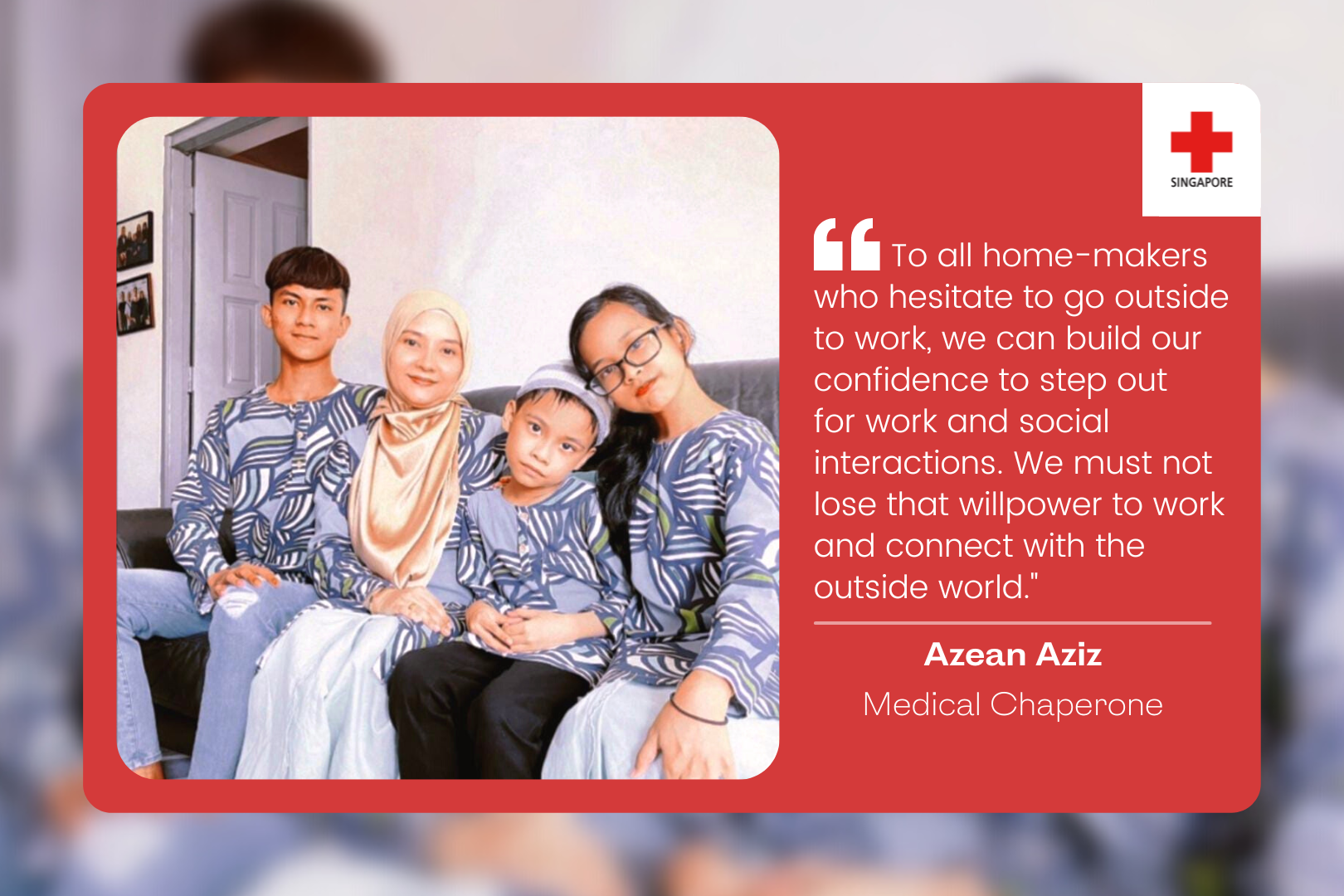 Azean Aziz, 42, a widow with three children, and sets an example for others by venturing out of her comfort zone as a homemaker to serve as a Medical Chaperone with the Singapore Red Cross (SRC). Today, she makes a positive impact in society by forming close bonds with her patients and ensuring that they travel safely to and from their medical appointments.
Life challenges
In her early twenties, Azean used to work as a management staff in the construction industry. Back in 2010, she gave up her job to become a full-time homemaker to care for her three children. But in 2018, Azean's life changed when her husband passed away in his sleep due to a heart attack.
The first few months of her husband's demise were challenging. As she was reeling from the shock, Azean was also plagued by distress and worry about how she could care for her three children. Her youngest child also required special medical attention. However, time gradually healed her wounds. Her supportive children gave her the strength and courage needed to pick herself up again.
Rejoining the workforce
When the COVID-19 pandemic restrictions eased, Azean reconnected with her friend, who recommended that Azean explore opportunities with SRC. She pursued a course on effective communication with SRC's Centre for Occupational Learning and Employment (COLE). The course, sponsored by Barclays, was one of the push factors that allowed her to build her confidence to reenter the workforce.
After 11 years as a homemaker, Azean restarted her career by serving as a Medical Chaperone in SRC.
In her role, she brings clients from their homes to their medical appointments and treatments at clinics, hospitals, and medical institutions. As she accompanies her clients throughout their medical appointments, she pays heed to the medical team's advice and reminds her clients to take their medications. Although it has been less than a year in her new professional life, she is fulfilled by her job and contribution to society.
Azean recounts several instances when she went beyond her regular responsibilities to purchase groceries for her clients. She also joined them for coffee sessions as many of them live alone and do not get the opportunity to socialise with others much as they face mobility issues.
Having a strong support system
Azean credits her coordinator for playing an indispensable role in her job. Her coordinator understood Azean's preference for the places she is comfortable commuting to and scheduled her work so that she could spend time with her children after their school sessions ended. Her children's independence and maturity in juggling school work and household chores also allowed her to focus on her duties as a Medical Chaperone.
"To all home-makers who hesitate to go outside to work, we can build our confidence to step out for work and social interactions. We must not lose that willpower to work and connect with the outside world," she said.
By Mohit Agarwal, Volunteer
Copyedited by Charlene Chin, Volunteer