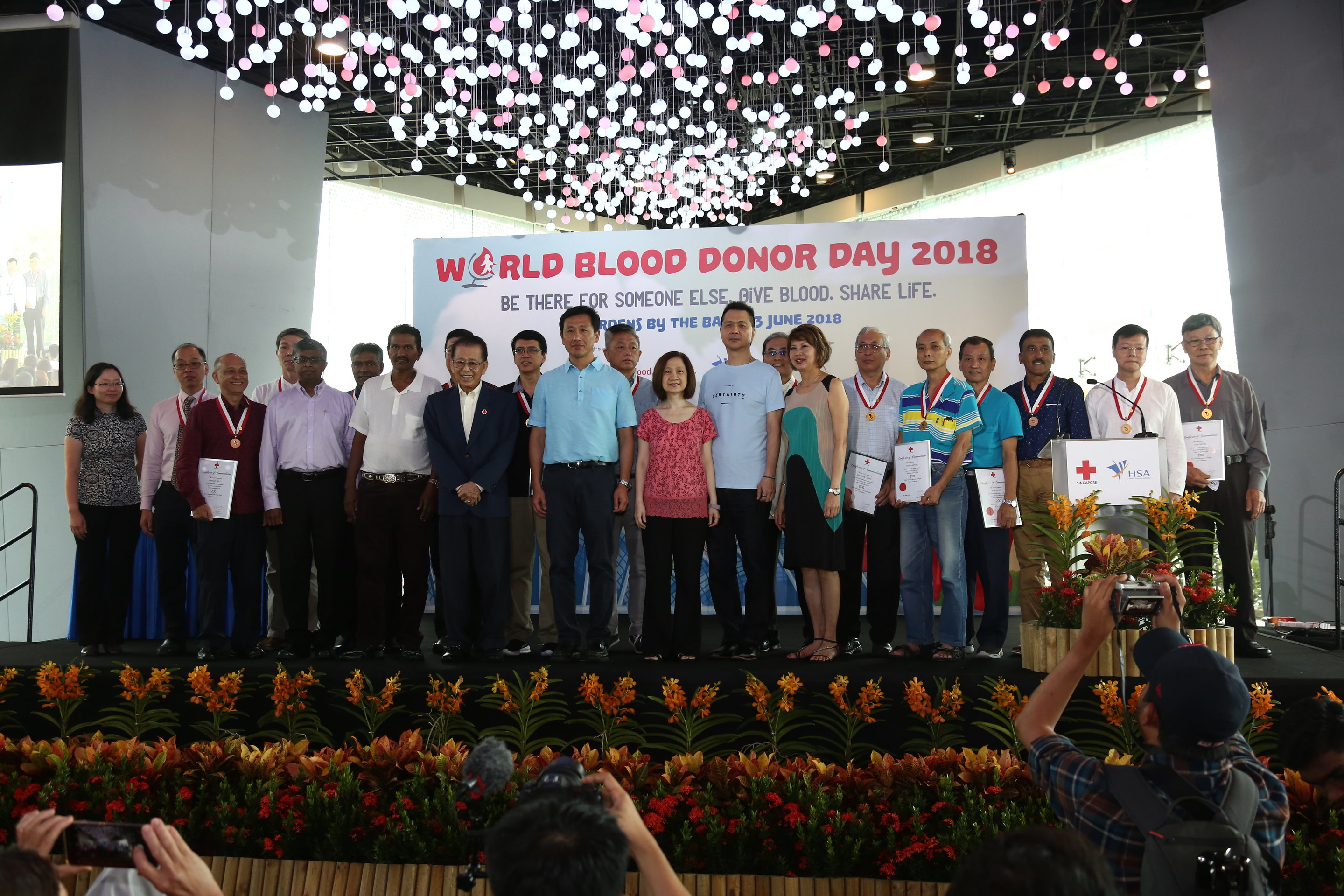 Singapore, 23 June 2018 - Thousands gathered to celebrate the achievements of 1,720 blood donors at the 15th World Blood Donor Day and Champion Blood Donor Recognition Ceremony, held at Gardens by the Bay. Jointly organised by the Singapore Red Cross (SRC) and the Health Sciences Authority (HSA), the appreciation event was graced by Guest-of-Honour Mr Ong Ye Kung, Minister for Education.
Blood donors form the backbone of Singapore's National Blood Programme, and maintaining a sustainable blood supply is crucial to meeting the country's transfusion needs. Of the 1,720 champion blood donors who were honoured for their milestone donations, 21 received the Medal for Life award - the highest honour reserved for blood donors who have made more than 200 donations in their lifetime. This marked the highest number recorded since the programme started in 2001. The annual ceremony also gave recognition to some 36 corporate/community Bloodmobile Organisers (BMOs) for their invaluable contributions in growing the blood donor pool in Singapore.
Last year, 73,100 donors collectively contributed more than 116,000 units of blood, benefitting more than 32,000 patients in Singapore. One such beneficiary is Mr Harols Wee, who shared his experience and thanked blood donors at the event. A heart transplant recipient, Mr Wee went through several rounds of blood transfusions (amounting to approximately 23 bags of blood) as a result of medical complications that occurred while he was awaiting transplant, as well as during his life saving surgery five years ago. He shared, "I say prayers of thanks and blessings every day for my organ donor and blood donors who had made it possible for my surgery to be carried out successfully. With this new lease of life, I can now spend many more years with my loved ones."
Maintaining national blood supply remains a challenge
In his speech, Mr Tee Tua Ba, Chairman, Singapore Red Cross, shared, "It's remarkable how far the National Blood Programme has come over the years. In 2017, we transfused more than 110,000 units of blood - a huge increase from the 26,000 units of blood in 1967." However, blood supply adequacy continues to be an ongoing challenge for Singapore - in part due to the nation's ageing population and expanding healthcare system - and the issue is expected to exacerbate in coming years. In fact, each year, about 600 regular donors stop donating due to age-related illnesses.
"We must not become complacent in thinking that a sustainable blood supply will always be guaranteed", Mr Tee cautioned.
Over the years, SRC has introduced new initiatives and sought different avenues to increase the pool of youth donors - to limited success. While the overall donor population has grown from 60,000 to 73,000 in the last 10 years, there was a gradual decline in the number of youth donors during the same period – from nearly 23,000 in 2008 to just over 19,000 in 2017.
During the ceremony, Minister Ong welcomed the efforts of SRC and its partners to motivate the younger generation to donate blood. These included ongoing collaborations with MOE to encourage students to learn more about blood donation through various school programmes, and working with BMOs to organise blood drives in educational institutions and within the community. He also stressed the importance of continuous youth engagement to promote regular blood donation.
Held at the Flower Field Hall located within Gardens by the Bay, the annual Champion Recognition Ceremony saw Minister Ong presenting awards to donors who made their 50th to 200th blood donations last year. Special guest, Mr Edwin Tong, Member of Parliament for Marine Parade, presented awards to donors who have made between 25 and 50 blood donations in a ceremony in the afternoon.
Speech by Mr Ong Ye Kung, Minister for Education