The Singapore Red Cross Youth (RCY) is part of the largest humanitarian network in the world - the International Red Cross and Red Crescent Movement. It was first established as the Junior Red Cross in 1952 when Singapore was still a British colony. Today, the RCY has 5000 members and counting!
From a uniformed group in primary and secondary schools, it now includes post-secondary institutions and communities to offer youth volunteers a seamless transition as they progress from student life into adulthood.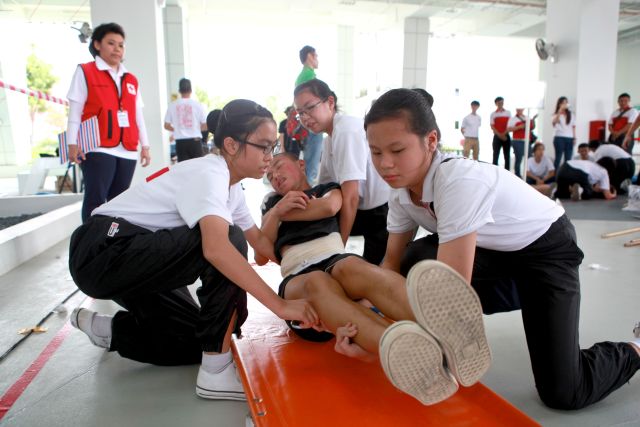 In primary and secondary schools, the RCY is a co-curricular activity (CCA) that integrates character-building, leadership, essential life saving skills and blood donation knowledge, local community service and overseas humanitarian projects in its curriculum, with the Red Cross ethos and service to humanity as a core focus.
It brings out the best of our Links (Primary school units), Cadets (Secondary school units) and Chapter (Tertiary) members – and to prepare them for leadership in their families and communities. This is in line with the Ministry of Education's approach of developing 21st Century competencies among the youths, focusing on character and citizenship education.
At the community level, Red Cross Youth Club provides a sustainable platform for our youth to continue volunteering to serve the vulnerable in their communities.
Red Cross Youth strives to instil the Red Cross Youth spirit and strengthen core values such as compassion, passion and professionalism in all members. By participating in providing Singapore Red Cross humanitarian services, Red Cross Youths are groomed to become good citizens with strong senses of civic responsibility. They are trained to be adaptable, resilient and confident team players.
In line with the spirit of social inclusiveness, the Red Cross Youth launched Singapore's first Red Cross Youth Club for youth with and without intellectual disabilities at the Association for Persons with Special Needs (APSN) Delta Senior School. The club allows students with intellectual disabilities to build confidence in contributing to the community, and fosters greater understanding of people with special needs through shared experiences and activities with other Red Cross Youth schools and clubs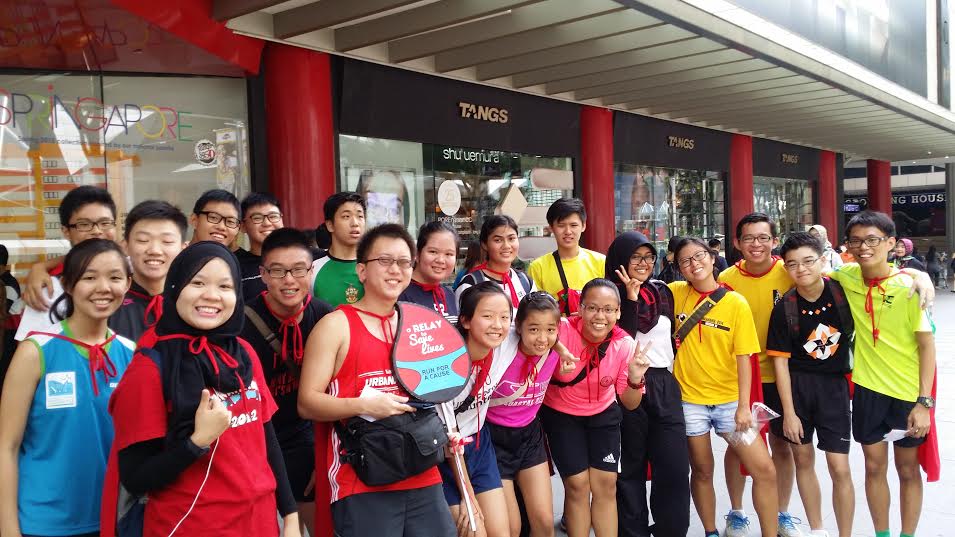 The Red Cross Youth (RCY) is committed to engaging our Youths in various local and international humanitarian programmes, including:
Community Service
Blood Donation and Donor Recruitment
Disaster Management and Support
Click here for a list of RCY units in Primary Schools.
Click here for a list of RCY units in Secondary Schools.
Click here for a list of RCY Chapters in Tertiary Institutions.
Click here for a list of RCY Clubs.
"As cadets engage in the wide array of activities offered by the Red Cross Youth, not only are their personal effectiveness enhanced, their characters are also shaped as lifelong values are ingrained in them." - Ms Sim Ann, Senior Minister of State for Education, 2013
"I have learnt from RCY that it is never too late to save a life or make a difference in someone's life. Although my parents badly wanted me to take Badminton as CCA, I opted for RCY because I knew I could learn valuable and inspiring skills to touch people's lives. My 2-year journey in RCY was most exciting, and now I am sure that my future is going to be in RCY. Most importantly, my parents now understand the importance of RCY and they are proud of me." - Mohanakanan Harish, 10, RCY Link
"Nothing is more invigorating than seeing your plans and actions make an impact on someone else's life. If you have a desire for transforming visions of a community with passion and humanity into a reality, and for inspiring others to do the same, then RCY is the place for you." - Lee Jia Yi Joey, 16, RCY Cadet
"Back then, going down the list of possible CCAs, I wanted to try something new and meaningful, and RCY stood out to me. Joining RCY was easily the best decision I made in my secondary school life, as it not only helped me to grow and develop as a person, but also taught me useful knowledge, and forge strong bonds with my fellow CCA-mates who are some of my closest friends today." - Loh Yi Jun, 20, RCY NUS Chapter/Red Cross Youth Club member
Find out more about our Red Cross Youth programmes or connect with them on social media.