You're a Lifesaving Wonder Woman to Someone
Your Wonder Woman blood goes a long way. Ever wondered who you help by donating blood? Every bag of blood gets separated into 3 components—red blood cells, platelets and plasma—saving 3 different patients' lives!
For example,
You can be a Wonder Woman too!
Blood donors need to meet some basic criteria such as:
Weigh at least 45kg
Be 16 to 60 years old (teens aged 16 and 17 as of birth date need to bring along the parental consent form. Download form here.)
Have a haemoglobin level of 12.5g/dl (for our Wonder Women) and 13g/dl (for Wonder Woman's husband, father, son or brother). Don't worry, this is checked at the blood bank itself.
Check out the full donor criteria and the travel deferral criteria.
Reasons to re-schedule your donation date
If you are experiencing heavy menstrual flow or cramps.
If you are breastfeeding, as it may reduce your baby's iron intake from the breast milk. Your little Wonders are just as important to us!
If you've caught the flu or have a cough, rest up and return after a week of being well. For fever, you're required to wait at least 3 weeks.
Blobellina's Tip: If you failed your last donation due to low haemoglobin levels, give at least a week to prepare for your next one. Keeping an iron-rich diet of red meats, leafy greens and fruits rich in vitamin C can really help boost your iron levels! More at www.redcross.sg/boostyouriron
Preparing for your blood donation
Wear something comfortable, ideally short sleeves, or long sleeves that can be easily rolled up for your donation arm
Bring along your original NRIC/Work Permit for Registration. Don't forget your phone to capture some selfie moments while on the donation bed, and hashtag #givebloodsavelivessg ;)
You can either do a direct walk-in to any of our 4 blood banks, or book an appointment or call us at 6220 0183. Making an appointment will help you to shorten the waiting time.
Have a good night's rest, drink plenty of fluids and take a light meal before coming for your blood donation.
Blobellina's Tip: If you haven't had time to eat just yet, snack on something light first and grab a quick drink available from the Registration counter!
Blobellina's Extra Pro-Tip: Continue to consume iron-rich foods after your donation and take plenty of vitamin C. Not only is it good for your health and immunity, it helps ensure you've replenished your body to prepare for your next scheduled blood donation!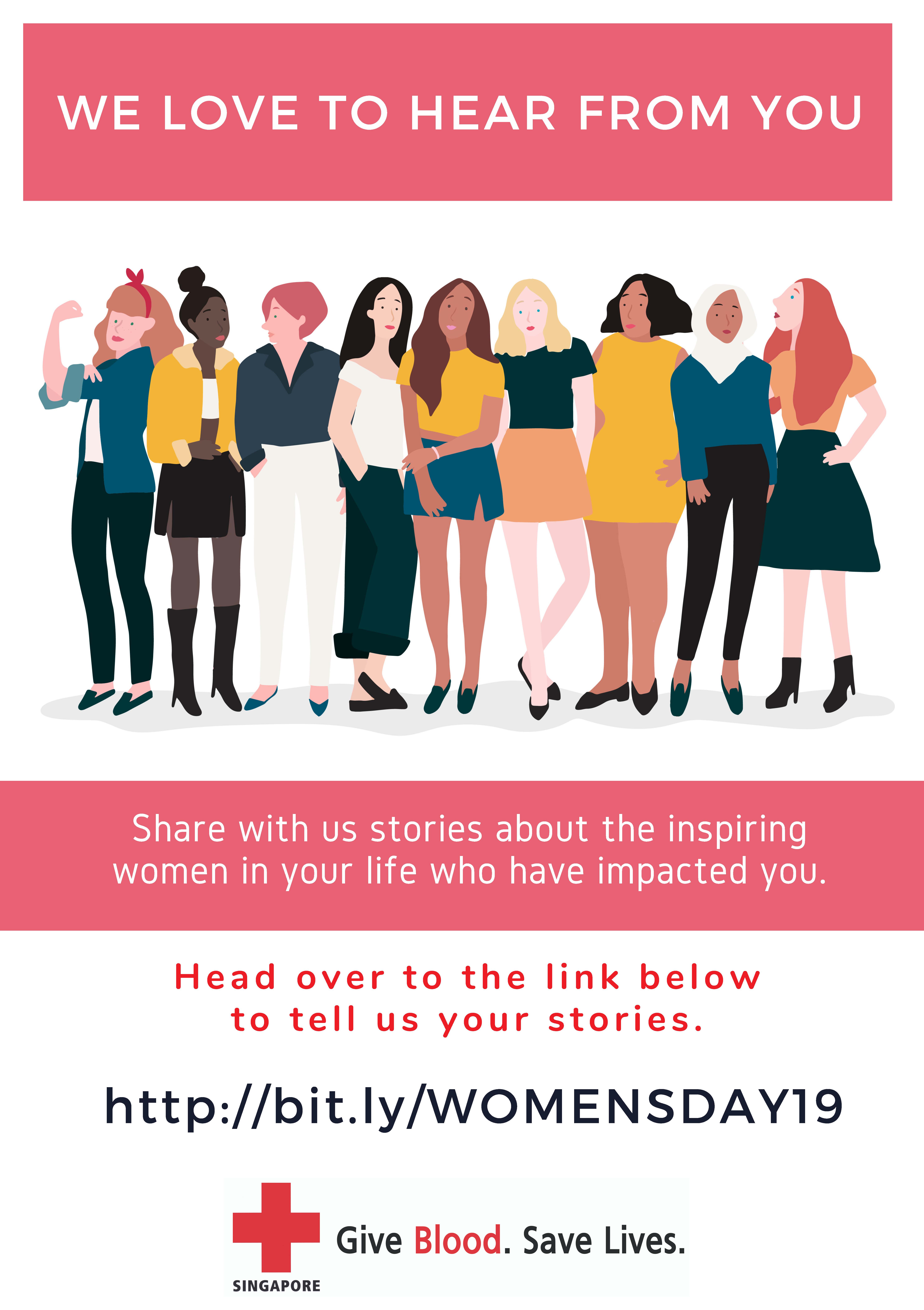 Girls' Day Out
Grab your mother, daughter, sister or girlfriends to donate blood with you! The Blood Donor Recruitment Programme provides free shuttle services for groups that want to donate together (min. of 10 pax sign-ups). For more information, email us or give us a ring at 6220 0183.
Share Your Wonder Woman Donor Story
In light of International Women's Day, we'd love to hear stories from our blood donors. Share with us about the women in your life who have positively impacted or inspired you.
Submit your story here.