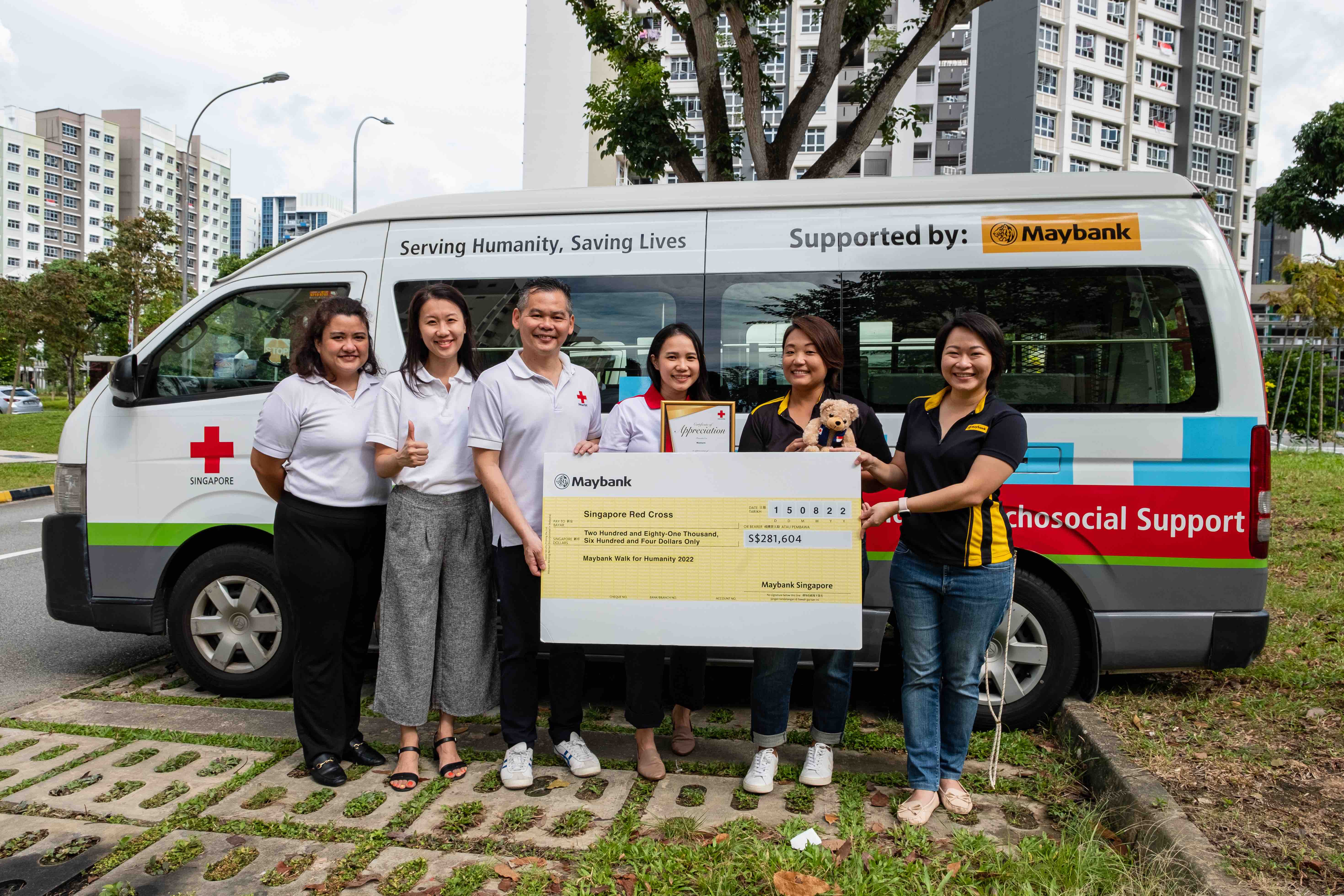 Details
From left to right — Ms Amy Distant, SRC's Resource Development Senior Executive; Ms Eileen Cher, SRC's Director for Outreach; Mr Johnny Tang, SRC's Head of Resource Development; Ms Karine Tan, SRC's Head of Community Services; Ms Helena Ooi, Maybank's Head of Strategy and Ms Sharon Eng, Maybank's Head of Corporate Responsibility & Sustainability.
Maybank's Fundraising Initiative for SRC's Local and Regional Efforts
Maybank's Walk For Humanity 2022 raised $281,604 for the Singapore Red Cross' (SRC) local and regional efforts, benefitting 9,900 people both locally and regionally.
Over 4,500 walkers and about 400 donors responded to the call to do good for humanity through Maybank's 'Walk for Humanity'. The virtual charity walk cum online donation event organised by Maybank Singapore from 20 February to 20 March 2022, which included a $200,000 donation by Maybank, supported the local and regional humanitarian efforts of the Singapore Red Cross (SRC).
Mr Benjamin William, Secretary General and CEO of the Singapore Red Cross, said, "We thank Maybank Singapore for its partnership for humanity. We are grateful to all who took the time to walk for humanity and the many donors for their support of our local and international humanitarian efforts. The funds raised will enable us to continue delivering essential services and to scale up much-needed humanitarian services to mitigate the impact of Covid-19. Beyond fundraising, the publicity generated from the event increased awareness not just of our causes but also, of the social needs on the ground. This will help engender a more gracious and kinder community."
Locally, Maybank Singapore's support enabled SRC to care for vulnerable seniors who are living on their own — by providing them with befriending and wellness; transportation to healthcare; and home safety services.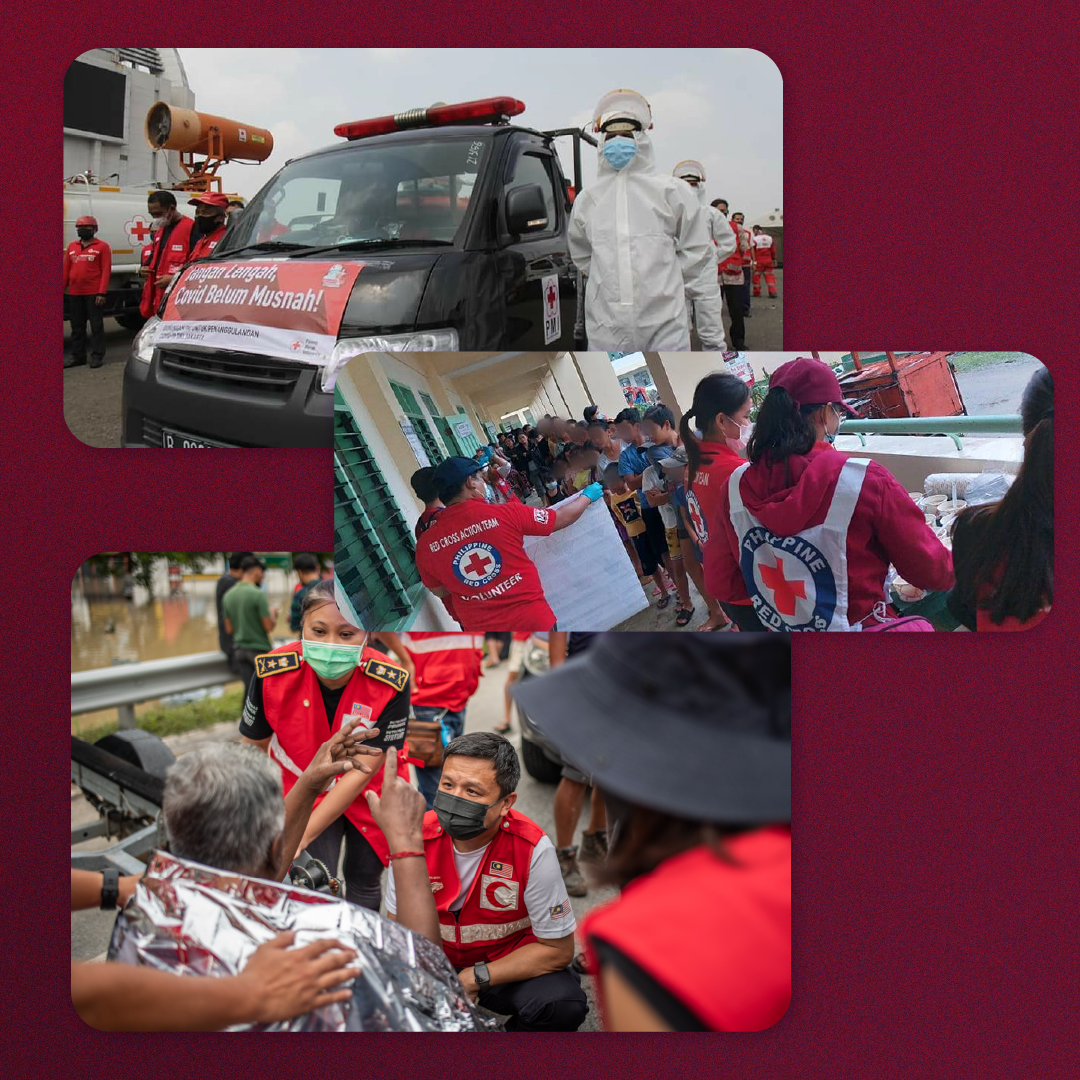 Images via Palang Merah Indonesia, Philippine Red Cross, and Malaysian Red Crescent
Regionally, the contribution enabled SRC to provide assistance to communities affected by the floods in Malaysia and Typhoon Rai in the Philippines and aid COVID-19 relief efforts in Indonesia.
Maybank's events and initiatives provided support not merely for SRC's causes but also for the needs on the ground.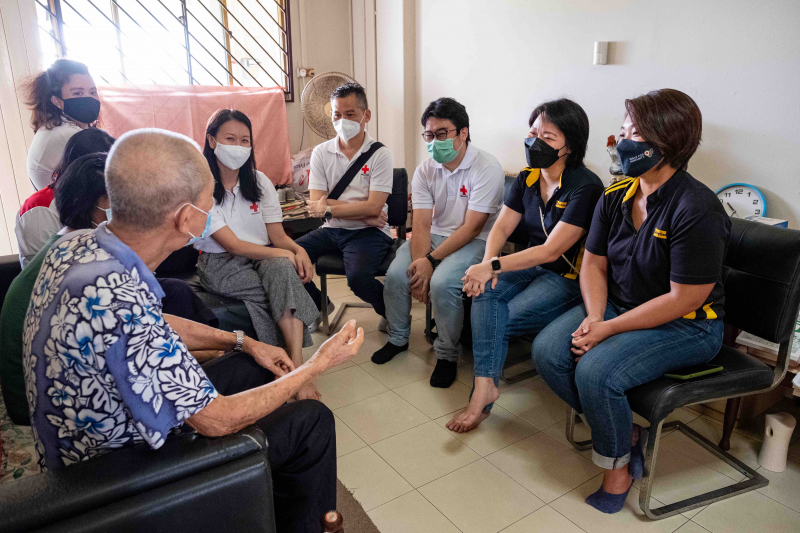 The Singapore Red Cross team, together with Maybank representatives, visited Mr Ng Keng Fun, 78, who is on our Home Monitoring and Eldercare (HoME+) programme and his wife on 15 August. (His wife, who lives in Indonesia, was present during their visit in August.) Our visit enabled Mr Ng to learn more about how Maybank's contribution helps provide for the needs of elderly persons who live on their own. Most importantly, Mr Ng is assured that he is well-cared for, and can continue to live independently.
Mr Ng shared, "I have hypertension, a heart condition, and my legs are weak. I was concerned that nobody would come to my aid if I were to fall, as I have been living on my own. The Singapore Red Cross installed HoME+ at my place last December. Now, I feel assured that someone will come to my help. I am safe, and I have peace of mind."
Photos by Jave Ting, Volunteer